The Untranslatable Secrets of Nikki Corona Tackles an All-Too-Familiar Parable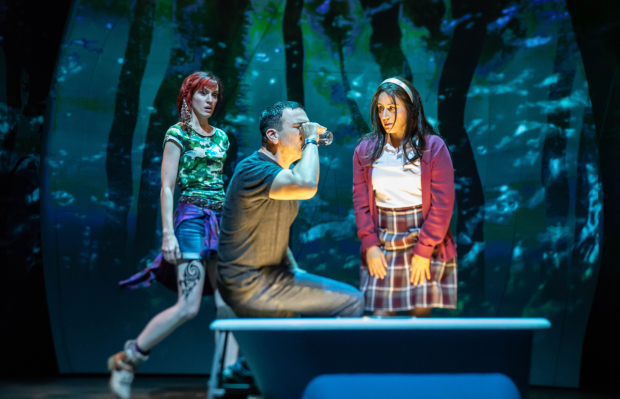 Life and death have always been intertwined. People spend much of their life worrying when they will pass away, how their beliefs will protect them in the next realm, and if they'll be able to share experiences with those who have already died. The Untranslatable Secrets of Nikki Corona, written by José Rivera and now receiving its world premiere at the Geffen Playhouse, speaks to the fears and loneliness around death and attempts to answer some of those impenetrable questions.
On a cold night on San Francisco's Bay Bridge, Abril Corona (Onahoua Rodriguez) leaves one final voicemail for her estranged twin sister Nikki (also Rodriguez) before jumping to her watery grave. Nikki, distraught over losing her sister, goes to A Better Orpheus Inc., a mysterious enterprise where dying patients promise, for a large fee, to deliver messages to the bereaved's loved ones in the afterlife. Maren (Cate Scott Campbell), the flighty owner of A Better Orpheus, convinces Nikki that she can find peace thanks to a dependable traveler, Orlando (Ricardo Chavira), who is currently dying in a hospital. Nikki and Orlando meet and form a bond that goes beyond message delivery.
Rivera's script courageously attempts to bring comfort to audiences looking for answers about death, but the final product is too muddled to pique the audience's interest. The characters are stock archetypes with little depth and shading. The dialogue is overwritten and stodgy. The two acts of the play feel more like separate one-act plays, but neither fully penetrate the themes of forgiveness and redemption in fresh ways.
Director Jo Bonney leads her cast astray. None of the performances demand attention. Chavira, the play's protagonist, must carry most of the production on his shoulders, but his character is not dynamic enough for the audience to follow his arc from playboy to emotional sojourner. As both sisters, Rodriguez doesn't find the nuances in either of the characters. They both seem like the same person with the same level of frustration and sadness. Cate Scott Campbell, as both the metaphysical business owner and an otherworldly guide, makes bland choices that fall flat, a deadly combination for characters that seems to be written as the comic relief of the play. Zilah Mendoza, who plays a slew of Orlando's relatives, shines as the intellectual Republican mother whose rhetoric attempts to hide a morally bankrupt hero of the GOP. In this character, Mendoza finds a cadence that forms a delusional woman who is unaware of her own failings as a mother and a human.
The physical world of the production is captured in Lap Chi Chu's ethereal lighting, while Myung Hee Cho's sets, aided by Hana S. Kim's projections, turn the stage into a fairy tale complete with animal imagery, giving the play a Lewis Carroll motif.
The Untranslatable Secrets of Nikki Corona attempts a mystical poem for the stage. However, in its current form, the play feels as if it is caught in a purgatory of its own making .