The Pain of My Belligerence Charts an Affair Across Three Presidential Elections
Does it spark joy? That's a question tidiness guru Marie Kondo poses about every household item in order to determine whether to keep it or chuck it — but could that same method be applied to people? What if a person sparks lust? Is that the same thing as joy? Through sleek design, a cringe-inducing story, and intense performances, Halley Feiffer's The Pain of My Belligerence forces us to consider the sizable gap between lust and joy, a chasm wide enough to swallow your whole life. This 75-minute jaw-dropper is now making its world premiere at Playwrights Horizons.
It plays out in three scenes, each taking place on election night (2012, 2016, and 2020). The first one depicts a truly exhausting first date between journalist Cat (Feiffer) and restaurateur Guy (Hamish Linklater). He can't stop talking (about his Italian marble, about his adventures in business class, about his wife), and she can't stop giggling idiotically, affirming his worst impulses. "I'm a sociopath," he says, laying his cards directly on the table as she eagerly scoops them up in the dating equivalent of Go Fish. About 20 minutes into the scene, he asks, "So: what about you?" And we're not really surprised that he's not really interested in hearing her response.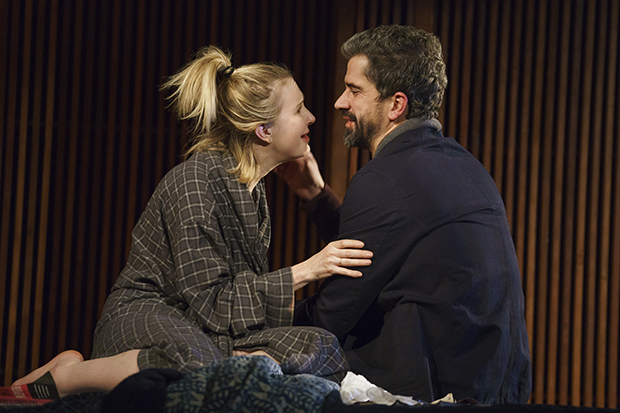 Naturally, this romantic ipecac blossoms into a years-long affair, and in the second scene we see Guy bringing groceries to a very ill Cat, who has been holed up for a week in her Inwood apartment. The third scene finally introduces us to Guy's wife and business partner, Yuki (a formidable Vanessa Kai). Is it possible that both of these intelligent women could have fallen for the same terrible man?
Yes, it is, and by the end of the play, we completely get it. As portrayed by the hyperactive Linklater, Guy is obnoxious, arrogant, selfish, and more than a little hot. It is nice to be desired, and he never hides his desire for Cat. His physical chemistry with Feiffer is simultaneously ludicrous and erotic, begging the question, "Who among us wouldn't also suck his lip (as Feiffer does), provided no one was looking?"
Feiffer delivers a performance that matches the brutal honesty of her writing. Cat may be obnoxious and whiny — "You are insayyyne-ah," she pouts as Guy says something outrageous — but it's hard not to feel something for this human being experiencing a heap of emotional and physical pain (the latter of which could happen to any of us). Her ineptitude when juxtaposed with the magnificent Yuki just seems to make her all the more vulnerable (although Kai is able to draw out some of her own tenderness in her iron lady of a character).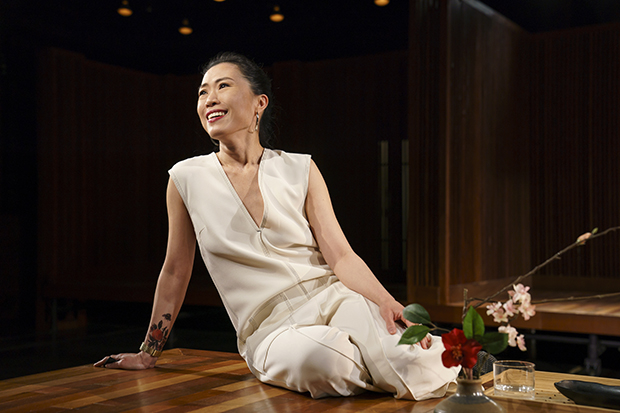 Longtime Feiffer collaborator Trip Cullman directs the play at a dizzying yet impressively coherent clip. The wooden slats and polished surfaces of Mark Wendland's Japanese minimalist set forces us to focus on the performers. It also reminds us of that pace-setting first date, which audaciously occurred at the flagship restaurant of Guy and Yuki's chain of fancy ramen joints. Ben Stanton's lighting reinforces the intimacy of the scenes, especially as the set expands to increasingly open spaces. Elisheba Ittoop's pulsating music keeps us on edge during the transitions. Despite the uncluttered serenity of the hardwood interiors, everything about this production is designed to provoke discomfort — and it succeeds.
But what made me most uncomfortable was the dark truth undergirding Feiffer's script — that we can be completely aware that something (or someone) is deleterious to our lives, yet keep coming back for more, almost like an addiction. The Pain of My Belligerence leaves us with an unpleasant question: If a person sparks both delirious joy and profound pain, what do you do with them?