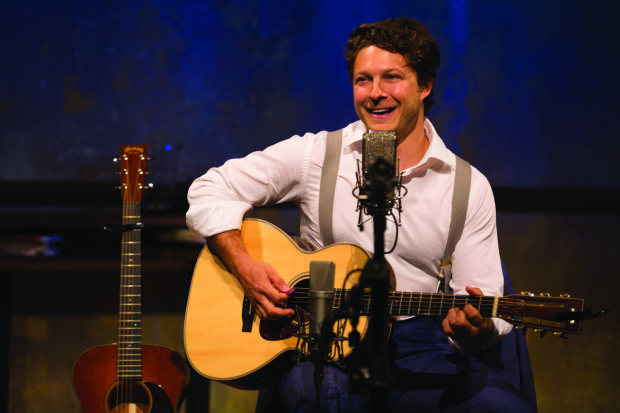 If The Lion at Arena Stage simply told the story of the career of a talented young man named Benjamin Scheuer, it would probably be praised for its imagination and variety. The songs are energetic, tuneful, even memorable. But The Lion is much more than that. Now having its Washington, D.C. premiere, The Lion is the astonishing coming-of-age story of a remarkable and creative young man who tells the tale not only of his career, but of his early life and of the extraordinary challenges he faced while living it.
As author and performer, Scheuer describes his life experiences musically, accompanied by a little narration between the songs. While he adored his mathematician father, who was irascible and critical of Benjamin's inability to do well in math, he taught him to love music, built him a banjo out of a cookie tin, and taught him a song that stayed with Ben throughout his life: "Weather the Storm," whose inspirational lyrics suggest that the way to make it through life is "the help that we give….the way that we weather the storm."
Scheuer and his father fought constantly, and his father died before one of their arguments was resolved. Afterward, Scheuer was miserable about not having made peace. His only consolation was a young woman named Julia, with whom he fell in love almost instantaneously.
There are many musical styles in The Lion, played on eight guitars — seven acoustic and one electric. There are rock, jazz, blues, and folk pieces. The song Ben composed after he met Julia is a purely romantic number, "Lovin' You Will Be Easy." He sang that song the night he was a smash hit at CBGB.
By this time in Scheuer's narrative, he was 28 years old and discovered that he had stage IV Hodgkin's lymphoma. When he was an hour away from his 11th round of chemotherapy, he wrote the first draft of The Lion, a song about four generations of his family. Eventually, after he was cured, it became one of the main songs in this musical.
After his illness, Scheuer decided to go alone to a "Golden Castle Town" where there were cottages looking out over the ocean, where he could take stairs down to the sea to swim every day. Following this "disappearance," Scheuer found he could admit that "bad things happen without reason," and that he could apologize to his father for fighting with him so often ("Dear Dad").
Despite this sad turn of his cancer diagnosis, there is not a bit of self-pity or maudlin excess in Scheuer's script or his songs. There is naturally a different tone to the music and lyrics of the one song that deals directly with the disease, full of a loud falsetto and discordant chords ("When This Thing's Over"). But even looking back over the worst period, when disease destroyed his body, Scheuer manages to insert some very funny black comedy into his monologue.
Neil Patel's simple set is made up of two chairs surrounded by Scheuer's guitars, which rest on stands around the stage. Lighting designer Ben Stanton bathes the back wall of the stage in various colors to accompany the show's different moods. The musical is directed smoothly by Sean Daniels. Costume designer Jennifer Caprio dresses Scheuer effectively in a casual blue suit, white shirt, and blue suspenders.
It's hard to believe that Scheuer packs as much emotion as he does into the 70-minute, extremely moving musical. His ability to do so is a result of the passion and perspective he communicates through his singing and his narrative. When he finishes the show with a reprise of "Cookie-tin Banjo," the song that begins the show, it seems to be a number not only about Scheuer's love of music, but also a song about his father, about growing up, and about reconciliation. In the end, Scheuer indicates that what he has learned through his young life his father taught him long ago: The way to survive is all found in "the way that we weather the storm."