The Gospel According to Thomas Jefferson, Charles Dickens and Count Leo Tolstoy: Discord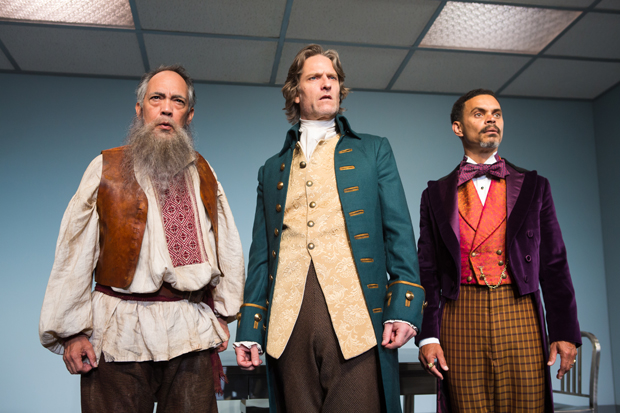 The narcissists among us will be happy to know that purgatory comes with a full-length mirror. At least, that's how Scott Carter imagines it in The Gospel According to Thomas Jefferson, Charles Dickens and Count Leo Tolstoy: Discord, which is now playing the Cherry Lane Theatre in a production by Primary Stages. That front-loaded title is perhaps the worst one of the new season, but is the actual play any good? That depends on your tolerance for our three subjects and their idiosyncratic thoughts on God.
Carter (who is the executive producer of Real Time With Bill Maher) lifts his basic premise from Jean-Paul Sartre's No Exit; but instead of random French people, this waiting room to eternity is populated by three of the wordiest, most self-assured writers to emerge from the last three centuries. Former president and declarer of Independence Thomas Jefferson (Michael Laurence) is the first to enter the sterile, windowless room that constitutes the set. He is soon followed by novelists Charles Dickens (Duane Boutté) and Count Lev Nikolayevich Tolstoy (Thom Sesma). After spending several minutes reciting their bios at one another, the three men discover that they have all edited their own editions of the New Testament. Could collaboration on one, definitive Gospel be the key to their salvation?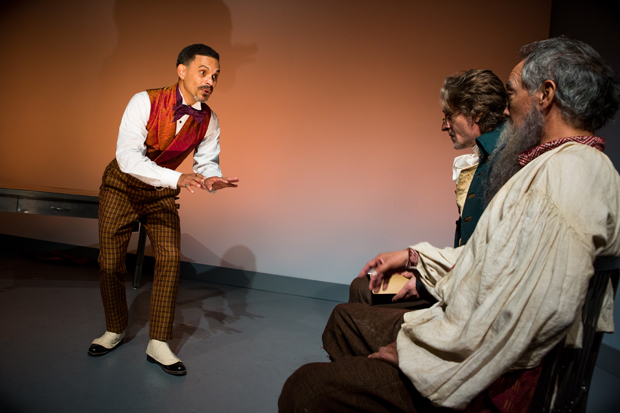 It proves to be no easy task, especially with such strong personalities. Boutté plays Dickens as if he's ever-prepared to step onstage at the Cooper Union, his R's trilling and eyes bulging with feigned wonder. Of the three, he's the one most interested in miracles and magic. The unfailingly rational Jefferson is the exact opposite (Laurence delivers his lines like Bill Clinton just roused from a nap). He refuses to let priestly showmanship obscure Christ's philosophy. Tolstoy thinks they're both idiots (Sesma exudes salty Russian sarcasm). For him, Christ's supreme commandment is pacifism, distilled in the three words "resist not evil." Dickens decides to test his devotion by poking the Russian bear. "This is the worst of times," Dickens exclaims as Tolstoy stabs him in the chest with a fountain pen. One wishes director Kimberly Senior had placed a drummer in the corner to perform the implied rim shots.
Carter tempers his heady subject matter with lowbrow humor. Christopher Hitchens versus William F. Buckley Jr. this is not. Audience members looking for a debate of acid wit will be disappointed, especially as the play devolves into a group therapy session, with each man looking straight into the invisible mirror that takes the place of the fourth wall and confessing his hypocrisy. Jefferson couldn't possibly champion liberty for all men while owning over 600 slaves, Dickens wasn't the exemplar of British family life he claimed to be, and Tolstoy ended up a lecherous cult leader. Their soul-searching monologues are earnest and sincerely delivered by the performers, but they have the effect of making us feel like we're also in purgatory.
Senior keeps the pain minimal with snappy pacing and straightforward design. Wilson Chin's forced perspective set resembles an F.B.I. interviewing chamber, an on-the-nose place to interrogate our subjects. Lindsay Jones's original music is pulsating and dramatic, momentarily fooling us into thinking we're watching an action-adventure flick during the scene transitions. David Hyman's costumes evoke the men as icons, with the razzle-dazzle turned up a notch: Wearing a purple velvet tuxedo over orange tartan pants, Boutté looks ready to stand in for Christian Borle in Charlie and the Chocolate Factory at any moment.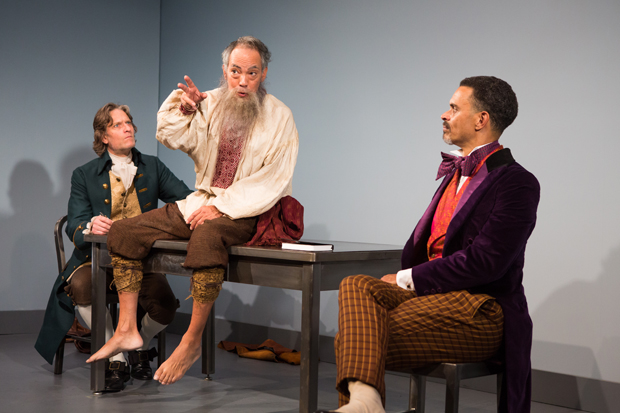 Discord is unlikely to win many converts to the respective churches of Tolstoy, Jefferson, and Dickens, but it does firmly reestablish our three subjects as mortal, fallible men — and that's a useful endeavor. When people are inclined to cite a book as a source of indisputable truth, it's worth remembering that the words were once written by someone working out his own issues.