The Cradle Will Rock, Starring Tony Yazbeck, Releases Production Photos
Classic Stage Company has released production photos of its revival of Marc Blitzstein's The Cradle Will Rock, starring Tony Yazbeck and Lara Pulver, running March 21-May 19 under the direction of John Doyle. Check some of them out below.
Yazbeck stars as Larry Foreman, with Pulver as Moll. The company also includes Ken Barnett as Editor Daily, Eddie Cooper as Junior Mister, Benjamin Eakeley as Reverend Salvation, Tony Award nominee David Garrison as Mr. Mister, Ian Lowe as Yasha, Kara Mikula as Sister Mister, Sally Ann Triplett as Mrs. Mister, and Rema Webb as Ella.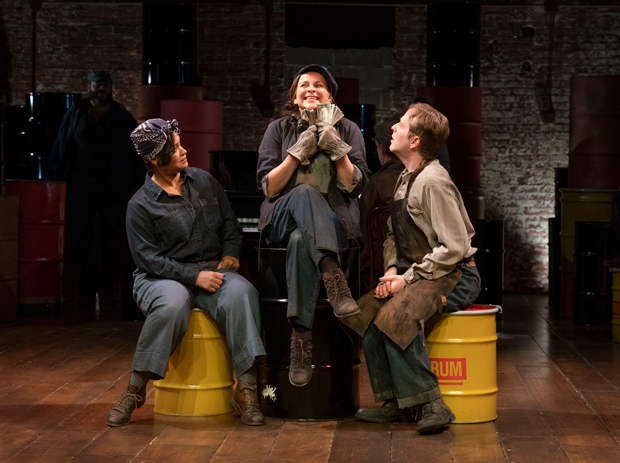 Doyle has also designed the sets. The creative team includes costume designer Ann Hould-Ward, lighting designers Jane Cox and Tess James, and music supervisor Greg Jarrett.
The Cradle Will Rock takes place in Steeltown, USA, where laborer Larry Foreman struggles to unionize fellow steel workers against mounting attacks from a greedy industrialist, a certain Mister Mister. As a cross-section of society shows up in a night court, the extent to which Mr. Mister has bought the support and control of nearly all people — the editor of the local newspaper; the preacher; the doctor; artists — and institutions becomes brazenly apparent.