The Convent Sequesters Women on a Quest for Freedom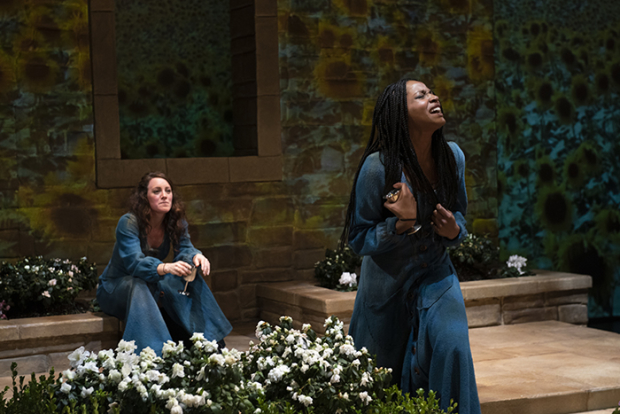 Whether it's Claire of Assisi, Teresa of Avila, or Madonna of pop stardom, the women of Jessica Dickey's The Convent aren't praying to idols; rather they're inhabiting them in all their fierce, feminine glory. Every woman who checks into the convent is on a quest for inner peace, and the sage Mother Abbess (Wendy vanden Heuvel) convinces them that medieval robes, mild hallucinogens, and communion with specially assigned ancient mystics called Nomens could be the key to unlocking it.
In many ways, the residents of the convent are the same women who uncomfortably douse themselves in cultural appropriation at places like Kripalu and Buddhist meditation retreats — and Dickey certainly allows a fair amount of ridicule to shine through such earnest 21st-century faux mysticism. Even so, neither Dickey nor her equally sardonic director Daniel Talbott ever mocks the quest for enlightenment itself. Dickey's characters are lost, flawed, and habitually absurd, but you hope they find whatever it is they're searching for in coming to this strange place.
Mother Abbess's spiritual philosophy can be summarized by the word "sovereignty": the kind of self-possession and personal freedom that she believes every woman should seek and that most women, conditioned by patriarchal society, lack. It's a pattern she's observed in the revolving door of residents at her beloved French convent (designed by Raul Abrego like a peaceful garden surrounded by medieval stone on which Katherine Freer can display her surrealist projections).
In this round of sovereignty seekers, we meet Tina (played by the hilariously motormouthed Brittany Anikka Liu) who dwells on her psoriasis and its effect on her sex life; Bertie (a sympathetic Amy Berryman), a cult escapee who tries to come to terms with her love for fellow resident Dimlin (Annabel Capper, carrying inherent strength in her bellowing voice); Wilma (Lisa Ramirez embodying the convent's most comforting presence), a nun who has not been able to pray since her mother's death; and Jill (the luminous Margaret Odette), a successful attorney who finds herself trapped by the confines of traditional marriage. Then there's Patti (Samantha Soule laying her character groundwork with an agitated entrance), a derisive return customer whose mysterious motives seemed to be wrapped up in stirring the pot (which quickly includes a love affair with Jill).
Where these women have gone wrong, says Mother Abbess, is they've all lived their lives following a certain "King." It's time to dethrone that King and become both the leader and follower of their own lives:
The leader is always in a state of becoming.
She says,
You are leaving.
Or
You are a poet.
Or
F*ck it these boots are worth it.
It all sounds like your standard self-help nonsense. But Dickey adds just enough poetry to catch your ear, just enough feminist rage to get your heart beating, and just enough blunt wit to ensure we take all this so-called wisdom with a grain of salt. After all, how tenable is Mother Abbess's "sovereignty" philosophy, really? A life lived wholly for yourself is a lonely one. It's an existence with no emotional commitment, no surrender of power — nothing that ties you to another human being. And how sovereign are you if you're channeling your "self" via the irrational voices of medieval mystics? It may sound profoundly spiritual, but it's no different from a teenage girl shaping her personality around her favorite pop star (hence Madonna's delightful recurring presence in the play).
Patti, as we eventually learn, has a personal stake in challenging Mother Abbess's commitment to this way of life, and it makes for both a primal and thought-provoking head-to-head between the seemingly unflappable Vanden Heuvel and the raw nerve that is Soule throughout her performance. That rawness translates to Soule's onstage relationship with Odette; they make an electric pair of women learning whether their connection is purely physical or one that will continue to bind them in the real world. Dickey's resolution of these plot threads is less elegant than her poetic exploration of them throughout the rest of the play, including one oddly rushed confession of love. But fortunately for the sovereignty seekers in the audience, nothing is too neatly tied to keep you from sitting in this playwright's finely crafted well of uncertainty.