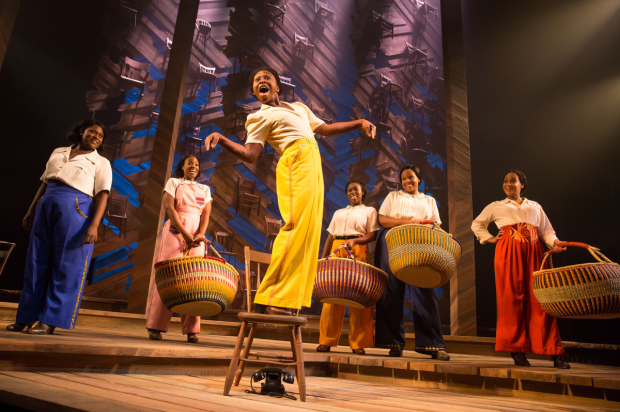 Considering that the original Broadway run only closed in 2008 (after a respectable 910 performances), it seems almost too soon to revive The Color Purple, the musical based on Alice Walker's Pulitzer Prize-winning novel and Steven Spielberg's subsequent motion picture. Yet that's exactly what an army of producers (including Oprah Winfrey, who starred in the 1985 film and produced the initial Broadway run) have done by bringing a new mounting from London's Menier Chocolate Factory to the Bernard B. Jacobs Theatre. After seeing the show again, this seemingly premature return makes sense: It's a sheer delight to hear Brenda Russell, Allee Willis, and Stephen Bray's soulful score on a Broadway stage, performed by immensely talented vocalists. Also, John Doyle's stripped-down staging better serves Marsha Norman's efficient book than the original did. Lushly melodic shows like this, featuring a big story and even bigger heart, are always a welcome sight on the Great White Way.
The musical begins in 1909: Celie (Cynthia Erivo) is a young black woman living in rural Georgia with her sister, Nettie (Joaquina Kalukango). The local church ladies (Carrie Compere, Bre Jackson, and Rema Webb in a delightfully small-town take on the Greek chorus) gossip about Celie being 14 years old and pregnant for the second time. Celie's Pa (Kevyn Morrow) gives away her babies and then gives her away when Mister (Isaiah Johnson, too handsome to hate) comes around looking for a wife. Celie marries Mister, becomes estranged from Nettie, and meets the real object of Mister's affection: the glamorous singer Shug Avery (Jennifer Hudson). Meanwhile, Mister's son, Harpo (Kyle Scatliffe), has an on-again-off-again marriage with the willful and independent Sofia (Danielle Brooks). Surrounded by domineering men and complicated women, Celie wonders if she will ever see her beloved sister again as we watch her grow and change over the next four decades.
Admittedly, that's a lot of story for one musical. When the visually sumptuous (if somewhat unwieldy) original production of The Color Purple opened on Broadway a decade ago, it offered a cavalcade of scenery and costumes in an effort to cram as many plot points of Walker's novel as possible into two hours and 50 minutes. Doyle's more nimble revival shaves about 30 minutes off without ever feeling rushed. In fact, actors often seem to saunter in a manner that conjures a hot Georgia afternoon.
Doyle (best known for his actor-musician revivals of Sweeney Todd and Company) relies heavily on simple yet highly specific gestures to tell the story: Four women place baskets on their heads and we know they're in Africa; Shug lazily spreads her legs apart while sitting on a chair and wearing a flesh-toned negligee to indicate she's in the bath. It works just as well as sliding a tub in on a scenery track, but takes far less time, money, and effort.
Doyle's set consists of a four-level platform backed by a wooden lattice, on which hang multiple chairs that the actors take down as necessary for each scene. Ann Hould-Ward's subtly shifting costumes (especially those worn by the worldly Shug) give us a sense of time without drawing too much focus (except for the ostentatious pants of the second act, which are brilliantly tailored to the personality of all who wear them). The cast commits to the staging and design with an ease that helps us buy in.
This scaled-down production also allows the story, music, and performances to shine through in new ways. Making her Broadway debut, Hudson (the Academy Award-winning star of Dreamgirls) exudes a star quality that feels natural for Shug. She's also in particularly great vocal form, singing with all the strength we remember from American Idol, but with far more control. Brooks (Orange Is the New Black) dives into her Broadway debut with an irrepressible gusto, earning hoots and hollers on her big number, "Hell No!"
Photo Gallery 856
As Celie, Erivo brings us to another level in her brave, understated, and unforgettable Broadway debut. Celie is the Jean Valjean of this Les Miserablian epic: We watch her go through a remarkable transformation over several decades, rooting for her all the way. Erivo's portrayal sneaks up on us. For much of the first act she fades into the background (appropriate for the good little housewife persisting with dignity under the thumb of an oppressive patriarchy), then in the second act explodes with a vengeance. With her powerhouse vocals and winning smile, she could have asked us to believe anything by the end. This is a performance for the history books.
Doyle's less-is-more approach really works for The Color Purple. Joseph Joubert's orchestrations have reduced the pit by half, but the harmonic beauty of the score remains intact: The title number sounds especially nice, performed with recording-studio balance. Doyle and Marsha Norman have smartly streamlined elements of the book, cutting all the original dance breaks. Nothing gets in the way of the forward motion of the plot.
What remains is a larger-than-life musical tale, earnestly delivered. For adherents of the old-fashioned book musical, you can't ask for much more. However, there's nothing old-fashioned about this tale of an older, single woman finding contentment in herself: Sadly, that story is still very much revolutionary in the theater.