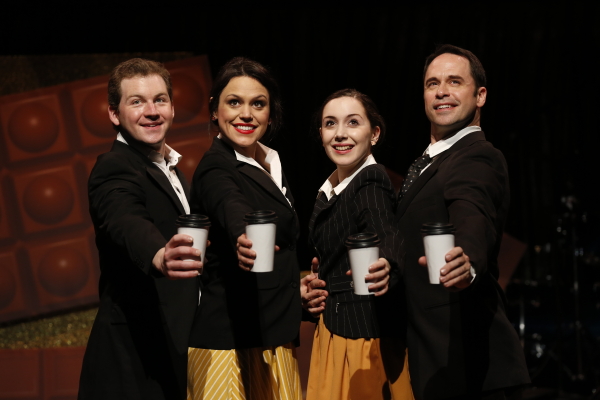 Song, dance, and chocolate can be a recipe for fun theater, and The Chocolate Show!, directed by Dan Foster at the 47th Street Theatre, has all those ingredients and more. But while chocoholic tweens might describe this candy-themed musical as truly scrumptious, those with a passing affection for the confection might find the 90-minute revue a bit cloying.
Emily McNamara plays the World Queen of the Cocoa Bean, Cookie Conwell. Having won the title at last year's Chocolate Show, she must now choose a worthy successor. So, aspiring sovereigns from the audience join Cookie onstage for a "talent" contest, which includes an artistic segment (making a painting with chocolate), a knowledge segment (responding to a question whose answer is…well, you can guess), and a fashion segment (strutting across the stage in a manner befitting chocolate royalty).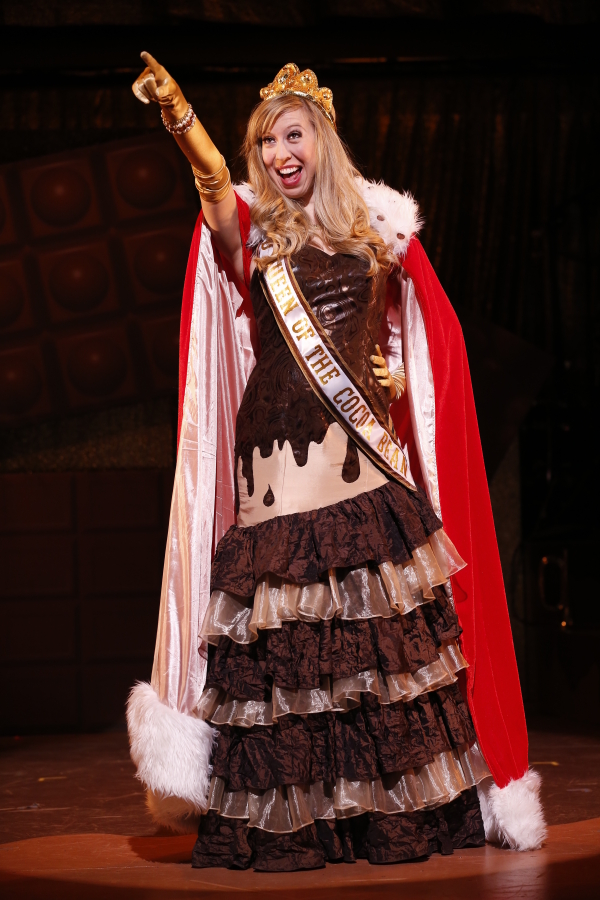 Between segments of the contest are a series of skits and 11 chocolate-themed but otherwise unrelated musical numbers that give a big Hershey's Kiss to every chocolate topic under the sun, from the discovery of the cacao bean to the candy's potentially fatal effect on dogs. Most of these interludes take a nibble at comedy, though sadly the corny hit-and-miss humor often goes down like a hard gummy bear.
One notably more serious and polished number is the nostalgic "Kids Again," sung beautifully by Talene Monahon. Yet ''The Chocolate Show!" leaves a perplexing taste in the mouth when it tries, with songs like this, to please more than what should be its target demographic: children, girls in particular, age eight and older. Some musical numbers veer from that demographic with more adult themes, such as "Chocoholics Anonymous" (chocolate as addiction), "The New Wine" (chocolate as gourmet food), and "Mocha Friday" (chocolate as coffee additive). There's nothing blatantly age-inappropriate about the lyrics (though "The New Wine" is sung, inexplicably, by a convict). However, the songs' topics seem out of place with the musical's jaunty, ingenuous ditties about hot cocoa and cupcakes. By trying to please everyone, the show feels like it's trying to have its chocolate cake and eat it too.
But in the final fudgy analysis, The Chocolate Show! delivers fun, lively performances from the four members of the Chocolate Layer Players (Laura D'Andre, Talene Monahon, Andrew Pandaleon, and James Patterson), and while Emily McNamara hasn't yet found her groove ad-libbing with the talent-show contestants, she does a good job portraying the cocoa-crazed Cookie. The show's highlight arrives when she gives her crown to a gleeful youngster — could anything be sweeter?