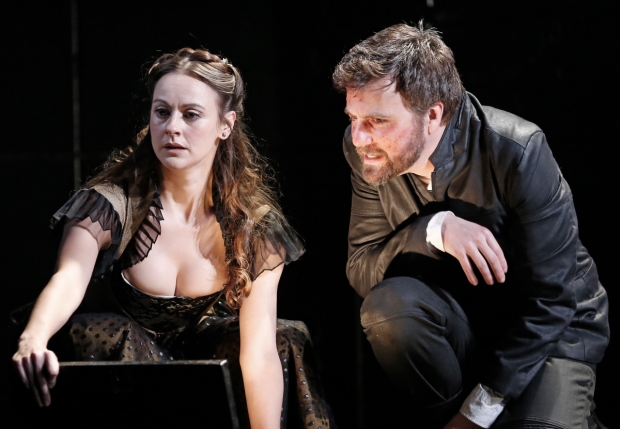 It's hard to define Thomas Middleton and William Rowley's The Changeling, a play first presented in 1622 and now being revived by the risk-taking classical company Red Bull Theatre. The authors are believed to have split up the writing, which, when seeing it performed, makes a certain amount of sense. The text sits at a strange intersection between dark comedy and Grand Guignol tragedy, with elements of bawdy humor taking place alongside over-the-top romantic melodrama and violence. Red Bull's production at the Lucille Lortel Theatre, helmed by company artistic director Jesse Berger, tries to embrace the tonal inconsistences. It hits the right notes of bleak humor and bloodlust, though it has problems connecting two wildly different story lines.
The first follows a young woman of privilege, Beatrice-Joanna (Sara Topham), who has been told by her father that she must marry Alonzo de Piracquo (John Skelley), a man of similar means. But the seemingly virtuous Beatrice has eyes for a handsome nobleman named Alsemero (Christian Coulson), and will do anything to be rid of her intended betrothed. Knowing that her family's mistreated and disfigured servant De Flores (Manoel Felciano) is mad for her, Beatrice enlists his help to do away with Alonzo once and for good. Their duplicity leads to a bond neither expected.
The secondary story line finds Alibius (Christopher McCann), an old husband, afraid that he can no longer satisfy his much younger wife, Isabella (Michelle Beck). He decides to place her in an insane asylum out of fear that others will try to woo her. What Alibius doesn't know is that two gentlemen (Bill Army and Philippe Bowgen) who are feigning insanity in the same madhouse and are vying to woo Isabella.
By the end, limbs will be detached, droll witticisms will be dispatched, and a whole lot of red liquid will spill forth from various characters. Separately, the two narratives are very nicely performed. The delectably serpentine Felciano and a deliciously insane Topham aid the treachery of the De Flores/Beatrice tale, as do the pitch-black dungeon of Marion Williams' set and Peter West's eerie lighting. Meanwhile, Army is hilarious at playing the fool, with Beck providing strong-willed support as a woman who has to fend off various sexual advances. Costumer Beth Goldenberg provides appropriately chilling bird masks for the tenants of the crazy house, with a musical score by Ryan Rumery that slowly builds tension.
The biggest trick of the play is uniting the two plots, which join together through the question of Alonzo's death. Berger has a hard time making them gel as one, and throughout the production, it feels as if we're watching two separate works being performed alternately. Yet the blame can't be placed entirely on the director; the playwrights created a piece that's made up of very disparate halves rather than a cohesive whole. That might explain why, in this day and age, The Changeling is often encountered only in drama textbooks while its contemporaries, like The Duchess of Malfi and 'Tis Pity She's a Whore, frequently find live audiences around the world.