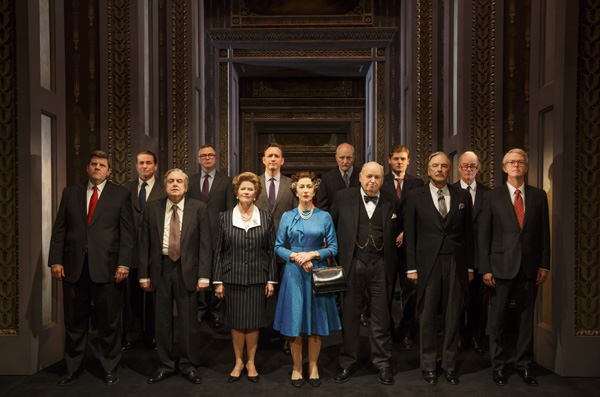 On September 9 of this year, Queen Elizabeth II will become the longest-reigning British monarch ever, surpassing her great-great-grandmother Victoria. Peter Morgan invites us to reflect on the second Elizabethan era with The Audience, now making its American debut at the Schoenfeld Theatre following a 2013 run in London. Dame Helen Mirren, who won an Academy Award for her portrayal of Elizabeth in Morgan's 2006 film The Queen, reprises that role in this new work. From an acting perspective, The Audience is a far more ambitious undertaking than the aforementioned film, calling on Mirren to age six decades and back over the course of two and a half hours. The actress remarkably pulls it off, leaving us hanging on her every word and suppressed grimace. Those who wait with bated breath for the latest witty aphorism from the Dowager Countess of Grantham will love this play.
In the opening moments, the queen's Equerry (Geoffrey Beevers, playing a glorified personal assistant) informs us that the queen has a standing appointment (or "audience") every Tuesday with her prime minister. As these meetings are off the record, Morgan takes liberal dramatic license in imagining the private words shared between monarch and the 12 premiers who have served under her reign. The result is a deliciously dishy historical fantasia.
Of the "dirty dozen" (as Elizabeth puts it), we meet only the eight most notable (apologies to fans of James Callaghan, Edward Heath, Harold Macmillan, and Alec Douglas-Home). John Major (Dylan Baker) frets about his unruly backbenchers. Anthony Eden (Michael Elwyn) nervously comes clean about the Suez Crisis. Gordon Brown (Rod McLachlan) discusses his chronic depression. The queen mostly listens, offering the occasional probing question; she even nods off briefly as David Cameron (Rufus Wright) unpacks his thoughts about the Eurozone. It all feels a bit like a therapy session with Her Majesty.
The PMs shuffle on and off in no particular order, leading to some spectacular onstage costume changes. Designer Bob Crowley has captured the essence of queen chic with maximum efficiency: An elderly Elizabeth turns around and suddenly she's a young woman, awaiting her very first audience with Winston Churchill (an uncanny Dakin Matthews). When she becomes overwhelmed, admitting that she might struggle with her new duties, he advises, "Just never show that struggle, Lilly-Bett. It's not what your subjects want from you." Suddenly, she pulls herself into the queen we've come to know over the past half century, sphinxlike in her opinions and feelings as befits her station.
While the queen is constitutionally obliged to remain impartial, we have no doubt where Morgan's political sympathies lie. Three scenes are expended on Labour PM Harold Wilson (the hilarious Richard McCabe). There is an unlikely yet authentic chemistry between the monarch and the (allegedly) working-class politician.
This stands in stark contrast with the play's only villain: Margaret Thatcher. Wearing a pinstripe suit and 1980s drag-queen hair, Judith Ivey knocks it out of the park as the Iron Lady. She browbeats the queen on the subject of South African sanctions (she's against them) and the Commonwealth (the association of nations that replaced the Empire, which Thatcher considers a waste of money). "I recognize that for your family — the transition of this nation from Empire to comparative supplicancy on the world stage may have come as a greater shock than to the rest of us," she says with feigned compassion. This is a woman who will make you feel small, even if you are the queen of England.
Moments like these (scowling at Thatcher, becoming verklempt with Churchill) are the most perilous for Mirren as she is called on to portray the emotional life of a real woman who never engages in any public display of emotion. She navigates these troubled waters with understated grace, wisely opting to hold back the deluge like a regal Hoover Dam.
Petulance is mostly reserved for flashback to her younger self (Sadie Sink). Occasionally, the older Elizabeth interacts with the younger, guiding her on the path of queenliness. This culminates in Elizabeth's 21st birthday address from South Africa, in which she dedicates her life in service to the Commonwealth. Sink delivers it with elegance and pristine diction.
Morgan's sprawling cinematic construction (mixing flashbacks into a nonchronological presentation of events) has the potential to be supremely confusing. Under the deft direction of Stephen Daldry, however, it never is. He's led the cast to very specific performances and wrapped them up in a classic sense of showmanship. Bob Crowley's scenic design is picturesque, reaching its grandest heights with an operatic backdrop of Scottish moors meant to depict the view from Balmoral Castle. Elizabeth's coronation makes an appropriately splashy first-act finale. The music swells and the lights brighten as she holds out her scepter and orb before us. Even the most die-hard republican will find it difficult not to be swept up in the pageantry.
While not a brilliant play, The Audience illuminates the reassuring continuity that has made the Monarchy so beloved in the U.K. In an on-the-nose swipe at the perils of foreign intervention, Morgan has Antony Eden and Tony Blair justifying their respective wars (nearly 50 years apart) with almost identical language. "I suppose that's what happens if you stick round long enough," Elizabeth observes, "The same people, the same ideas come round again and again. Wearing a different colored tie." Certainly, this is a truth even we Yanks can appreciate.