The 10 Greatest Broadway Couples of All Time
In honor of Valentine's Day, we've ranked the 10 greatest couples ever to light up Broadway. While the siren call of showmance can often land theater folks in some pretty ill-advised pairings, these individuals managed to navigate those treacherous waters and find a soul mate. Many of the couples on this list are also professional collaborators, so it is impossible to measure just how much their love has contributed to our stage, but we're so glad it has.
First, a couple things to note:
1. A relationship's greatness is not incumbent upon the death of one of the partners during that relationship. Plenty of good things (children, art, happiness) can come from a relationship that eventually reaches its expiration date.
2. Everyone on this list has contributed to Broadway in some way, although not always to the same extent as his or her partner…at least on paper. But as anyone who has been in a long-term relationship can attest, one shouldn't underestimate the power behind the throne.
On to the list: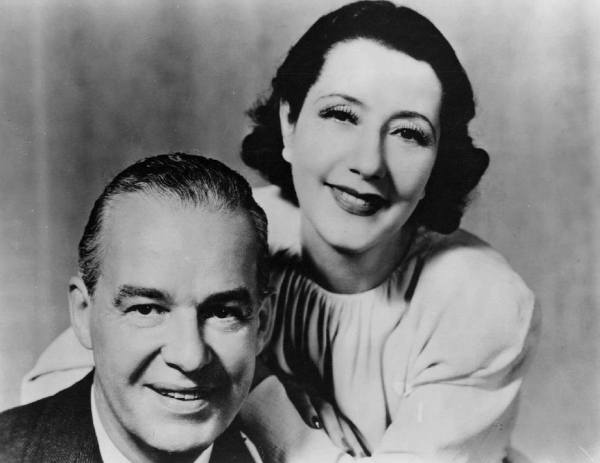 1. Alfred Lunt & Lynn Fontanne
Legendary first couple of the stage Alfred Lunt and Lynn Fontanne are the gold standard: They even have a Broadway theater named after their union. Over the course of their 55-year marriage, the duo regularly appeared together onstage, including in the original productions of The Guardsman, Design for Living, and The Great Sebastians. In addition to their status as the king and queen of Broadway, Lunt & Fontanne regularly toured the country, elevating their fame to a level rarely achieved by stage actors. New York Times critic Brooks Atkinson (who also has a namesake theater) once observed, "Their special genius…has enslaved about every theatergoer in the United States." There may never again be a Broadway couple so illustrious, equally matched, and thoroughly in love.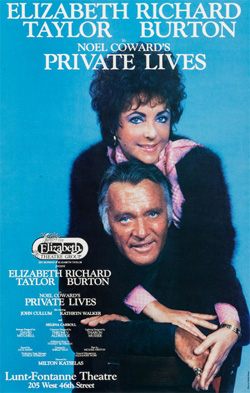 2. Richard Burton & Elizabeth Taylor
Burton and Taylor may not have had the consistency of Lunt and Fontanne (or the fidelity to the stage), but theirs was a love for the ages. It was also famously tempestuous, with many believing they were typecast in the roles of George and Martha for the 1966 film adaptation of Edward Albee's Who's Afraid of Virginia Woolf? They married in 1964 after meeting on the set of Cleopatra, but divorced 10 years later, only to remarry in 1975 (and divorce again). Still, there was no love lost when they appeared together on the stage of the…ahem…Lunt-Fontanne Theatre to star in the 1983 revival of Noël Coward's Private Lives. It would be Lunt's final appearance on Broadway. (This was the subject of the 2013 BBC movie Burton & Taylor, starring Helena Bonham Carter.) By all accounts, they never stopped loving each other, but sometimes it's impossible to live sanely with the one you love.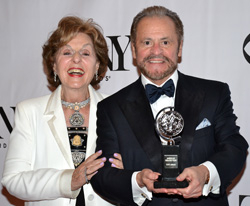 3. Barry & Fran Weissler
They're the Tony Award-winning producers of Chicago and Pippin. They're also married, and have been for over 45 years. Is success the key to their longevity? (Chicago is the longest-running revival in Broadway history, thanks very much to the Weisslers' mastery of celebrity stunt casting.) Or is their commitment to each other the key to their success? Either way, the pair has left an indelible mark as one of Broadway's greatest power couples.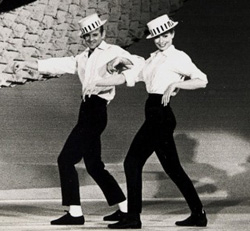 4. Bob Fosse & Gwen Verdon
He was arguably the greatest choreographer on Broadway (Sweet Charity, Pippin) and she its greatest dancer (Can-Can, Damn Yankees). Is it any wonder they ended up together? Fosse and Verdon were married for 27 years, but legally separated for the last 16 of those. Fosse had a tendency to sleep around with lots of other people, as detailed in Sam Wasson's new biography Fosse
. Still, the couple's greatest triumph, Chicago (Fosse directed, Verdon starred as Roxie), opened several years after their separation. They continued to collaborate artistically (on the 1978 revue Dancin' and Fosse's 1979 autobiographical film, All That Jazz), long after they were no longer cohabiting. Verdon was with Fosse when he died suddenly of a heart attack in 1987. They were still married.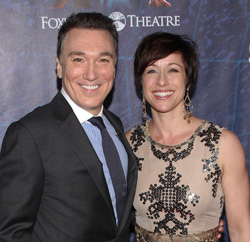 5. Patrick Page & Paige Davis
He's Broadway's favorite villain (The Grinch, The Green Goblin, Scar) and she's America's interior-decorating sweetheart (Trading Spaces). Appropriately, they met on the first national tour of Beauty and the Beast, where he was playing candelabra Lumiere and she was feather duster Babette. (L'Amour.) Whether they're walking the red carpet or dodging bullets in a gang war, these two make a great match.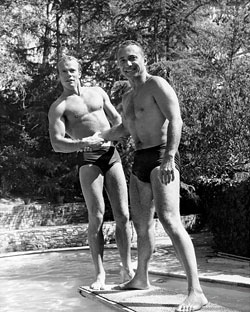 6. Arthur Laurents & Tom Hatcher
Laurents was the prolific book writer on such classic musicals as Gypsy, West Side Story, and La Cage Aux Folles. Hatcher was a handsome young actor (12 years Laurents' junior) when they first met in Hollywood. They began to live openly as a couple in New York in 1955, a time when that was extremely rare for two men. While Laurents cast Hatcher in his 1960 Broadway play, Invitation to a March (starring Jane Fonda), Hatcher soon left the theater for the lucrative world of real estate development. Still, Laurents kept Hatcher as his closest artistic advisor throughout the duration of their 52-year relationship (ending with Hatcher's death in 2006). In his memoir, The Rest of the Story
, Laurents wrote of Hatcher, "I came to depend on him completely." While Laurents was universally regarded in theatrical circles as a tough character, he did have a soft spot for one man.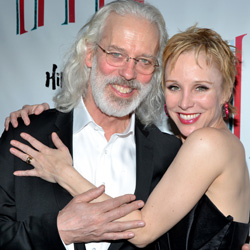 7. Terrence Mann & Charlotte d'Amboise
Cats is a powerful aphrodisiac. At least it was for this couple. Mann originated the role of Rum Tum Tugger, while d'Amboise took over the role of Cassandra in 1983. While their mutual attraction was undeniable, the two didn't officially become an item until 1989. They married in 1996. Now they have two daughters, whom they support by going to work eight times a week in the Tony Award-winning Broadway revival of Pippin, where she plays the queen to his king. In their spare time (ha!), Mann and d'Amboise run a training program for aspiring performers. Mann and d'Amboise are not only delightful, they're indefatigable.
8. Boyd Gaines & Kathleen McNenny
These two fell in love in the park. Specifically, they were cast opposite each other in the 1992 Shakespeare in the Park production of The Comedy of Errors, in which they played lovers Luciana and Antipholus of Syracuse. Unlike Lunt and Fontanne, however, they've rarely appeared onstage together since. The exception was the 2012 Broadway revival of Ibsen's An Enemy of the People. They played husband and wife, Dr. Thomas Stockmann and Catherine Stockmann. It's daunting to share a scene with a four-time Tony winner, but as McNenny told The Huffington Post, "I don't feel intimated by it because it's my husband."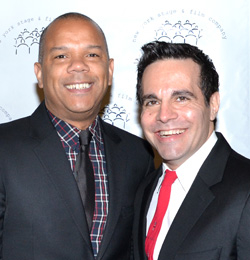 9. Mario Cantone & Jerry Dixon
Cantone is the hilarious stand-up comedian who has made several appearances on Broadway, including in the 2004 revival of Stephen Sondheim's Assassins. Dixon is the performer/director/composer soon to appear in the new Broadway musical If/Then. It pays to be in a relationship with a theatrical renaissance man: Dixon composed the music for Cantone's two stand-up shows on Broadway: An Evening With Mario Cantone (2002) and the Tony Award-nominated Laugh Whore (2004). After 20 years together, Cantone and Dixon finally wed in 2011 (the year same-sex marriage became legal in New York). When asked about the extended engagement by the ladies of The View, Cantone wryly remarked, "Thanks for the anticlimactic honeymoon, government!"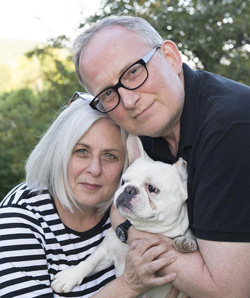 10. Adrian Bryan-Brown & Joan Marcus
You might have seen her name next to the little © under, oh, roughly half of the production stills we post here at TheaterMania. Joan Marcus is the top photographer on Broadway. Her husband since 1991, Adrian Bryan-Brown, is the press agent extraordinaire and cofounder of Boneau/Bryan-Brown, one of the leading press firms representing Broadway shows. While the above list is dominated by actors, it's important to remember that there are thousands of people working behind the scenes so the stars can dazzle us onstage. Marcus and Bryan-Brown are two of the most tireless and enduring.