Story of the Week: Carol Channing and the Vanishing Broadway Icon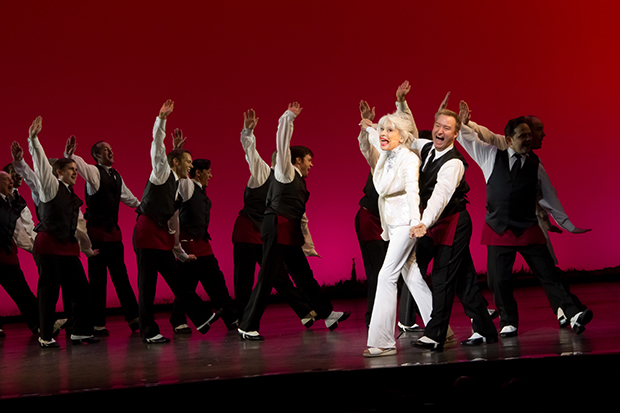 One of the brightest lights on Broadway dimmed this week with the passing of Carol Channing. And with her, an entire genre of Broadway performer seems to have vanished: the nationally recognized, ever-touring, utterly iconic showmen and showwomen who don't see Broadway as just a necessary step on the road to EGOT, but the apex of American entertainment. There are actors who feel that way today — but are they as instantly recognizable as Carol Channing? To understand why she was so famous, and how her shrewd manipulation of public image foreshadowed the age of social media, read below.
Who was Carol Channing?
While her career spanned nearly eight decades, Carol Channing is best remembered for two Broadway roles: Lorelei Lee in Gentlemen Prefer Blondes (in which she sang the instant classic, "Diamonds Are a Girl's Best Friend") and Dolly Gallagher Levi in Hello, Dolly!, a part she played over 5,000 times all around the world.
Like most stage stars of the last century, she also worked in film and TV, though not nearly to the same extent as Julie Andrews or Liza Minnelli: Her most significant film role was Muzzy Van Hossmere in Thoroughly Modern Millie, for which she was nominated for a 1968 Academy Award. Many of America's 75 million millennials first encountered her as the White Queen in the 1985 TV version of Alice in Wonderland. With her delightfully uninhibited performance, the 64-year-old Channing seemed to announce to a new generation, "You've never seen a White Queen quite like me."
Why was she so iconic?
The answer is obvious in the video above: Her distinctive rasp, impossibly broad grin, and animated physicality made Channing a favorite subject of both cartoonists and drag queens. Channing never begrudged such caricatures, likely recognizing that they only added to her legendary status. In a 2009 interview with theater journalist Eddie Shapiro, she gleefully recalled attending a drag show with George Burns in Las Vegas, at which she was the runway theme. "It's easy for someone to imitate someone who is not doing herself," she said in that same interview, alluding to the performative nature of her public persona.
With false lashes that seemed to reach out from under her cotton candy hair to tickle the audience, Channing was a female performer who capitalized on her appearance without relying on sexuality. It made her an unforgettable stage star, but probably intimidated Hollywood producers, who declined to have her reprise her two big roles on film: They went to Marilyn Monroe (Gentlemen) and Barbra Streisand (Dolly) instead.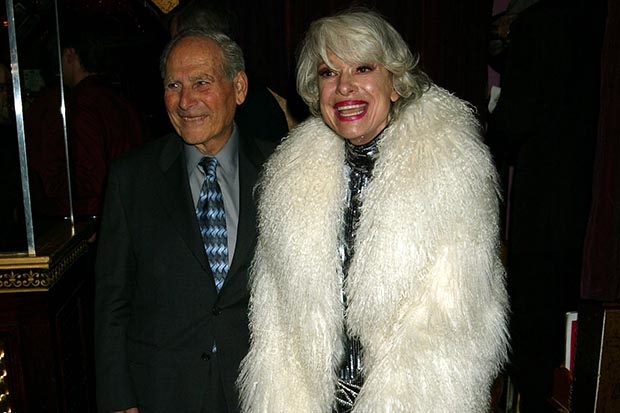 Can the theater make you famous in America?
It's become common to bemoan the downturned eyes of iPhone worshippers, but Americans have been in love with the screen (whether in a movie house or in their living rooms) since before Carol Channing first stepped onstage. Yet it was through the allegedly outmoded medium of the theater that she built her international recognition. There are still actors like that, though they are few in number: Patti LuPone comes to mind, as does Nathan Lane, who once ended a spat with a belligerent Harvey Weinstein by retorting, "You can't hurt me, I don't have a film career."
Channing forged her independence from Hollywood by doing the hard work of crisscrossing America with her shows, especially Dolly, which she continued to perform well into her 70s. Yes, Americans are in love with the screen, but the more time one spends staring into its artificial glow, the more radiant a live performance becomes — like stepping out into the sunlight after an extended stint in a cave. Channing hardly ever missed a show, and why would she? As one of the great live performers of her generation, she knew that each show was an opportunity to personally connect with an audience, implanting in them a memory that would only grow dearer with age.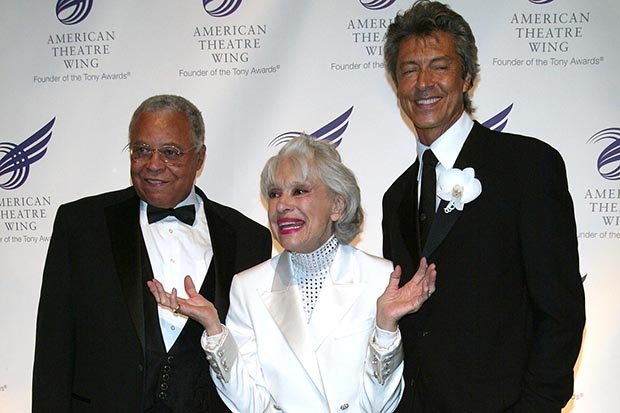 Look at the Old Girl Now, Fellas
Channing reinforced those memories by never staying far from the public eye: She religiously took and catalogued photos of herself with other famous people — appearing much as she always had, a beaming smile in full Carol Channing drag. Her longtime publicist, Joshua Ellis, recalled to the New York Times his duty to send those photos to news outlets whenever anyone died. One can only imagine her reach had she come of age with Instagram. Certainly, her page would have been far more entertaining than that of any Kardashian or Grande.
Carol Channing became and stayed an icon by refusing to play it safe and follow a prescribed career path. When everyone seemed to be going out west to Hollywood, the Seattle native headed east to Broadway. While female performers of her generation (and really, any generation) were told that sex sells, she defiantly sold the audience something else entirely — something undeniably weird, yet utterly fabulous. Young performers with charisma and courage could learn a lot from her example.