Story of the Week: Andrew Lloyd Webber's Reign as King of Broadway Comes to an End
On September 25, 1979, Evita opened at the Broadway Theatre. Since that date, an Andrew Lloyd Webber musical has played on Broadway every night there was a regular performance. Sometimes, two or three have played concurrently. Those of us under the age of 44 have never known a time in which Lloyd Webber didn't have a presence on Broadway. That all ends this Sunday, when Bad Cinderella closes after a disappointing 85 regular performances and 33 previews.
Story of the Week will reflect on Lloyd Webber's remarkable run, a period in which he changed the industry and defied critical opprobrium to become the most financially successful Broadway composer ever. Like the monarch he recently mourned, Lloyd Webber's reign brought both stability and (by the end) stagnation. As it comes to an end, we look back on what he accomplished and offer a few thoughts about what it all meant for Broadway.
A Selective Timeline of Andrew Lloyd Webber on Broadway
Spring 1965: Andrew Lloyd Webber meets Tim Rice, the lyricist with whom he would go on to write Joseph and the Amazing Technicolor Dreamcoat, Jesus Christ Superstar, and Evita.
March 1, 1968: As student protests roil Europe and the US, 19-year-old Andrew Lloyd Webber and 23-year-old Tim Rice debut a 22-minute version of Joseph at Colet Court, a private prep school for boys.
June 1970: On his very first trip to New York to see the US debut of Joseph at Cathedral College of the Immaculate Conception in Queens, Lloyd Webber attends his first Broadway show: Stephen Sondheim's Company.
October 1970: Rice and Lloyd Webber record the concept album Jesus Christ Superstar, a "rock opera" about the final days of Jesus Christ. It proves to be a massive success, topping the Billboard charts in the US the following year before ever receiving a stage production.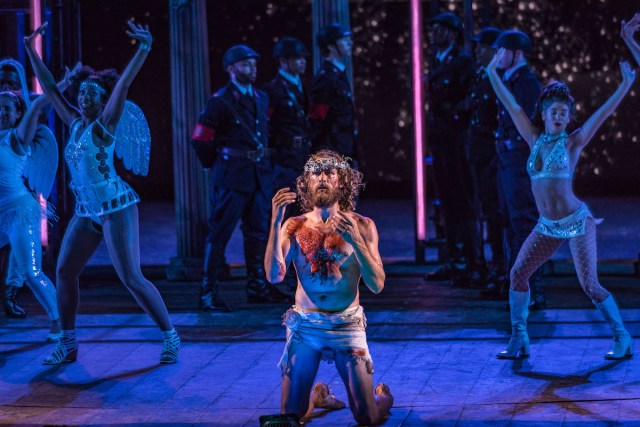 July 12, 1971: Jesus Christ Superstar makes its official concert debut at Pittsburgh's Civic Arena before a crowd of 13,000. Unofficial copycat concerts immediately spring up across the US, with promoters relying on ASCAP licenses to perform the album in its entirety.
October 12, 1971: Jesus Christ Superstar opens on Broadway. Clive Barnes of the New York Times describes JCS as "of minimal artistic value," but the show runs for another 710 performances anyway.
March 17, 1972: Producer Robert Stigwood wins an important legal victory on behalf of Lloyd Webber and Rice in Robert Stigwood Group Limited v. Sperber. The U.S. Court of Appeals, Second Circuit, finds that an ASCAP license is insufficient to perform the songs of JCS as a complete concert, and doing so constitutes a violation of Rice and Lloyd Webber's "grand rights" (the right to perform JCS as a dramatic presentation). The ruling is invaluable in protecting the theatrical rights of a duo who entered the scene via the recording industry, and who compose "sung-through" musicals without any "book scenes."
January 15, 1976: Lloyd Webber incorporates the Really Useful Company as a vehicle for an animated adaptation of Thomas the Tank Engine. While Thomas would eventually leave the station without Lloyd Webber, he retained the corporation as a production company for his plays and musicals.
September 25, 1979: Rice and Lloyd Webber's Evita opens on Broadway in a production by the legendary director (of Company) Harold Prince. Patti LuPone stars in the title role of Eva Perón, wife of Argentinian dictator Juan Perón. Critic John Simon describes it as an "artfully produced monument to human indecency." It runs for another 1,566 performances, winning the Tony Award for Best Musical and becoming the favorite musical of future US President Donald J. Trump.
January 24, 1980: Lloyd Webber meets producer Cameron Mackintosh for the first time. Over three bottles of burgundy at London's Savile Club, they discuss creating a full-length musical based on T.S. Eliot's Old Possum's Book of Practical Cats.
January 27, 1982: Joseph makes its long-awaited Broadway debut, running for 747 performances.
October 7, 1982: While Evita and Joseph are still running, Cats opens at the Winter Garden Theatre. It runs until September 10, 2000, becoming the longest-running show in Broadway history (up to that point) and grossing billions worldwide.
September 18, 1985: Song and Dance opens at the Royale Theatre and plays a comparatively modest 474 performances.
January 15, 1986: Really Useful Group is valued at $50.8 million during its initial public offering on the stock market.
March 15, 1987: Starlight Express, Lloyd Webber's musical about trains (with lyricist Richard Stilgoe) opens at the Gershwin Theatre. New York Times critic Frank Rich calls it, "a confusing jamboree of piercing noise, routine roller-skating, misogyny, and Orwellian special effects." It runs for 761 performances.
January 26, 1988: With Cats and Starlight still running, The Phantom of the Opera opens at the Majestic Theatre on Broadway in a lavish production directed by Harold Prince. It becomes the pair's crowning achievement, winning the 1988 Tony Award for Best Musical and running 13,981 performances through April 16, 2023, making it the longest-running show ever on Broadway by several years. This is the apogee of the Andrew Lloyd Webber era on Broadway.
April 8, 1990: Aspects of Love opens on Broadway in a production directed by Trevor Nunn (who also helmed Cats and Starlight). Despite running 377 performances, it loses its entire $8 million investment.
November 17, 1994: Sunset Boulevard opens on Broadway. Lloyd Webber has once again reunited with Trevor Nunn for this adaptation of the Billy Wilder film about faded silent film star Norma Desmond (played by Glenn Close, despite Patti LuPone originating the role in London). It plays 977 performances and wins the 1995 Tony Award for Best Musical.
October 28, 2001:  By Jeeves, an early collaboration between Lloyd Webber and Alan Ayckbourn based on stories by P.G. Wodehouse, opens at the Helen Hayes Theatre. It closes by New Year's Eve.
November 17, 2005: The Woman in White opens at the Marquis Theatre and promptly closes three months later. TheaterMania critic David Finkle observed, "The composer almost seems to have tired of his own work."
October 1, 2010: Plans for a Broadway run of Love Never Dies, Lloyd Webber's sequel to Phantom, are scrapped after a poor reception in London.
December 6, 2015: Following 2012 revivals of Jesus Christ Superstar and Evita, Lloyd Webber returns to Broadway with his first new musical in a decade, School of Rock. Despite winning no Tony Awards, it's a hit, running 1,309 performances.
February 9, 2017: With the opening of the Lonny Price-directed revival of Sunset Boulevard, Lloyd Webber achieves a rare feat by having four shows playing simultaneously on Broadway. The other three are School of Rock, a revival of Cats, and (of course) Phantom.
March 23, 2023: Bad Cinderella (rebranded from simply Cinderella in London) opens at the Imperial Theatre to mostly negative reviews. Box office remains weak over the following month and the show receives no Tony nominations. A closing announcement follows shortly.
June 4, 2023: Bad Cinderella closes on Broadway, ending Lloyd Webber's uninterrupted four-decade run on Broadway.
Is he past the point of no return?
 Almost certainly not. Lloyd Webber has already alluded to an eventual return of Phantom, which went out on a high note by grossing $3.7 million in its final week. I expect that inevitable revival will not match the grandeur of Hal Prince's original staging (and will therefore not have the same hefty operating cost), but the strength of the brand alone will be enough to sell tickets.
You can be sure that Cats is playing somewhere on earth tonight, the tag line "now and forever" acting as both a promise and a threat. It's only a matter of time before it slinks back onto Broadway, its nine lives nowhere near spent. And innovative new stagings of Evita are likely to be part of the theatrical landscape for the foreseeable future, as the world continues to grapple with the power of personality in politics.
As a critic, I've sneered at Lloyd Webber's "mindless" idea of theater and bemoaned his "cell phone ringtone" music, which nevertheless burrowed into my brain and kept me humming for days after. The man knows how to write a catchy tune, and through the dogged defense of his intellectual property and an aggressive campaign to bring his melodies to the people, he has been able to capitalize on that: My late grandmother, who never attended a Broadway show in her life, had a music box on her dresser that played "Memory."
Lloyd Webber came onto the scene at a time when Broadway seemed to be losing its cultural currency: In the early '70s, popular music no longer originated on New York's stages and show tunes were for old people. By debuting Jesus Christ Superstar as a rock album (but always intending to present it onstage), Lloyd Webber seemed to promise a new way forward. He made good on that promise with blockbuster musicals like Phantom and Cats, which have toured every corner of the globe and converted young theatergoers into lifelong fans. You may not like the shows, but the fact remains that Andrew Lloyd Webber (and Cameron Mackintosh, in no small part) dealt them that gateway drug when no one else was — and this has benefited the industry as a whole.
He's a trusted brand, like Disney or General Electric. As a businessman, Lloyd Webber has returned mountains of cash to investors, created countless jobs, and almost single-handedly kept the Broadway theater from slipping into irrelevance during the dark days of the '70s and '80s. He harnessed the potential of globalization for musical theater at a time when most Broadway producers were still parochially fretting about the New York Times review (too many still are). His multiple critic-proof and highly profitable ventures speak for themselves.
Perhaps his departure from Broadway (for now) signifies an industry that has finally found its footing in a fragmented culture in which consumers have endless options for entertainment, many of which are far more affordable and convenient than a Broadway ticket. Shows like Hamilton and Six have bridged the divide between Broadway and popular music in more elegant, artful ways than Starlight Express ever did. And with the advent of streaming technology, Broadway producers finally have a way to reach new audiences who might not (yet) have access to a touring production or the means to buy a ticket.
Andrew Lloyd Webber played a huge role in getting us to this point, and for that he deserves our gratitude.