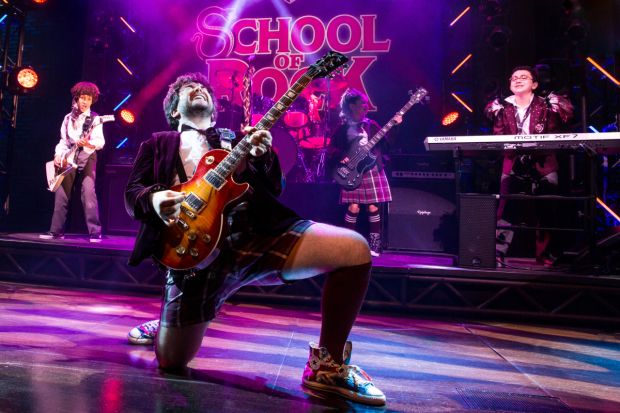 "Kids? Is this some kind of gimmick?," asks a concert promoter in School of Rock, the new Andrew Lloyd Webber musical now making its world premiere at Broadway's Winter Garden Theatre (formerly the litter box of Lloyd Webber's ever-popular Cats). With no fewer than seven ongoing Broadway shows relying heavily on child actors, this latest addition cannot be accused of going the novelty angle in casting an ensemble of kids. Happily, these talented young professionals are as adorable and negative-review-proof as their colleagues, gleefully laboring eight times a week for our entertainment. Unfortunately for them, not all kiddie musicals are created equal. School of Rock is cute and occasionally funny, but not any more than its source material, making its onstage existence something of an extravagant "meh."
Based on the popular 2003 film starring Jack Black, School of Rock is about Dewey (Alex Brightman), a hapless rocker living in a spare room of the apartment that his best friend Ned (Spencer Moses) shares with girlfriend Patty (Mamie Parris). Kicked out of his band and unable to pay the rent, Dewey takes drastic action: He poses as Ned in order to take a well-paying job as a substitute teacher at the prestigious Horace Green Elementary School. At first bored by the students, Dewey becomes intrigued when he hears them accompanying Principal Rosalie (Sierra Boggess, showing off her beautiful legit opera voice) on Mozart's "Queen of the Night" aria. Could these musical virtuosi be his ticket to rock-and-roll fame? Dewey begins an intensive curriculum of rock history and theory for the kids in preparation for an unauthorized field trip to the battle of the bands.
This whimsically implausible romp is set to Lloyd Webber's hit-or-miss music. The composer of The Phantom of the Opera (the longest-running show in Broadway history), Lloyd Webber is arguably the most successful living musical-theater artist, but that isn't quite on display here, considering that many of his songs resemble a cell phone ringtone: electronic notes presented in a repetitive sequence ("Children of Rock" is the most egregious example). Still, they're often catchy and hard to forget: "Stick It to the Man," a blandly rebellious boogie-woogie, is reprised until it is burned into your memory. The song "You're in the Band" (in which Dewey assigns roles to the kids) is genuinely enjoyable, though perhaps aided by the sampling of timeless rock ditties like "Satisfaction" and "Smoke on the Water."
To buttress these numbers, book writer Julian Fellowes (Downton Abbey) has crafted an efficient adaptation of the film. He condenses scenes and plot points, borrowing liberally from Mike White's screenplay (from which all of the funniest moments and laugh lines derive). Similarly, Glenn Slater's lyrics are adequate yet unremarkable, getting the job done with a minimal amount of wit.
Luckily, School of Rock has a supercharged cast to transform this leaden material into musical-comedy gold. Bobbie Mackenzie astounds us as the big-voiced Tomika. Isabella Russo is like General Patton in Mary Janes as band manager Summer. The standout musician of the group is Brandon Niederauer, who plays lead guitarist Zack. He's so good you might be tempted to think he was miming the work of an adult guitarist hiding in the pit if Lloyd Webber did not emphatically insist in a preshow announcement that the kids are all actually playing.
Of course, a show like this is only as good as its leading man. School of Rock has an unqualified star in Alex Brightman. Like a ball of pure energy, he bounds across the stage, contorting his body into cartoonish positions while singing full-out. His Tony nomination ought to be a lock this year.
Director Laurence Connor keeps pace with his star as the show churns along. Anna Louizos' set transforms fluidly from scene to scene, offering fun little details in each. One hoped for her costumes to be a little less Matilda and a little more Angus Young, but they tell a coherent story anyway (Dewey's untucked shirts and terrible sweater vests are a particularly nice touch). Natasha Katz creates authentic rock-concert lighting for the final sequence: an LED symphony with moving lights blinding during musical high points. Unfortunately, lyrics and dialogue are often lost in Mick Potter's sound design, which suffers from balance issues. We expect to only hear about fifty-percent of the words at a rock concert, but in the musical theater it needs to be a lot more.
But even if you miss a lyric here and there, it won't alter your enjoyment of School of Rock, an undeniably fun musical that is nevertheless not particularly special.