Story of the Week: America's Not-For-Profit Theaters Are in Trouble
What is happening to America's not-for-profit theaters? In recent weeks, several venerable organizations have announced their intention to scale back programing, reduce staff, or shutter all together. Story of the Week will look at the impacted theaters and see what their stories have in common. Taken together, it looks like a bad sign of things to come.
Which theaters are in danger?
 In April, Oregon Shakespeare Festival revealed that its 2023 season was in jeopardy and put out a desperate appeal for $2.5 million in donations, which needed to be collected within four months in order to save the season. OSF exceeded that fundraising goal by June, but has since announced that it needs an addition $7.3 million to complete the season as planned. This crucial bit of information was buried in the announcement of Tyler Hokama as new Interim Executive Director of the company. In May, the Festival's Interim Executive Artistic Director Nataki Garrett resigned (the composite title was the result of the January departure of Executive Director David Schmitz, whom Garrett had hired). On her departure, Garrett released the following statement to the New York Times: "We are at an inflection point in our industry, where outdated business models must evolve in order for our theaters to survive."
Earlier this month, Los Angeles's Center Theatre Group suspended performances at the Mark Taper Forum, its second-largest stage. This immediately put into limbo the world premiere of Larissa FastHorse's Fake It Until You Make It and canceled the touring production of Lauren Yee's Cambodian Rock Band. The Taper will remain without a production until at least 2024. CTG also laid off 10 percent of its staff, citing increased production costs, reduced donations, and sluggish ticket sales as the three factors that prompted this action.
Last week, the board of Greensboro's Triad Stage announced its decision to end operations after more than two decades. In an unusually candid press statement, the board pointed to reduced donations and severely depressed ticket sales as the primary culprits, "with houses averaging less than half full over the course of the first two mainstage productions." Those productions were the world premiere of Mike Wiley Rebellious and Lauren Gunderson's The Revolutionists.
On Tuesday, the board of Seattle's Book-It Repertory unanimously voted to cease operations after 33 years, citing similar challenges in a press statement: "Ticket sales make up just 30% of Book-It's budget, with the remaining costs subsidized by individual giving and grants. With theatregoers still slow to return to live performing arts, ticket revenue down, and individual giving not returning to pre-pandemic levels, forecasting is incredibly challenging."
According to a report in the Times, Brooklyn Academy of Music eliminated 26 staff positions and has significantly reduced the size of its Next Wave Festival. In an internal memo, BAM's President Gina Duncan said that the cuts were necessary to "weather the downturn in charitable giving for the arts, and address an outdated business model that heavily relies on a shrinking donor base."
New York's Public Theater will discontinue its annual Under the Radar Festival, which has invited small companies and experimental work to perform at the downtown venue for 16 seasons. The company is also presenting just one full production this summer as part of its Free Shakespeare in the Park, following decades of consistently producing two (the pandemic years of 2020 and '21 are obvious exceptions to this rule). After Hamlet concludes its run on August 6, the Public will mount a weeklong Public Works production of a new musical adaptation of The Tempest. This will be the final show in the Delacorte before a renovation that is anticipated to take 18 months — meaning there will be no show at the Delacorte next summer.
As news of cuts and closures at America's not-for-profit theaters continue to roll in, it's hard not to see this as the tip of the iceberg.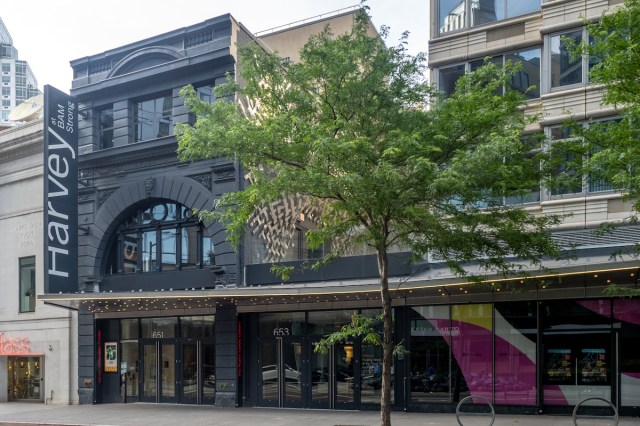 Why is this happening?   
 Garrett and Duncan's observation of an "outdated business model" is a polite understatement. America's institutional theaters derive the bulk of their revenue from two sources: ticket sales and private donations. This not-for-profit model for producing theater is an innovation of the 20th century, when most of these organizations were founded. It has its merits compared to for-profit Broadway, which is driven entirely by the market, meaning the shows that are likeliest to sell tickets (well-known properties featuring big celebrities above the title) are the ones with the best chance of being produced.
Not-for-profits, on the other hand, can afford to produce shows that they believe in even if they expect only modest box office returns, because private donations will (in theory) make up the difference. A subscriber base, with patrons loyally purchasing season tickets year-after-after even if they don't love every show, is another common feature of not-for-profit theaters that allows them to be both mission-driven and solvent.
Ticket sales are still important. The equation varies from theater to theater (Book-It Rep gave the figure 30% for the share of revenue represented by ticket sales, while other theaters certainly draw a larger portion). But tickets sales and private giving are the two big sources of funding for American institutional theaters. Unlike many European countries, government funding represents a very small portion of income — and with states and the federal government grappling with their own deficits, this is unlikely to change anytime soon.
The pandemic disrupted this model by shutting down production for over a year at most theaters, eliminating tickets sales as a revenue stream, spare the occasional online event. It also changed audience behavior, as some theatergoers settled into their couches with no immediate intention to return to the theater. Fear of Covid and confusion over new rules around masking and vaccinations undoubtedly contributed to this trend, with some theatergoers eschewing the hassle of showing up to an 8pm curtain in favor of the on-demand convenience of Netflix. Attendance at in-person events is down everywhere, including in cinemas and on Broadway.
But even though Broadway ticket grosses haven't returned to pre-pandemic levels, the most recent weekly numbers reveal that theatergoers are still willing to shell out for shows they want to see: Hamilton ($1.95 million), Wicked ($1.99 million), and The Lion King ($2.42 million) continue to pack their houses. Meanwhile, & Juliet had its best week ever, grossing $1.4 million, with an average paid admission of $171.61. This is a show without any household-name stars (apologies to Stark Sands, Betsy Wolfe, and Paulo Szot) that is nevertheless thriving via word-of-mouth. It may not have won any Tony Awards, but it's winning the game of Broadway.
I'm not saying that the road to health for institutional theaters involves exclusively producing feel-good jukebox musicals. Not-for-profits have always had to perform a delicate balancing act between programming that fulfills the mission (that pushes boundaries and takes audiences out of their comfort zones) and programming that is popular (profitable annual productions of A Christmas Carol have long been used by regional theaters to help subsidize the rest of the season). But you cannot force people to buy tickets to shows they don't want to see, and as theater after theater reports depressed ticket sales, we must entertain the possibility that buyers just aren't interested in what's on offer.
That leaves theaters increasingly reliant on the unpredictable world of private philanthropy, in which prestige, peer pressure, and personal relationships all play significant roles. While it's nice to receive a big check from a generous donor, it's no guarantee of steady income. And as many of these organization face major turnover in their executive leadership, it is unclear whether the incoming leaders can maintain those donor relationships. There are insanely wealthy individuals who could easily rescue these ailing theaters, but they will have to be convinced that live theater is a better use of their money than rocket ships or submarines. The rich have a lot of options for spending, while theaters have left themselves with few options for revenue.
We also must consider expenses: overhead for permanent administrative staff, production costs that only increase with inflation and union contracts, and the maintenance on a brick-and-mortar theater. It all amounts to a recipe for disaster, with ever-increasing expenses at a time of shrinking income. These cruel mathematics are likely to sink several more reputable theaters before the decade is done.
That doesn't mean live theater is ending, but it does mean that many of the institutions that have become the face of theater in America will close if they don't reform immediately. It's a horrible situation for the people who have made these theaters their life's work. But it is also an opportunity for a new generation of arts leaders to pioneer a model that makes more sense for the realities of this century — one that isn't so reliant on the whims of the rich.