Story of the Week: America's Hottest Film Studio Buys a Storied Off-Broadway Theater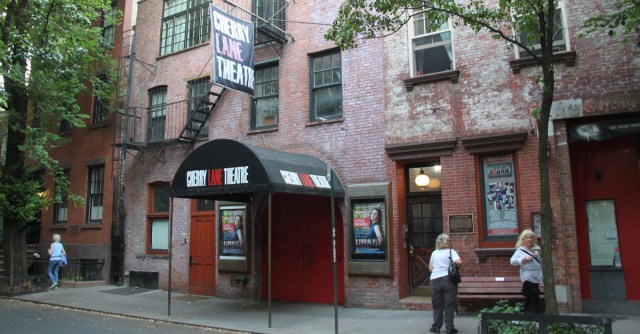 This week we learned that, after many years of trying to offload the Cherry Lane Theatre, Angelina Fiordellisi has sold the off-Broadway venue to independent film company A24 for $10 million. We're bringing back Story of the Week to take a closer look at this transaction and what it might mean for the future of off-Broadway. First, the essentials:
What is the Cherry Lane Theatre?
The Cherry Lane Theatre is one of the oldest off-Broadway venues, and the one that has remained a theater for the longest amount of time. It celebrates 100 years of continuous operation this year. Located in a residential part of the West Village right where Commerce Street curves into Barrow Street, the theater has debuted new plays by Samuel Beckett, Tennessee Williams, Edward Albee, Amiri Baraka, and Sam Shepard. And lest you think it's only a venue for very serious dramas, this is the theater where Stephen Schwartz's Godspell premiered in 1971 (an earlier, pre-Schwartz version played the equally storied off-off-Broadway venue La MaMa).
Fiordellisi purchased the Cherry Lane in 1996 for $1.7 million and poured an additional $3 million into its renovation. Since then, the venue has hosted significant titles like the New York premiere of Jonathan Harvey's Beautiful Thing, the long-running transfer of Becky Mode's Fully Committed, and Craig Lucas's Ode to Joy.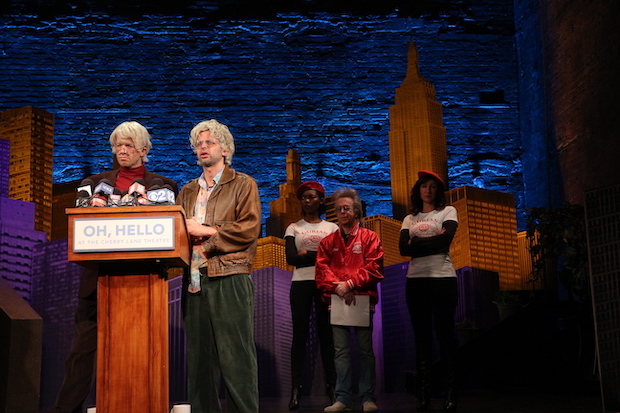 In the last decade, the theater has also become a haunt for stand-up comedians like Colin Quinn, Neal Brennan, Hasan Minhaj, and Jacqueline Novak. I particularly enjoyed Alex Edelman's solo show Just for Us, which started at the Cherry Lane before moving Soho Playhouse and Greenwich House. And, of course, I'll never forget Nick Kroll and John Mulaney's Oh, Hello, which played the Cherry Lane before it moved to Broadway.
Despite the artistic renaissance that took place under her leadership, Fiordellisi has long stated her intention to sell the theater, citing the near-impossible economics of off-Broadway. Here's a 2010 article in the New York Times in which she states, "I feel that we can longer do theater for the sake of the art form. We have to adhere to the formula of having a film star in our productions to sell tickets because it's so financially prohibitive. I don't want to do theater like that." Thirteen years later, she's finally found a buyer — a film studio.
What is A24?
Founded just a decade ago by Daniel Katz, David Fenkel, and John Hodges, A24 has quickly built a reputation for emotionally powerful storytelling from a wide variety of perspectives. A24 distributed the film adaptation of Emma Donoghue's Room (which is now a Broadway play). It produced Barry Jenkins and Tarell Alvin McCraney's Moonlight, which won the Academy Award for Best Picture in 2017. And it distributed the 2020 film Minari, which was undoubtedly my favorite movie of that year. The company has also worked in television, producing At Home With Amy Sedaris, Mr. Corman, and the wildly popular drug drama Euphoria.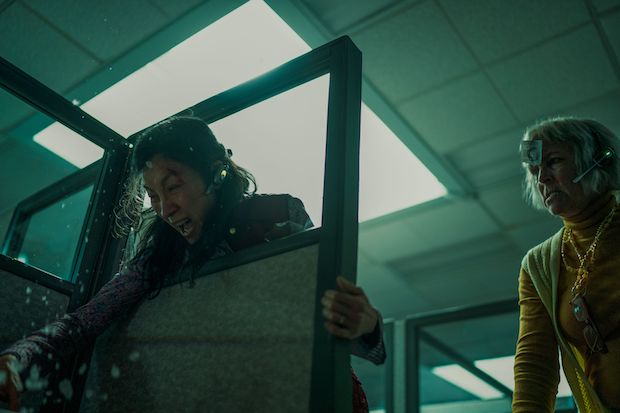 The purchase of the Cherry Lane Theatre comes at a particularly auspicious time for A24, which has recently secured a $225 million investment to expand operations and is basking in the glow of multiple Oscar nominations for films like The Whale and Everything Everywhere All at Once. The latter is the most-nominated film in 2023 (11 nods) and has a very good chance of winning the Best Picture Oscar when the awards are announced this Sunday.
With all its success in film and television, the momentum of which seems to be accelerating, the last thing anyone would expect A24 to do would be to expand into the realm of live performance, which begs the question…
What is a film studio going to do with an off-Broadway Theatre?
A few blocks away from the Cherry Lane, Audible offers the clearest model for what a company mostly known for its work in other media can do with an off-Broadway stage. The audiobook firm has leased the Minetta Lane Theatre since 2018 and has since mounted a series of high-quality productions, the recording of which lend themselves to the audio drama format. While this has mostly meant solo plays, I am thrilled that Audible has started producing multicharacter dramas like Yilong Liu's excellent Good Enemy and Erica Schmidt's somewhat unfortunate Lucy. Even when the script isn't great, the audience can be assured that Audible is going to give it a first-class production, which was all that I hoped for when I first wrote about Audible's move into theater in 2019.
As Fiordellisi expressed in other words, producing off-Broadway theater is akin sailing a leaky boat — you spend half your time bailing water just to stay afloat. In such a situation, it's good to have an alternative source of revenue to fall back on when the ticket sales aren't enough to pull you through (and they rarely ever are). A successful film and television company like A24 can offer just that kind of security.
But what can off-Broadway offer A24? The company has remained tight-lipped about its intentions, although a source has revealed to the New York Times that the theater will install new technology for film screenings as part of renovations that will begin later this year. A return to full-scale live performances is anticipated for 2024.
My sincerest wish is that A24 renews the Cherry Lane's historical reputation as a showcase for the most exciting new writers working in the theater — the kind of people they will want writing their screenplays and television scripts in the coming decade. This might just mean more celebrities onstage at the Cherry Lane, but if having Brendan Fraser above the title is going to mean a sold-out run, I think that is a deal plenty of early career playwrights would happily take. Hopefully, this is the beginning of a wonderful symbiosis.