Stevie Holland's Solo Show, Love, Linda: The Life of Mrs. Cole Porter, Tells the Story of the Great Woman Behind One of America's Great Composers
Jazz singer Stevie Holland has returned to New York City with her self-penned one-woman show Love, Linda: The Life of Mrs. Cole Porter. The solo performance delves into the unexplored story of Linda Porter, wife of the legendary, and openly homosexual Broadway composer Cole Porter. Holland premiered an early incarnation of the piece in 2009 at Stage 72 at the Triad. "We call that our whiplash version," Holland said of the tryout. "Everybody knew we were on to something. The overriding criticism back then [was] just slow down, tell us more."
And that's what she and her husband/musical arranger Gary William Friedman have done for their revised mounting, now at The York Theatre Company. TheaterMania chatted with Holland about the new and improved production, helmed by Tony-nominated director/lyricist Richard Maltby, Jr. She offered her take on the lasting power of Cole Porter's immortal melodies while "setting the record straight" about his ambiguous relationship with Linda, Holland's newest alter ego.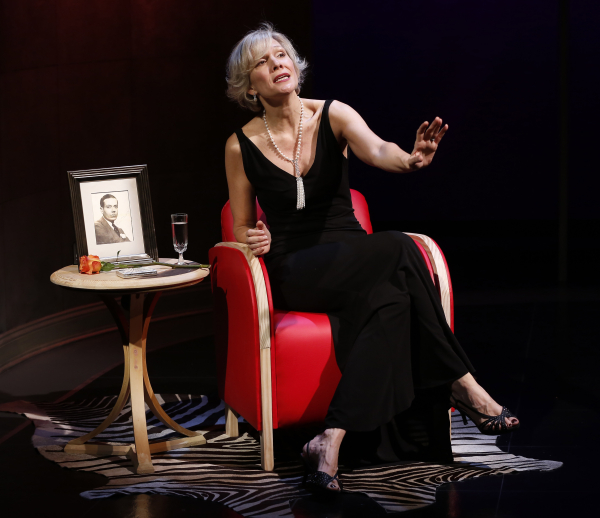 How have you gone about weaving Cole Porter's music into this story?
We've taken Cole Porter's songs completely out of their original context and used them in very different ways to tell Linda's story and really make them Linda's songs as part of her journey. [And] the way we're musically approaching them in most cases is quite different than people have ever heard. When I sing "My Heart Belongs to Daddy" [from the 1938 musical Leave It to Me!], it has nothing to do with [star] Mary Martin and some little sex kitten and a sugar daddy. It's about Cole and it's when Linda has left him after he has treated her not so well when they were in Hollywood. [The show has] grown a lot [since the tryout]. At the tryout…what can I say, they served drinks and Linda's standing there in glamorous gown [with] a handheld microphone so it was this confusing hybrid. What is this? Is it cabaret? Is it theater? Now there's no mistaking. It's a theater piece.
What sparked your interest in Linda Porter?
Somebody ran a revue by us of a woman on a psychiatrist's couch musing over Cole Porter songs, [which] wasn't our cup of tea, but we started thinking, one woman, Cole Porter…Holy cow, Linda Porter. No one has ever explored this woman. I was fascinated by her story — and it's not just Linda's story. It's their journey together through her eyes and it's a little bit of setting the record straight, if you will.
Setting the record straight in what way?
It's no secret in the world today that Cole Porter was gay. It's so easy for us to put labels on things. We think, She was a beard and clearly had no interest in sex and so it worked out fine. Well, that's not the case. They had sex. She had a miscarriage. They had a very intimate relationship. It's much more comfortable for all of us when we think we can say, I know what that is, but it's a lot harder to accept that not everything is black and white, and yes, he can be a gay man and have gay relationships with other men and still love Linda and have an incredibly special devoted commitment to her for thirty-five years of his life. And honestly, if there was no Linda Porter, there would not be Cole Porter.
What kind of hand did she have in his career?
They were the first power couple. He was a kid [who] came over to Paris. She was one of the [wealthiest] divorcées in American history at the time. She knew everybody in the industry and she was very cultured and very sophisticated. She pushed him toward studying classically, she nurtured him artistically, and she opened up doors for him. But it was all give-and-take. They both got enormous amounts out of the relationship. But the bottom line is not just what they [did] for each other. They loved each other and needed each other.
Did you grow up listening to Cole Porter's music?
Oh, yeah. I came from a very large musical family. He's been in my psyche forever. He was part of the whole fabric. I grew up with folk, pop, theater, jazz, rock. My music influences are all over the place. But I started singing Cole Porter in my shows in my early cabaret days. You can't escape Cole Porter.
Do you have a favorite Cole Porter song to sing?
Oh my God, no. I can never answer that question. There are just too many. They're like little beloved children. I could never pick a favorite.
Why do you think Cole Porter's music still resonates with people after so many years?
His writing is just so completely timeless and sexy. There's a real emotional core to a lot of his love songs. You know there was something deep in there that was operating when he wrote them. It's the crown jewels — whether it's Cole Porter or Irving Berlin or George Gershwin — they all survive because they're just such perfectly, beautifully structured and written songs. Cole Porter in particular is one of the leaders of the pack in terms of sophistication and pure wit and I think that just transcends time.