St. Ann's Warehouse to Present US Premiere of The Jungle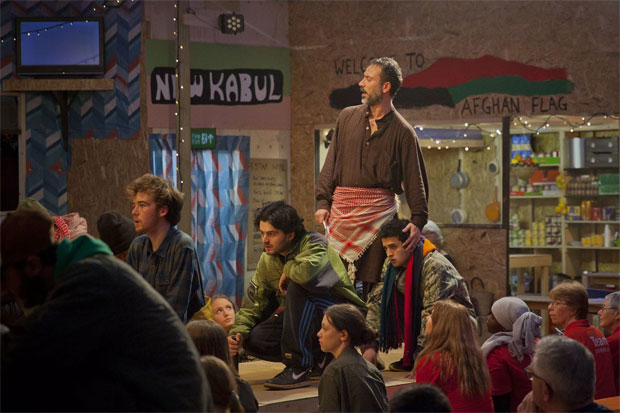 St. Ann's Warehouse will present the US premiere of The Jungle, a Good Chance Theatre coproduction with the National Theatre and Young Vic. Written by Good Chance Theatre founders and artistic directors Joe Murphy and Joe Robertson, and directed by Stephen Daldry and Justin Martin, The Jungle begins performances December 4.
Now opening a five-month run at London's Playhouse Theatre on the West End, the play is described as a "vital remembrance of the now bulldozed camp in Calais, France, known as the Jungle, where thousands of refugees who had escaped drought, war, and strife-torn countries in Africa and the Middle East waited for their 'good chance' passage to Britain. With minimal resources in the squalid, sprawling landfill-turned-makeshift-camp, immigrants and committed volunteers built a warm, self-governing, diverse society — with restaurants, shops, a school, a church — from nothing."
At St. Ann's Warehouse, The Jungle will make full use of the waterfront theater's extraordinary flexibility, inviting audiences into a ramshackle Afghani café, made of plywood tables, ill-matching chairs and benches, and a rickety patchwork roof. Here, the everyday details of endless cycles of survival and threat, failed social contracts, creative thought and action, compassion and empathy, unfold.
"The Jungle blew me away," says Susan Feldman, St. Ann's Warehouse artistic director. "Coupled with Sarah Hickson's powerful photos of the original camp in its final days, the reality of what's happening to massive numbers of innocent people seeking shelter and safety comes bursting to life on stage. The authors have written an elegy to a place where despite enormous hardship and desperation, everyday people joined together to survive on their own creativity and interdependence. We cannot turn away from the negligence and dehumanization our government would like us to believe 'these people' somehow deserve."