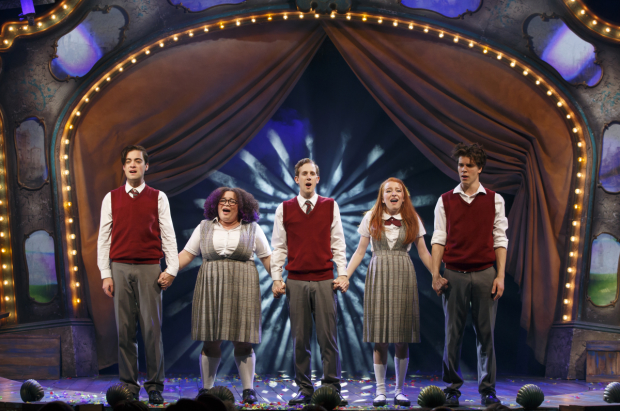 What is life? Brooke Maxwell and Jacob Richmond contemplate this very question in their new musical, Ride the Cyclone, now making its New York debut with MCC at the Lucille Lortel Theatre. Morbidly set around a deadly roller-coaster accident, this quirky show pushes hard for its desired audience response, be it laughter or tears. Unfortunately, it's not nearly as funny as the writers seem to think and a last-minute U-turn toward schmaltz comes across as unearned.
The show begins with the death of the Saint Cassian High School Chamber Choir. That's Constance Blackwood (Lillian Castillo), Mischa Bachinski (Gus Halper), Noel Gruber (Kholby Wardell), Ricky Potts (Alex Wyse), and Ocean O'Connell Rosenberg (Tiffany Tatreau): All perished in a roller coaster derailing at a fair that stopped into their small town of Uranium City, Saskatchewan. After flying off the tracks, they find themselves in a limbo game show hosted by animatronic fortune-teller the Amazing Karnak (Karl Hamilton). Karnak will permit one of them to walk through an ethereal lighting effect and return to the realm of the living, provided he or she receives the unanimous support of the others. This includes the mysterious Jane Doe (Emily Rohm), whose headless corpse was unclaimed after the accident. For the rest of the show, everyone gets a song to explain why they should be chosen. It's Cats, but with dead teenagers.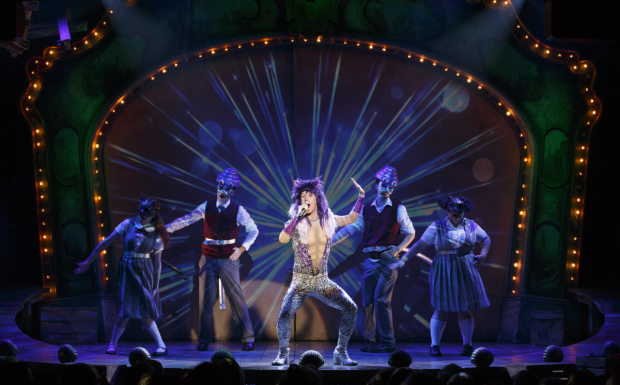 Maxwell and Richmond might be winking at the parallels between their show and that Broadway blockbuster with the evening's oddest song, "Space Age Bachelor Man." It features the introverted Ricky singing about an elaborate fantasy life in which he is the hero prince of an advanced race of space cats. Wyse dons a costume for this number that makes him look like David Bowie playing Rum Tum Tugger (articulate costumes by Theresa Ham). With curled lip and gyrating hips, he fully commits to the song's absurdity, narrowly averting comedy disaster.
Everyone in the cast works up a sweat selling the material they have to work with, which is at times reminiscent of Ariana Grande, DJ Khaled, and Kurt Weill: Playing the choir's token gay boy, Wardell does his best Sally Bowles for a song about how he wishes he were a tragic French hooker (the confusion of post-War France and Weimar Germany is never fully explained, but seems to work anyway). Tatreau (who bravely stepped into her role in a last-minute casting change) delivers a solidly uptight performance as Ocean, who is essentially the Canadian Tracy Flick. Despite his Count Chocula accent, Halper gives a convincing portrayal of the rap-obsessed Mischa. Castillo's Constance is the most moving; this is impressive since she has to deliver a contradictory monologue before diving into a bubblegum pop song with the following repetitive lyrics:
I used to think that life was just a jawbreaker,
Yeah, you suck and you suck
And you suck and you suck,
And you suck some more,
Yeah, you suck some more.
No one laughs — this is a testament to Castillo's magnetic performance. Most memorable of the cast is Rohm, who steadfastly maintains her character's creepy wind-up-doll physicality, no matter the choreography. Her song, "The Ballad of Jane Doe," has her filling the room with her operatic voice while flying through the air and flipping upside down (amazing effects by Michael Curry Design & Hat Rabbit Studio). Rohm does it all fearlessly, as if singing on her head is the most natural thing in the world.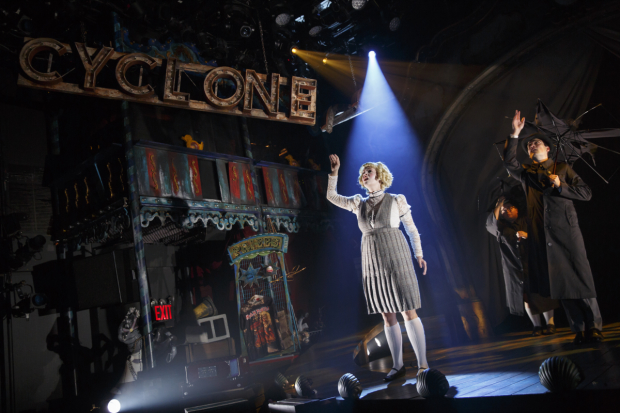 Under the steady and efficient direction of Rachel Rockwell, the whole thing feels like a Fringe Festival musical with really high production values. The twisted and broken tracks of the roller coaster suspended overhead, Scott Davis' set evokes a haunted sideshow. Greg Hofmann's lighting is appropriately otherworldly. Mike Tutaj's projections help fill out the story, flawlessly beamed onto all manner of surfaces, including bodies.
Tutaj understands that a cradle-to-grave video montage set to the right chord progression is a guaranteed tearjerker, so he gives us exactly that in the last ten minutes, when the show suddenly becomes a very serious meditation on mortality. It ends with the disappointing cliché of a finale number, "It's Just a Ride," in which we are told that life is just like a roller coaster that ends with your death. Those not willing to fully surrender to such a neat conclusion will be left cold.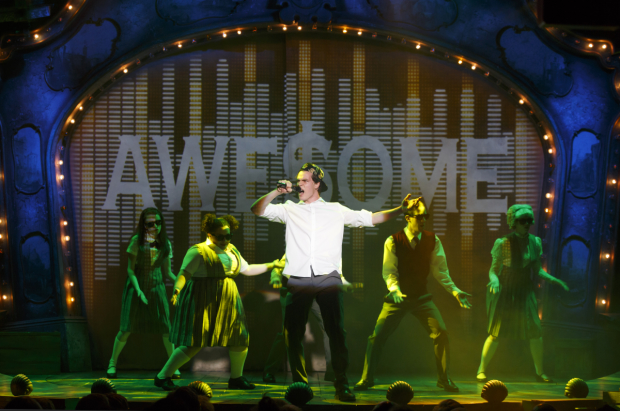 Of course, the same thing is true of the show's feline predecessor. And like Cats, Ride the Cyclone comes across as a flimsy narrative frame on which to hang a composers' pastiche. Some people will love its unchallenging and tuneful humor, while others will bristle at its mindless philosophizing. Is life a ride or a jawbreaker? No, life is a series of random events forced into a semi-coherent narrative by those who survive. In that sense, Ride the Cyclone gives us life in droves.