Review: The Creeps is a Spooky Solo Show with Audience Participation
After performing it at various fringe festivals over the years, Catherine Waller has brought her solo show The Creeps to New York City for a full off-Broadway run. It is not an experience you will soon forget. Whether that's in a good way or not will depend on the viewer, especially one's tolerance for audience participation. Beyond the act of experiencing it, perhaps the only way one can truly grapple with a show as defiantly singular, fascinatingly uncategorizable, and well-nigh inexplicable as this one is to merely describe what happens in it and contemplate its implications afterward — if you find yourself caring enough to do so.
At the very least, the show lives up to its name even before it begins. Lighting designer Scott Monnin bathes Playhouse 46 stage in a kind of amber glow that dulls out all color contrasts, with Hidenori Nakajo providing a pre-show soundscape that's both vaguely menacing and strangely comforting. The ambiguous overall effect is enough to send a chill or two up one's spine. But then the show proper begins.
The stage suddenly plunges into black, a few multicolored lights briefly flash before a central spotlight takes hold, moving around and shining a light on all four exits before it eventually hits Waller, dressed in skintight black attire (no costume designer is credited, nor is there a director credit) and moving vigorously around like a lizard on all fours, leering at and interacting with audience members like an MC.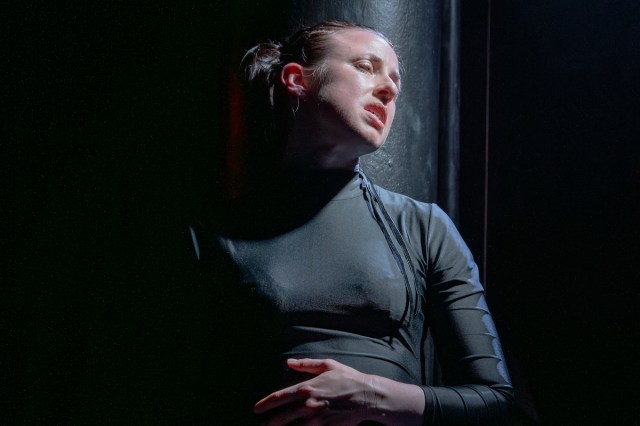 It's a fitting prelude for the utter strangeness to come. Instead of a plot, The Creeps is structured as a series of vignettes centering around a wide variety of characters: the aforementioned lizard MC, a blind individual (also on all fours) who appears to be some kind of night watchman, an apparent sex worker — referred to as a "harlette" in the script — and an infant without legs and hands. Some of the characters occasionally reference an unseen doctor that may connect them all, with an occasional hazy-sounding whistle in Nakajo's sound design that aurally indicates the doctor's presence. But that's all you'll get for connective tissue or even clarity. This is a show that operates almost entirely on mood and the power of suggestion.
It also depends on how receptive the audience is to interacting with these characters, since they all try to engage us in their own ways. The blind possible-night-watchman, for instance, asks some of them about their lives and vocations before divulging details of his own tragic-sounding backstory involving his daughter. Meanwhile, the baby, when she's not trying to entertain us with jokes, asks certain audience members about rings and/or necklaces they're wearing before pressuring them to hand them over (at the performance I attended, one refused and another obliged). And the "harlette" dances sexily for us and beckons us to join her for a "good time" before the doctor's whistle leads her to run away.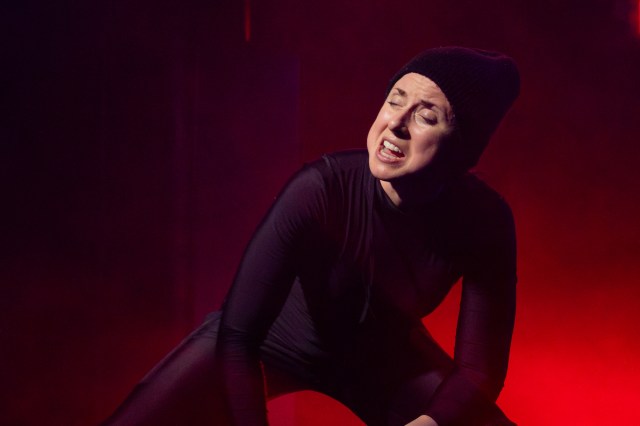 What's interesting about this particular case of audience participation is that Waller isn't necessarily aiming to bring us closer to these characters with these interactions. The discomfort some of us may feel about being thrust into such an interactive position is quite possibly one of the main points of The Creeps as a theatrical experience, one that extends to making us think about how we view off-putting characters like these generally. Such an attempt at implicating us and our gaze at figures that we may instinctively call freaks does carry a certain weight given the way Waller refuses any overt plays for sympathy or likability in her characterizations.
It's debatable whether such intellectualizations are enough to justify the alternately intriguing and frustrating 70-minute show itself. But The Creeps is nothing if not challenging in its pointed denial of the usual bourgeois comforts of theater. Provocations that are as skillfully, single-mindedly, and intelligently wrought as these deserve to be seen and taken seriously instead of knee-jerk rejected. And if nothing else, The Creeps offers an impressive showcase for Waller's own chameleonic gifts as an actress, her physical prowess, and her ability to improvise in character. Certainly, even if I remain unsure of just how much I actually liked it, I left the theater knowing I had seen something — or at the very least, someone — distinctive.