Explore Shows from this Story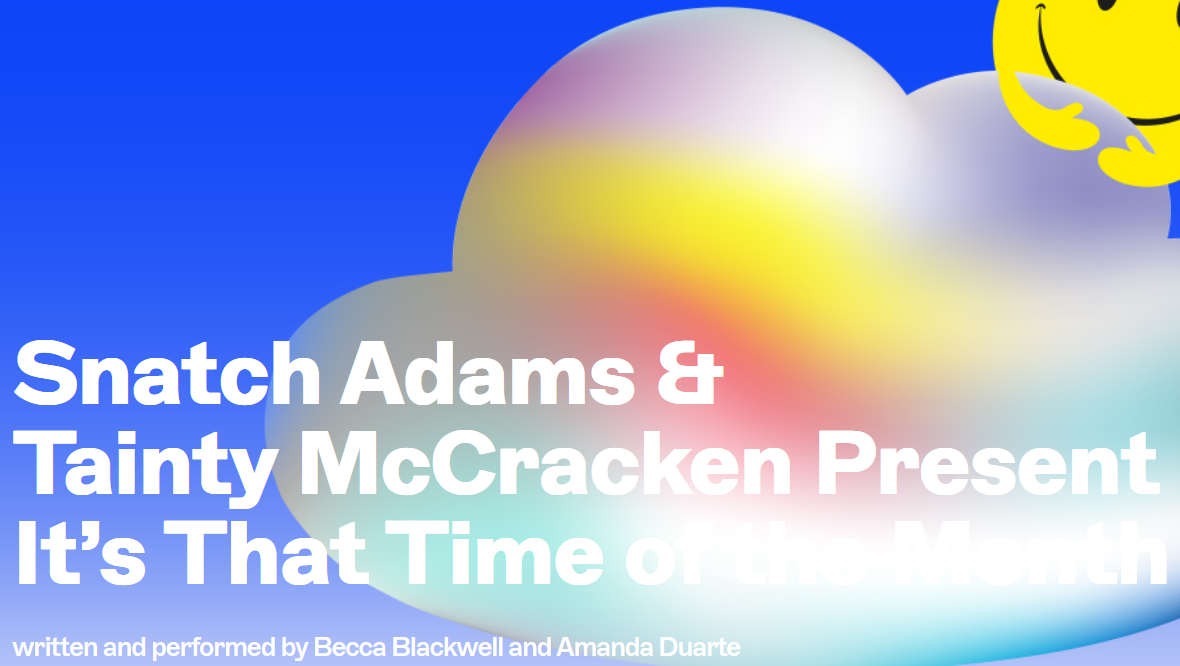 Final performance: December 10, 2023
Review: Snatch Adams and Tainty McCracken's Raunchy Lesson on Genitals and Gender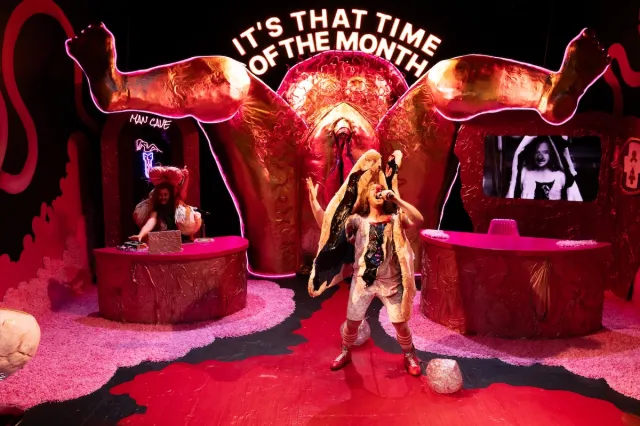 From the title alone, it should be abundantly clear that Soho Rep and the Bushwick Starr's production of Becca Blackwell and Amanda Duarte's Snatch Adams & Tainty McCracken Present It's That Time of the Month will serve a heaping portion of puns and genitalia. However, if by some unknown reason you were unaware of the thematic content, your journey into the theater will be clarifying. After the lobby, you walk through a sequin vagina into a uterine hallway, a sort of reverse-birthing that takes you into the space itself, adorned by Greg Corbino with ovary swivel chairs, swirling fallopian tubes, pink shag carpeting, and a giant set of gold legs straddling a gold vagina. Sensing a theme?
The premise is that Snatch Adams (Blackwell), a six-foot tall vagina who recently lost a job at Planned Parenthood, teams up with old friend Tainty McCracken (Duarte), a temporarily castrated set of testicles and anus, to create a talk show, called It's That Time of the Month. Most of the piece is an episode of that talk show, where we act as the live studio audience. The show features witty banter, news headlines, games with the audience, educational programming, hilarious fake commercials (featuring adorably eager "slit crew" members Amando Houser and Becky Hermenze) and a special cameo guest interview (which changes each performance).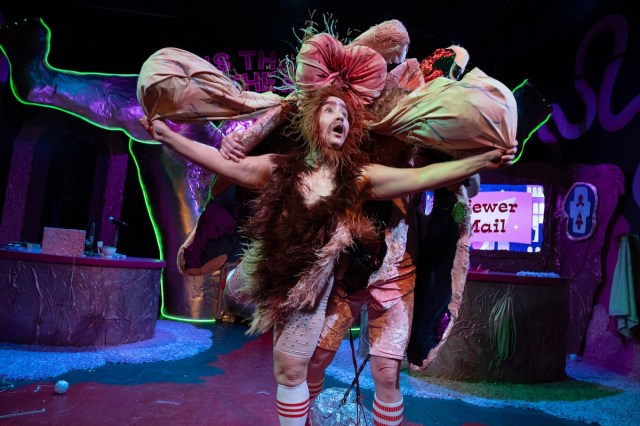 The talk show itself was a blast, and I'd happily watch more. Blackwell and Duarte have mile-a-minute jokes, with almost endless innuendos at their disposal. What makes the comedy particularly praise-worthy is the commitment to education and inclusivity. A cis gay audience member was asked to point out the clitoris; two non-menstruating people were asked trivia about periods; one volunteer hurled whiffle balls at Snatch to represent herpes sores. All in good fun, but also all with a strong politic ­­– teaching, highlighting gaps in knowledge, spreading awareness. Over the course of the various segments, Snatch and Tainty cover HIV and STI stigma, shame around menstruation, sex positivity, intimacy, consent, and more.
If it wasn't clear, almost everything about the show revolves around genitalia. However, in an impressive feat, Blackwell and Duarte deftly manage to talk about genitals and gender without ever essentializing or implying that they are the same thing. In fact, the piece does an excellent job differentiating between the two and showcasing that while gender doesn't equal genitals, it is still important to talk about genitals and all the associated problems and joys of them.
Though there is a clearly agreed upon tone and structure, a large amount of the dialogue is improvised. Blackwell and Duarte have stellar chemistry and play off each other with ease, even if the improv leaves a bit too much wiggle room. Things occasionally got messy: Duarte often talked over Blackwell, Blackwell occasionally had to redirect Duarte, and the piece ran over the stated runtime. Director Jess Barbagallo has given the writers/performers perhaps too much free reign; While the content is great, if the show had more scripting it could've been tighter, more polished, and a bit less chaotic.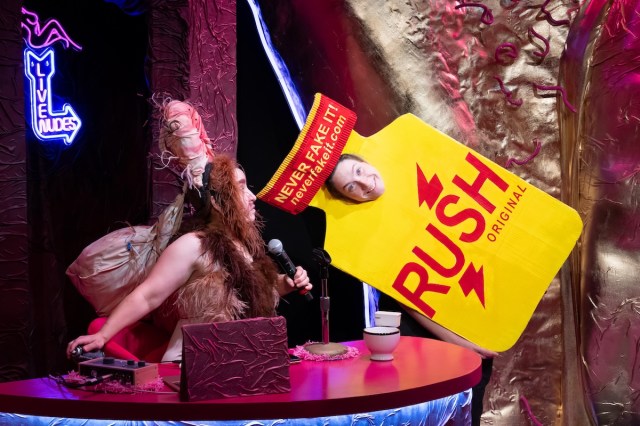 Stylistically, it lives within the worlds of clowning and absurdism. Often this works quite well–a "slit crew" member wearing giant menstrual "diva cup" covered in red party streamer blood was a highlight–but it can occasionally veer into the excessively scatalogical, as when fake feces and bodily fluids are hurled at the audience. Likewise, Tainty was a much less compelling character than Snatch, and Duarte was less in control than Blackwell.
The piece ends with Blackwell, in regular clothes, doing a stand-up set. This quickly turns autobiographical and rather serious, becoming an emotional discussion of Blackwell's career and gender journey. This jarring tonal shift was likely the point, but it doesn't totally work. Closing the show with a guided meditation on trans futurity, while a great idea on paper, falls a bit flat, especially after an evening of loud, R-rated, in-your-face jokes. The section is informative (especially for audiences unfamiliar with Blackwell), but might've been more effective at the beginning.
Genitals and gender are complicated, and often imperfect, much like this piece. However, they are very worth exploring, and this show does exactly that, in more interesting, political, and inclusive ways than I have ever seen before. It's educational, entertaining, emotional, ridiculous, and yes, even important. Instead of hiding or being ashamed, this show invites us to be open, understanding, and even comedic about our genitals and genders – and in our present moment of abortion bans and anti-trans legislation, it's nice to have some joy and laughter.
Featured In This Story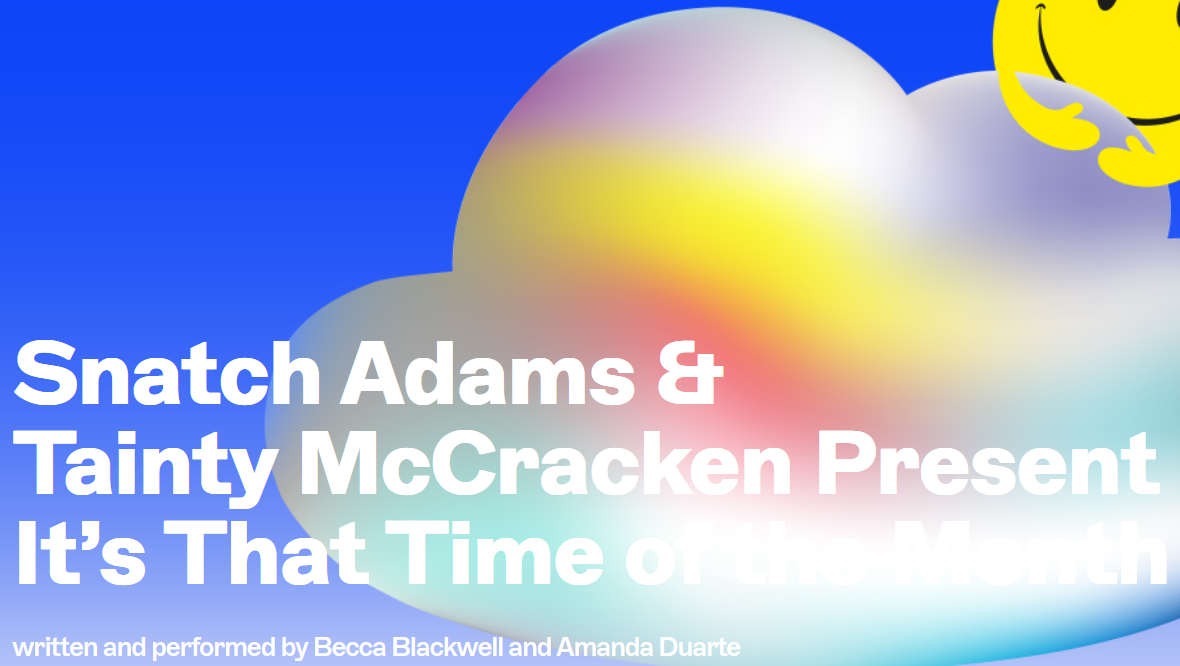 Final performance: December 10, 2023