Review: Sabbath's Theater Finally Gives Philip Roth's Naughty Puppeteer His Off-Broadway Debut
Sabbath's Theater opens in darkness with the sound of sex — geriatric sex to be precise, as our antihero Mickey Sabbath (John Turturro) schtups his mistress Drenka (Elizabeth Marvel), the wife of a Croatian innkeeper (Jason Kravits) in a small upstate New York town. Then the lights come up, and we watch her ride him to climax. If you think this is a shocking first moment, strap in because there's so much more.
Now making its world premiere with the New Group, this dramatization of Philip Roth's 1995 novel (which was his favorite) was adapted by Ariel Levy and Turturro, with every role played by the three actors already named. It draws heavily on Roth's own juicy, incendiary, filthy language, which turns out to be the play's saving grace and the reason to buy a ticket. Rarely in recent seasons has an off-Broadway play flown in the face of conventional wisdom and fashionable manners in such a satisfying way.
Sabbath's Theater is exhilaratingly raunchy in a time of revanchist Puritanism, gleefully offensive in the era of heightened sensitivity, and unapologetically Jewish in the face of rising antisemitism. Mickey Sabbath embodies everything America's dominant culture outwardly despises (but secretly desires) — and he doesn't give a shit either way.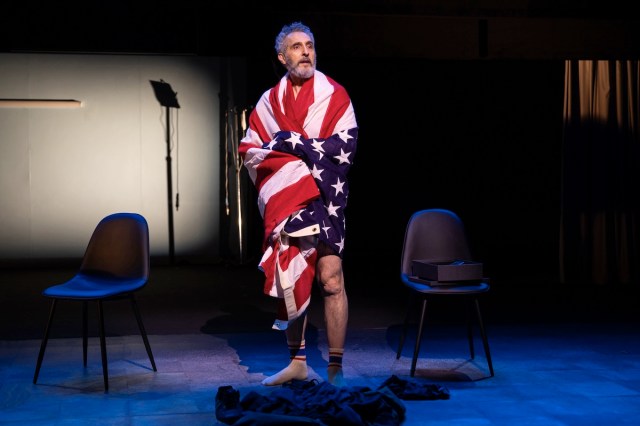 While not really matching the physical profile of the short, schlubby, arthritic 64-year-old who is fired from his position as adjunct professor of puppet theater at a small liberal arts college following the public release of tapes in which can be heard engaging in phone sex with a student, Turturro captures the satyr spirit of Sabbath in every suggestive hand gesture and lusty growl. His exaggerated confidence is a mask over a deep and ancient shame, and it's thrilling every time we catch it slipping off. His rants are biblical, steamrolling over the opposition, no matter how valid their complaint or counterpoint. There's no better way to experience Roth's brilliant, hilarious language than this.
As far as the story goes, it's just basics of the novel: Drenka's death, the continuing breakdown of his marriage with Roseanna (Marvel), and a phone call from his old producer Norman (Kravits) about the death of a mutual friend convinces Sabbath to journey down to Manhattan for the funeral. While in the city, he considers starting an affair with Norman's wife (Marvel), accosts a young woman on the subway (Marvel) whom he suspects of being the daughter of his first wife, and pays a visit to his centenarian cousin Fish (Kravits), the last remaining link to the immigrant generation of this family of working-class Jersey-shore Jews. The wartime death of his brother Morty and the ghost of his mother linger in Sabbath's mind as he considers his own mortality, which is only given meaning through the pursuit of pleasure.
Shaving a 450-page novel down to 100 onstage minutes was always going to be a daunting task that would inevitably leave literary gold on the table (I was disappointed that the script didn't include Sabbath's letter to 12-step-addicted Roseanna that he writes in the voice of her emotionally abusive father, who is in group therapy in hell). Levy and Turturro do a fine job condensing the plot, although it moves so quickly and with such fluidity that those unfamiliar with the novel may find themselves paddling furiously in a rapid stream of sexually explicit language and witty invective.
Director Jo Bonney smartly stages Sabbath's Theater as a memory play with a barebones aesthetic that one might have encountered at one of Sabbath's proto-off-off-Broadway shows in the 1950s. Arnulfo Maldonado's open set features exposed prop shelves, a platform, and folding chairs that can be endlessly repurposed. Jeff Croiter's lighting and Mikaal Sulaiman's sound facilitate the leaps in time and space required from the script and create a dreamlike atmosphere driven entirely by Sabbath's erratic stream-of-consciousness. Projection designer Alex Basco Koch and Erik Sanko cleverly bring an element of shadow puppetry to the proceedings. The costumes (also by Maldonado) and hair and makeup (by J. Jared Janas) complement performances that are already remarkably transformative.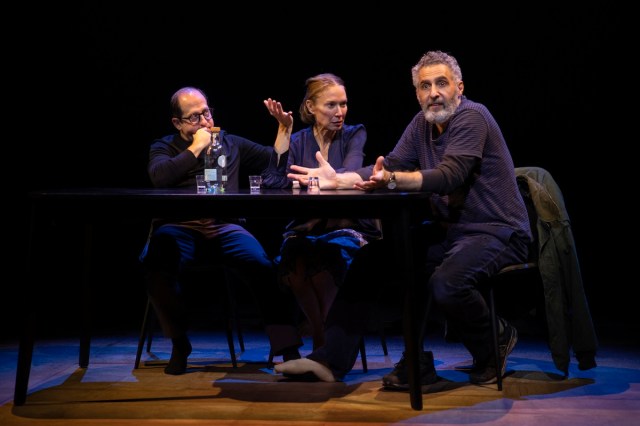 Kravits plays every man who isn't Sabbath, delivering a Norman who is, by all indications, a nice guy whose cossetted life understandably inspires resentment. His Matija (that's the innkeeper) is polite but standoffish, perfectly conveying the defensive posture of an immigrant entrepreneur who grew up in a communist country in which any information can and will be used against you. He instantly ages 40 years to play Fish, who clings to his habitual cheeriness beyond all reason — or maybe it just seems that way to us because we haven't seen all that he has seen.
Marvel delivers highly specific and memorable performances, from the secretly perverse Drenka, to the righteously bitter Roseanna, to a momentarily amused then suddenly terrified young woman on the subway. She gives us an immediately clear impression of every role, so we feel we've been reading about them for hundreds of pages even though they just walked onstage 30 seconds ago.
There are better stage adaptations of novels than Sabbath's Theater, which too often feels like a hasty cut-and-paste job from the book. But in their reproduction of Roth's language, Levy and Turturro bring a desperately needed voice of delicious transgression to the American stage.  That alone makes Sabbath's Theater worth seeing.