Review: Mary Gets Hers and We All Suffer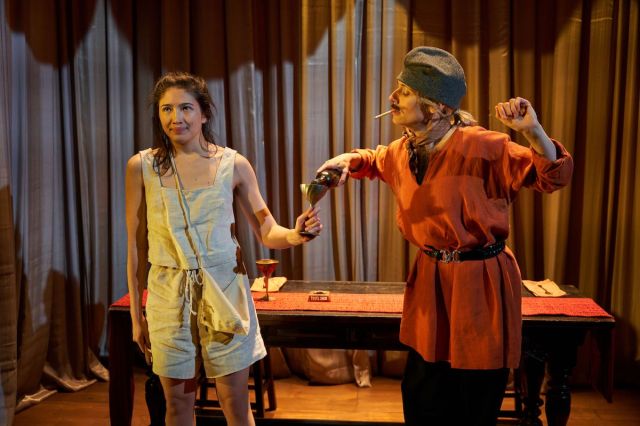 It's always awkward when a company of actors seems to think the play they are in is funnier than it actually is. That's the case of Emma Horwitz's Mary Gets Hers, a postmodern spin on The Fall and Repentance of Mary (or, Abraham) by the 10th century canoness Hrotsvitha, now making its world premiere with the Playwrights Realm.
With a production (directed by Josiah Davis) that winks so hard at the audience it risks a permanent tic, and performances that regularly mistake obnoxious for delightful, Mary Gets Hers is a dreadful indication that institutional off-Broadway (in thrall to a network of fellowships, residencies, and MFA programs more insular than any monastic community) risks devolving into one big inside joke. Mary may get hers, but you'll probably just get a headache.
It opens with 8-year-old Mary (Haley Wong) telling us that her parents have just died in a plague (Wong delivers this information with the devil-may-care attitude of a bratty second grader who just stole a Twix from the cafeteria, a grating posture she maintains throughout the play). Abraham the Hermit (Susannah Perkins) discovers her and takes her back to his abbey, where he raises her to emulate the virgin for whom she is named. For four years, she lives a life of chastity and prayer among pious monks like Ephraim (Octavia Chavez-Richmond). But she grows weary and runs away, right into the arms of an innkeeper (Claire Siebers) who offers her the biggest room in exchange for entertaining a constant stream of male travelers. With the help of a soldier (Kai Heath), Abraham plots her rescue — but does Mary really want to be rescued?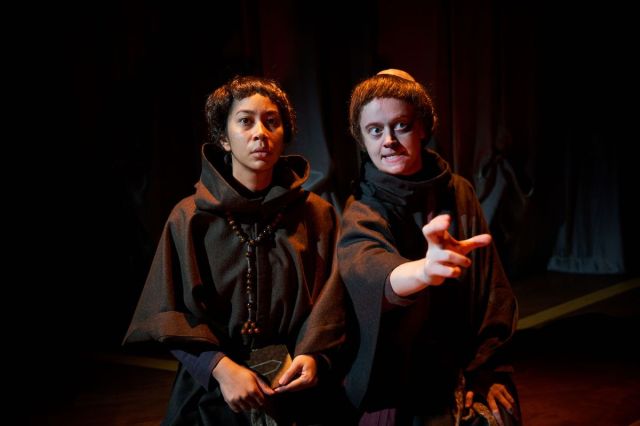 Of course not. Such a damsel-in-distress narrative is too musty for the likes of our scrupulously correct, always preoccupied with the present playwright — which makes us wonder why she chose a medieval play like The Fall and Repentance of Mary as her inspiration in the first place.
The performers let us know that the monks are not to be taken seriously (and that the cast is in on the joke) with performances so broad and cartoonish, the scenery seems to have already been devoured before we even enter the theater (You-Shin Chen's set is mostly drab curtains). By casting women in every role, Horwitz seems to want to conjure a production Hrotsvitha might have actually witnessed, cloistered among other women at Gandersheim Abbey. But its drag-kings-in-history aesthetic (serviceable costumes by Camilla Dely) is most reminiscent of RoosevElvis or Men on Boats — with diminishing returns here.
I laughed exactly twice during Mary Gets Hers: at the sight of an ornately horned animal head on a platter (props design by Gabby Goldman), and at the dance Abraham and Ephraim perform on the way to visit Mary in Abraham's cell (this is Davis's greatest contribution to the play). The monks move through the abbey "purse first" with their prayer books, and Gunnar Manchester's accompanying music seems to imagine what Philip Glass might sound like if he had been raised at Melk. It's a tantalizing taste of what this play could have been if the whole story had been approached with such rigor and specificity.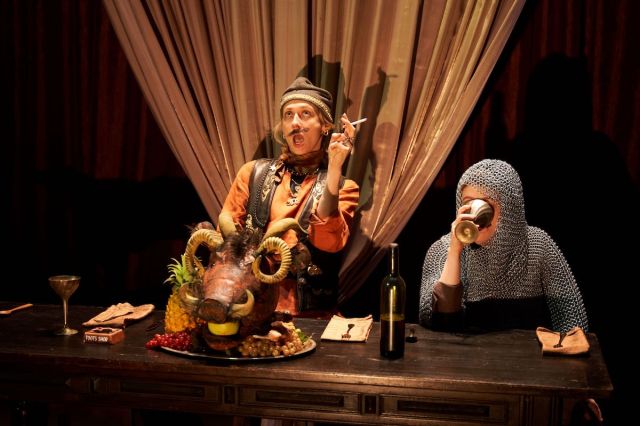 It is interesting to note that much of Hrotsvitha's work is in response to the pre-Christian playwright Terence. She wanted to write comedies just as funny as his, but that valorized virtuous Christian women rather than pagan harlots. Horwitz offers the same treatment to Hrotsvitha, and we can feel the uncomfortable contortions she must make in order that bring this 10th century story in line with the orthodoxies of contemporary bourgeois feminism. Sure, Mary unwittingly becomes the star attraction of a Saxon brothel, but her response to prostitution never rises above the level of annoyance (specifically at not getting a fair cut of the money) because sex-positive feminism tells us that sex work is empowering. This seems to fundamentally confuse the needs of a 12-year-old runaway with those of a bored NYU undergraduate whose parents have cut her off.
Naturally, we land on a closing number in which Mary sings about the need to love oneself, a trite conclusion after all that effort. Sadly, Wong is no Whitney Houston, causing Mary Gets Hers to screech into the finish line. It all amounts to a tired exercise in fashionable propaganda — dishonest, preachy, and (worst of all) dull.
It is unfortunate that this is the first full production from the Playwrights Realm since Mothers in 2019. Since then, we've been through a pandemic and a quasi-reckoning meant to address all manner of social inequities. The administration of the Playwrights Realm have responded by attempting to reimagine the off-Broadway business model, and you can read about their radical innovations here. If supporting this kind of admirably idealistic change is important to you, you may just want to buy a ticket and suffer through Mary Gets Hers. But noble intentions cannot compensate for a bad play, which I'm sad to report this very much is.