Review: Life of Pi Brings a Harrowing Tale of Survival on the High Seas to the Stage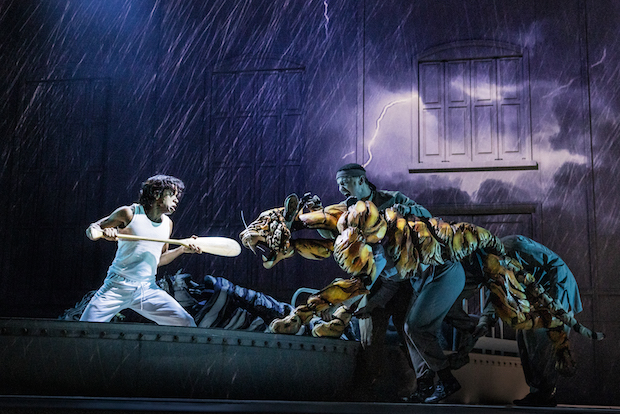 Since its publication in 2001, Yann Martel's best-selling novel Life of Pi seems to have inspired artists to push the technical envelope in adapting its fantastical narrative to other mediums. Filmmaker Ang Lee fashioned an eye-filling spectacle out of it at the height of Hollywood's 3-D boom in 2012. More recently, playwright Lolita Chakrabarti turned it into a stage play that became an award-winning hit on the West End. After a run at Boston's American Repertory Theater late last year, Chakrabarti and director Max Webster's Life of Pi has now landed on Broadway — and as a piece of stagecraft at least, the show is a sight to behold.
To some degree, the story Martel spins encourages such visual experimentation. Piscine "Pi" Patel (Hiran Abeysekera) has an idyllic '60s childhood in Pondicherry, India — one that is full of zoo animals, since he's the son of a zoo manager (Rajesh Bose), and thoughts about God, as he becomes obsessed with religion. But it's interrupted by the societal turmoil wrought by government repression amid "The Emergency." In 1976, his family decides to move to North America, bringing their zoo animals with them. But a storm destroys the Japanese freighter on which they're traveling, with Pi escaping on a small lifeboat. This leads to the heart of Martel's tale: Pi's 227-day attempt to stay alive in the middle of the Pacific Ocean, with only a Bengal tiger, named Richard Parker, at his side.
The puppets that bring Richard Parker and the many other animals to life in Pi's story are the most astonishing features in Life of Pi. In a theater season that has seen the scene-stealing innocence of Milky White in the Broadway revival of Into the Woods, the puppetry in Life of Pi further demonstrates the imaginative possibilities of the art form. High marks to Nick Barnes and Finn Caldwell for the detailed animal designs, and to Caldwell's immaculate direction of an army of onstage puppeteers to make these creatures feel lifelike without diminishing the childlike sense of wonder that can make puppetry so magical.
The puppets aren't the whole show. Tim Hatley's scenic design moves with startling fluidity between settings, lit by Tim Lutkin with a sensitivity to the underlying emotional states of this rollercoaster yarn. Composer Andrew T. Mackay has given the show the full orchestral treatment, while sound designer Carolyn Downing comes up with atmospheric, at times terrifying effects.
But besides the puppetry, most instrumental to the spectacle is Andrzej Goulding's animation and video design. Even the images of undulating water that cover the floor of the Gerald Schoenfeld stage look and feel immersive (this is the rare Broadway show that may be better appreciated in the mezzanine).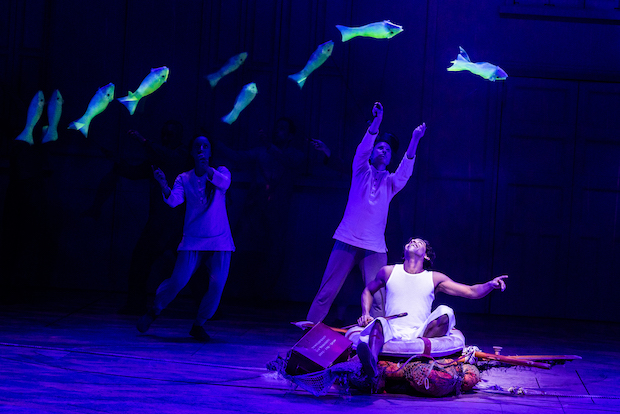 There is a larger philosophical point to the spectacle, just as there was in the book. Pi's obsession with religion — during which he ends up adopting Hinduism (in which he was raised), Christianity, "and" Islam for a spell — is key to one of the ways Pi not only ends up surviving, but dealing with the trauma that lingers afterward. Without spoiling too much for those who haven't yet encountered this material, Life of Pi essentially becomes a meditation on the nature of truth and the comforting power of storytelling, which Martel implicitly equates to a leap of spiritual faith. The way Martel, and by extension Chakrabarti, relies on a twist at the end to get at this idea, though, can't help but feel a little cheap and gimmicky, the ambiguities about the reality of Pi's story coming off as not fully earned.
Considering how popular Martel's book remains, however, that doesn't seem to be a problem for some people. At least Martel didn't sacrifice character for the sake of philosophical grandeur, and neither do Chakrabarti and Webster. Not to diminish the all-around excellence of the cast (it's a particular pleasure to see New York theater stalwart Bose bring his easy warmth and authority to the character of the Father), but this is Hiran Abeysekera's show. As Pi, he holds the stage with a fiercely physical and emotionally committed performance, fully matching the energy Webster and his creative team have brought to the production. It's an accomplishment for any performer to stand out amid a special-effects-heavy show such as this, but Abeysekera turns out to be just as good a reason to see the visually enchanting Life of Pi as the puppets.