Review: Laura Linney and Jessica Hecht in New Broadway Gem Summer, 1976
Friendships are, without a doubt, some of the most complicated relationships we can have, though there's far less art made about them than familial, romantic, and sexual ones. David Auburn's new Broadway play, Summer, 1976 at Manhattan Theatre Club's Samuel J. Friedman Theatre, is filling in this gap, and may very well be one of the best pieces of art about female friendship yet.
Summer, 1976 tells the story of the unexpected camaraderie of Diana (Laura Linney) and Alice (Jessica Hecht). Brought together by their young daughters, the moms initially are not fans of each other, but they quickly develop a close bond. Their friendship, like many, does not follow a linear path: it kindles rapidly, briefly burns bright, has some dramatic flickering, imperceptibly fades away, and right when it looks extinguished, has a fleeting final ember. Friendships are often hard to explain, but Auburn explores this elusive material with marvelous success. He captures all the nuances and intricacies of two women's temporary but strong bond over the summer of 1976, and the aftereffects it has on their lives.
This play is a two-hander comprising mostly monologues, sometimes narrating parallel events and experiences, sometimes picking up a narrative where the other leaves off. We are occasionally treated to scenes of dialogue between Diana and Alice, and the rarity of these makes us savor them even more.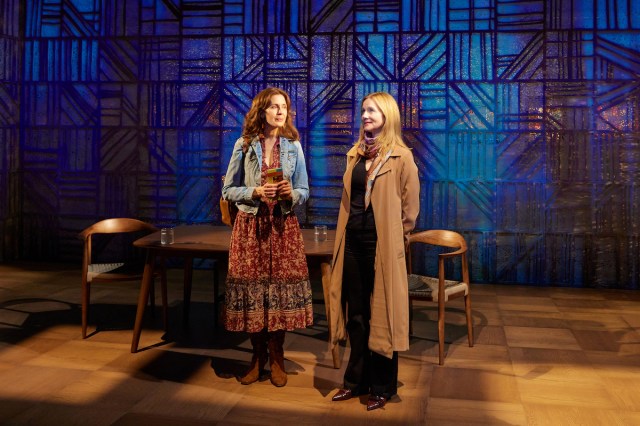 For this play to work as well as it does, it requires two powerhouses, and Linney and Hecht more than rise to the occasion. The two characters are quite different. Diana is an artist and professor, a connoisseur of high culture with a decided whiff of elitism. Alice is a hippie-ish housewife, a bit flighty, and opinionated. Linney and Hecht masterfully define and differentiate their characters, highlighting their antithetical nature while also helping us see points of convergence and what makes their relationship click. The result is a fantasia on friendship, one that goes to unforeseen, intimate, often painful places, as we see the pair move closer and farther apart emotionally.
It feels like a gift to watch Linney and Hecht deliver such high-caliber performances side by side. They utilize a host of nonverbal gestures, most powerfully a diverse set of imploring looks out to the audience, some deadpan and comedic, others deeply troubled and hurt. They both bring so much to their roles even beyond the gorgeously composed text, inserting pauses within lines that slice up phrases to create entirely new meanings. This is, without a doubt, some of the most nuanced acting on Broadway in recent memory.
Though on the surface it appears like a tale of a mutually close and meaningful friendship, a closer look reveals a hidden truth: Alice is not a very good friend. She's a benevolent hypocrite, aloof, unhelpful, and selfish. She doesn't really get Diana, and doesn't understand single motherhood, refuses to hear difficult truths, and drifts away when life gets hard, instead of leaning on her friend.
The two women can be thought of as alternative versions of each other, funhouse mirror images of what their lives could have been like if things were different. In the final portion of the play, which skips ahead many years, we see an unplanned reunion, and gradually realize that the friendship did not mutually fade, but was mostly a lack of effort on one side. The play then feels like a retrospective by the pair, each justifying their actions, with Alice nostalgic and reminiscing, but Diana trying to distance herself from that summer and downplay how much it meant to her.
Daniel Sullivan's direction deftly weaves Auburn's play and the two stars' performances, crafting a stunning and heart-wrenching piece. Linda Cho's costumes, too, are well tailored to the two characters and their changes over time. However, the one weakness is John Lee Beatty's set, a distracting box that doesn't seem to serve a point.
Watching Linney and Hecht's extremely grounded performances, you will inevitably be reminded of your own friendships, current and former. The play speaks to something quite relatable and examines dynamics with an exceptional amount of complexity, depth, and pathos. Because of that, Summer, 1976 is a must-see–a rare perfect play with two brilliant performances at the center. Maybe you can bring a friend, or even make a new one while you're there.