Review: In Shadow/Land, Two Women Cling to Life and Legacy in the Rising Waters of Hurricane Katrina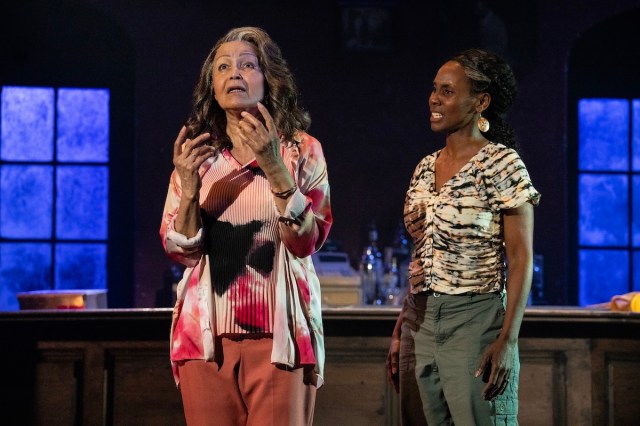 Shadowland is a New Orleans landmark — at least, it should be: The first airconditioned hotel catering to a Black clientele in a highly segregated city, it hosted a parade of legendary musicians. And Magalee (the indispensable Lizan Mitchell) remembers them all, despite her middle-stage dementia. She built Shadowland with her late husband, but her daughter, Ruth (Joniece Abbott-Pratt), is eager to sell to a developer. They just need to get through the next hurricane before she can strike a deal.
That's the background to Erika Dickerson-Despenza's Shadow/Land, now making its onstage world premiere at the Public Theater, which presented it as an audio play in 2021. The production, directed by Candis C. Jones, is both disorienting and breathtaking as it walks the porous border between magic and cold physical reality that Dickerson-Despenza conveys in her regularly poetic (and then suddenly, brutally prosaic) script.
By the time Shadow/Land opens, Shadowland the establishment is a shadow of itself, its meager bar of dusty bottles betraying a hotel that receives few visitors, its boarded-up windows heralding the disaster ahead. It's August 29, 2005, and New Orleans is bracing for Hurricane Katrina. Ruth attempts to pack her most valuable possessions and take her mother to the Superdome, but this is the exact time Magalee decides to confront her about her plans to sell, recounting the generations of toil it took for a Black family to obtain and keep a plot of land in central New Orleans. "Come hell or high wawdah I can't sell it Ruth," Magalee exclaims. And then, of course, the high water comes.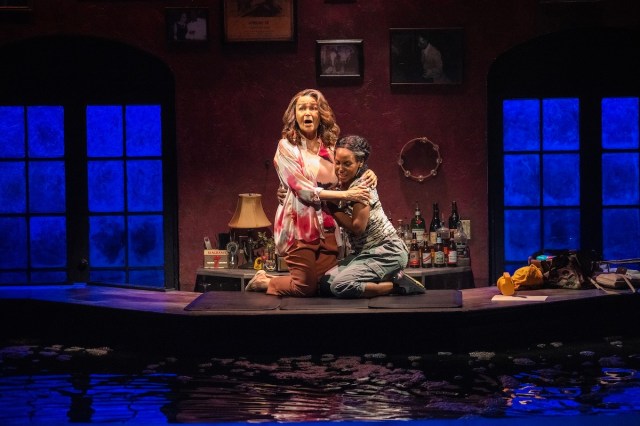 Scenic designer Jason Ardizzone-West has created a spectacular scenic effect in which the set is flooded by the filthy, oil-tainted waters of the Mississippi, leaving Ruth and Magalee to take refuge on top of the bar. The moment is arresting, bringing the natural devastation of Katrina into the theater — provided it works (two performances I was scheduled to attend were canceled before the production team finally worked out the technical difficulties of the set).
Still, Ardizzone-West has delivered what the playwright dictated: "This is a waterlogged play," Dickerson-Despenza writes in the script, "all the water is real." The superintendent in me shudders at the thought of lasting water damage, but leave it to the Public (I suspect there are still grains of sand nestled in corners of the Anspacher) to fearlessly take such a risk.
More than any special effects, Abbott-Pratt and Mitchell capture the desperation of the story in their performances. We can see it in the way Abbott-Pratt reproachfully hands her thirsty mother a bottle of water (the second-to-last one) and the way Mitchell greedily swills it. The bar is a desert island, and they are its marooned inhabitants. Azalea Fairley's casual-chic costumes make it clear they are both completely unprepared for this moment (Earon Chew Nealy's wig for Magalee really tells this story, especially when it comes to adorn a liquor bottle behind the bar). And yet, they attempt to survive with what they have, as any of us would.
Potential rescuers come, only to cruelly snap photos to sell to the wire services. Sound designer Palmer Hefferan and lighting designer Jeanette Oi-Suk Yew seamlessly collaborate to create overhead helicopters, passing speedboats, and the flash of cameras.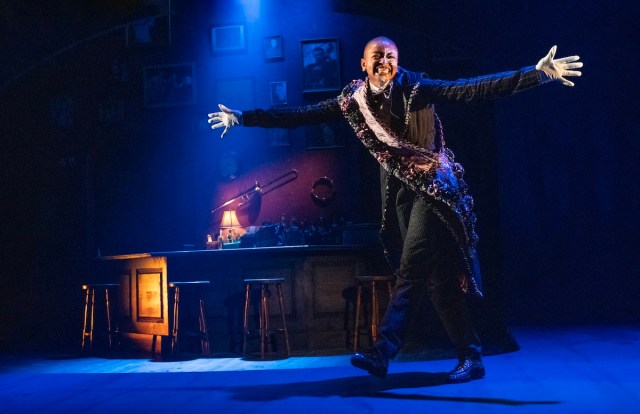 "They come to souvenir our suffering," says the Grand Marshal, a jubilant Mardi Gras corpse played by Christine Shepard with rapidly oscillating inflections of joy, pain, sex, and death. More psychopomp than narrator, this ancient spirit of New Orleans lurks in the periphery of the stage, emerging to speak Dickerson-Despenza's most poetic, heartrending lines.
Shadow/Land is only the first play of a planned 10-play cycle about Katrina and its ongoing effects. With this ambitious opening act, Dickerson-Despenza and the Public have set high expectations for a tale of biblical proportions.