Review: In Prima Facie, Jodie Comer Plays a Lawyer Who Defends Rapists and Is Raped
Tessa is a force of nature. She clawed her way up from a working-class corner of Liverpool to Cambridge Law School, and from there to a prestigious criminal defense firm where clients pay handsomely to have her in their corner. She's a star, Britain's answer to Camille Vasquez and perhaps the most captivating character in any new drama this season. As portrayed by the megawatt talent Jodie Comer, she lights up the stage of the John Golden Theatre — nearly blinding the audience to the uncomfortable questions lurking beneath Suzie Miller's timely and emotionally manipulative solo drama, Prima Facie, which arrives across the Atlantic on a tsunami of critical acclaim and shiny new awards.
It's easy to see why London audiences were mesmerized: Comer grabs us by the barrister's bands from the get-go. Clad in black robes and horsehair wig (costumes by Miriam Buether), she describes the thrill of the hunt (Rebecca Lucy Taylor's pulse-quickening music instantly transforms the courtroom into a jungle in which Tessa is the apex predator). A legal judoka, she relishes the moments a witness underestimates her because of her sex. She gets them good and complacent and then snares them in a brutal cross-examination, obliterating their credibility without them even realizing it (Miller formerly worked as a human right lawyer).
Tessa has become particularly adept at defending men who have been accused of rape. "The defense doesn't have to prove she did consent," she informs the audience, "you just have to point out that he did not know there was no consent. That it was reasonable for him to think it was okay." She feels no guilt about discrediting victims on the witness stand. "It's not emotional for me," she assures us. "It's the game. The game of law."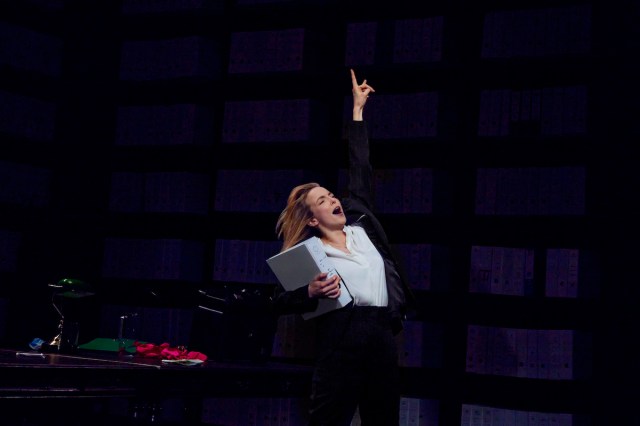 Prima Facie is partly a critique of the gamification of justice inherent in the adversarial system, in which lawyers are amoral mercenaries hired by the rich and powerful. That's an interesting subject, but it takes a back seat to Tessa's personal tragedy, when a drunken hook-up with a colleague takes a dark turn and Tessa joins the ranks of the one-in-three women who have been victims of sexual assault.
That statistic fuels Prima Facie's emotional punch: If one in three women are victims of sexual assault, that means one in three women in the audience will bring their own experience with sexual assault to this play. Miller need only deliver the slightest prick to harness those memories, and judging by the chorus of sniffles in the audience, she and Comer do a lot more than that. In Tessa, they also provide a formidable advocate for every woman who has been unable to advocate for herself.
Director Justin Martin and (especially) Comer have done magnificent work turning Miller's flimsy agitprop into a drama with recognizably human contours. In the first half of the play, Comer seems to never stop moving, fixing her makeup or rearranging the furniture (Buether's law office set bursts with surprises) as she explains the finer points of the law. We understand Tessa to be a person who lets no second go to waste, which explains her social mobility more forcefully than the script ever does. Lucidly and with unflinching sincerity, Comer walks us through the agonizing process of reporting a rape, recounting one's trauma before strangers, and waiting (in this case, two years) for the slimmest chance that justice will be done. You can feel her rage and heartbreak in your solar plexus.
Subtle bumps in the lighting (by Nathasha Chivers) support Comer's performance, while sudden flashes clearly delineate scene breaks, so there is very little slack in Martin's staging. Ben and Max Ringham convey intimacy through their sound design, so that it feels like Tessa is speaking just to us. Between that and the cinematic underscoring (by Rebecca Lucy Taylor) telling us how to feel, it's hard not to feel manipulated by this smartly engineered production.
The most exhilaratingly manipulative scene comes late in the play, when Tessa has experienced a Damascene revelation allowing her to finally see the justice system, with its emphasis on evidence and consistency, as an extension of the patriarchy. "The lived experience of sexual assault is not remembered in a neat, consistent, scientific parcel," she argues before the judge and barristers who have just seen her contradict herself under cross-examination (the irony is not lost on Tessa). Opposing counsel attempts to silence her, but nevertheless, she persists: "A woman's experience of sexual assault does not fit the male-defined system of truth. So it cannot be truth, and therefore there cannot be justice." It's a line that sounds better onstage, when we have no time to consider its post-truth implications. Of the law as it exists, Tessa states unequivocally, "It must change." I was left wondering what that change might look like.
Should we replace the jury system with a "single investigator" model and lower the burden of proof from "beyond a reasonable doubt" to the "preponderance of the evidence," as the Obama administration did in campus sexual assault cases, with disturbing repercussions for Black defendants? Tellingly, Miller (a clever playwright and lawyer, but not necessarily a brave one) doesn't answer. By declining to articulate the change she would like to see, she never risks transgressing any liberal pieties, allowing their contradictions to silently coexist and sending the audience home in the warm embrace of unruffled righteousness.
Taken at face value, Prima Facie is a damning indictment of an inadequate justice system. But beneath the surface it's just fashionable nihilism and emotional blackmail, undergirded by one of the best performances of the season.