Review: Caissie Levy Stars in UK Premiere of Next to Normal
"Good things come to those who wait" feels very true in the case of Next to Normal. UK theatergoers have been waiting for almost 15 years for Tom Kitt and Brian Yorkey's chamber piece to finally cross the Atlantic, opening in the intimate confines of London's Donmar Warehouse.
Fifteen years is a fairly long time for a musical that delves into the very fast-moving subject of mental health and mental illness – with a wealth of new TV shows, films, plays, and more tackling a subject that has an ever-shifting vernacular and sensibility.
That's not to say that Next to Normal feels massively passé in 2023 – but it's easy to see why it could. The plot broadly follows a woman, Diana Goodman, who is grappling with mental ill-health following a traumatic experience many years earlier – one that has also wended its tendrils around the emotional well-being of her immediate family. Tied directly to her traumatic past, attempts to "help" Goodman through therapy, ECT (electroconvulsive therapy) and narcotics all tease pressing, prescient questions around ethics, emotional stability, and the role of family in the construction of support networks.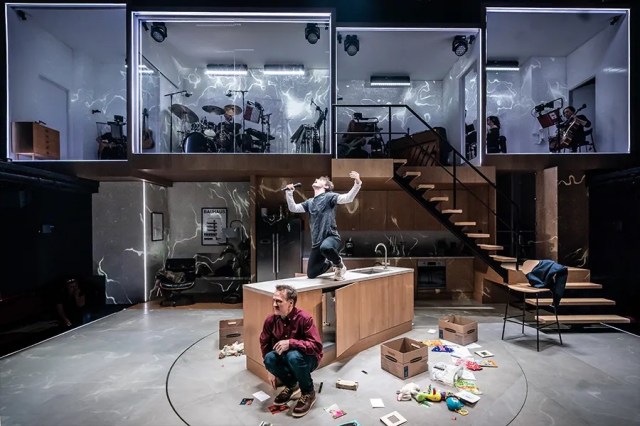 In less delicate hands than Yorkey's, the whole experience may feel schlocky and outdated (latching on to the well-worn tortured soul trope, Blanche DuBois style). But what keeps the show fresh is an intense sense of emotional heft. Pivotally, we feel more invested in these characters as individuals rather than simply ciphers in a wider debate about the treatment of mental health and illness in contemporary society. It's a startling revelation to discover that individuals still undergo shock therapy in order to supposedly cure their mental ailments.
It's easy to lose sight of the fact that Next to Normal is a musical — but that's another of its key strengths. Tom Kitt's rock-musical score is full of catchy belters — from the heart-wrenchingly upbeat "I'm Alive" through to the resigned melancholy of "Song of Forgetting." There's a reason why the Pulitzer-winning show is a Spotify playlist fave.
It takes an assured cast to grapple with the material. One significant addition to the production is the UK stage return of Caissie Levy, who is in a whole different world here to Frozen's Arendelle and Leopoldstadt's Vienna. She takes Diana, often held up as one of the trickier musical roles of the century, in her stride: never over-egging any of the character's bipolar disorder, while understatedly communicating the sheer exhaustion of a perpetual psychological battle that seems to have more fronts than a cootie catcher.
What is most striking is how the show feels entirely like an ensemble piece — with every cast member getting a moment to shine. Diana's forlorn husband Dan is taken on by Harry Potter star Jamie Parker, never afraid to voice a brittle fragility underpinning a man desperate to try and support his wife rather than confront his own demons. Equally effective turns come from Eleanor Worthington-Cox and Jack Wolfe.
It's an effective ensemble staging — particularly the presence of Diana's children, caught in the orbit of her frantic experiences. Though it never lands the same harrowing emotional gut punch of Jeanine Tesori's Fun Home, in which the actions of a parent also ripple through generations and family ties.
Michael Longhurst (who tackled Caroline, or Change with an assured cohesiveness both in the UK and on Broadway, also with Levy) brings suitably straightforward clarity to Diana's mental turmoil — occasionally resorting to same-y projections in order to hint at the fizzing reality of Diana's neurosis.
This is a safe production of a show that, miraculously, has remained watertight. But UK audiences will feel they've got what they've been pining for all these years.