Review: Brian Friel's Translations Looks at Language as a Tool of Oppression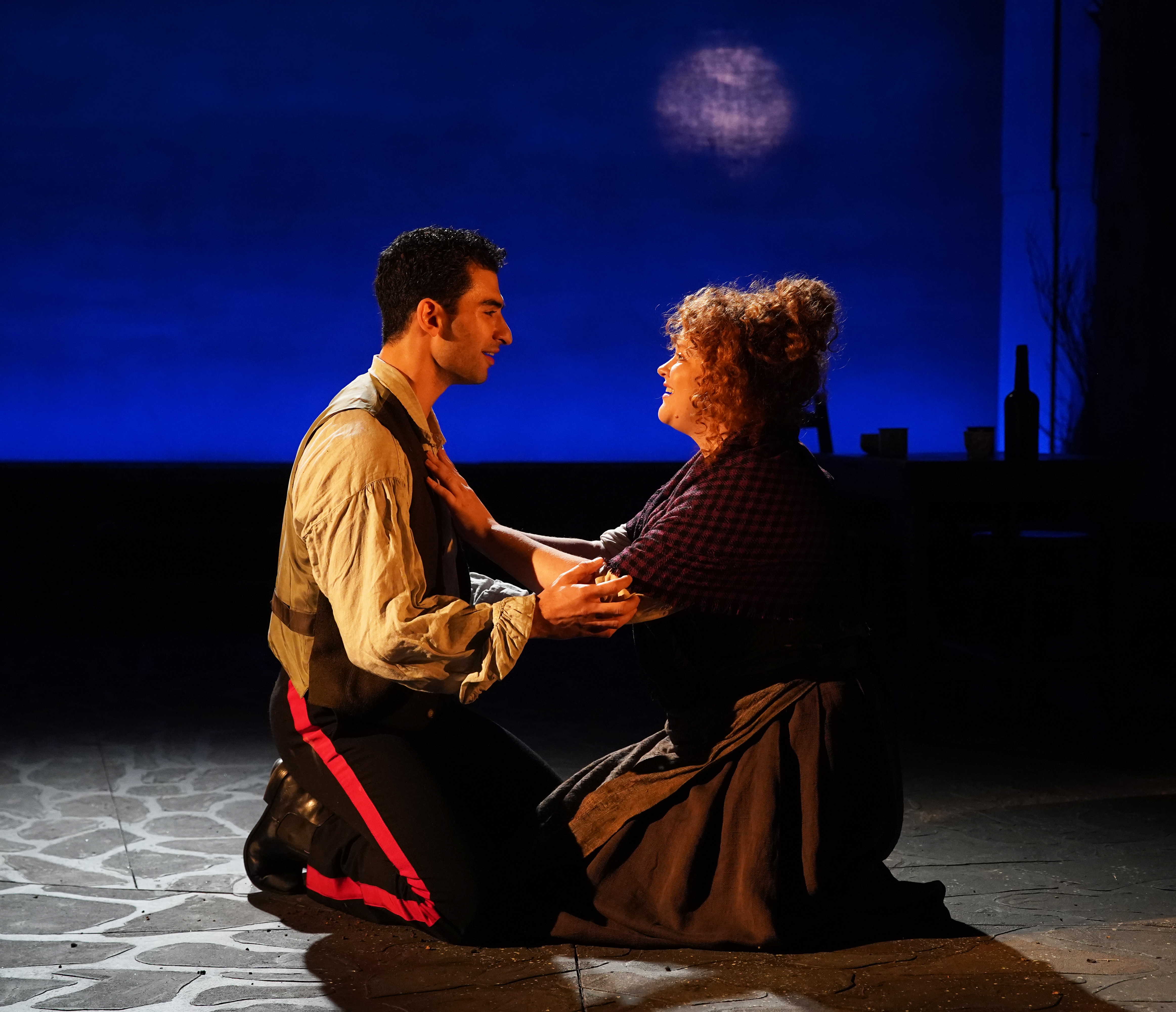 Sometimes called the Irish Chekhov, Brian Friel has left us with a corpus of about two dozen plays that chronicle his native Ireland, often from the perspectives of the inhabitants of a fictional town he called Ballybeg. This season, Irish Repertory Theatre has chosen to present three Ballybeg-set plays for a collection called the Friel Project. The first is Translations, a quietly devastating work about a people losing their culture as they lose their language.
It's a fascinating, if sometimes wearying, examination of a people being colonized through nonviolent means, namely by gradually replacing the native language with a foreign one. That's what British officer Lieutenant Yolland (Raffi Barsoumian) has been instructed to do by his boss, the stern Captain Lancey (Rufus Collins), when he is sent to Ballybeg to Anglicize the region's Irish placenames. Yolland is accompanied by Owen (Seth Numrich), a former resident of the town who has returned to serve as a translator.
The denizens of Ballybeg initially welcome Yolland to their hedge-school (an informal place of learning), where the elderly Hugh (Seán McGinley) tipples as he teaches math, Greek, and Latin to a group of almost exclusively Irish-speaking students (though the actors speak English, we're meant to understand they are speaking their native tongue). There's America-loving Maire (Mary Wiseman), Homer-loving Jimmy Jack (John Keating), aspiring teacher Manus (Owen Campbell), brash Doalty (Owen Laheen), fiery Bridget (Oona Roche), and quiet Sarah (Erin Wilhelmi). But when Yolland falls in love with Manus's love interest Maire, the font of goodwill dries up, and Yolland's unexplained disappearance threatens to destroy more than the town's language.
Translations had two productions on Broadway (in 1995 and 2007), but neither fared well with audiences. After seeing Irish Rep's production, I can guess at a few reasons: the historical context of 1830s Ireland is too unfamiliar; Irish accents and dialects are sometimes difficult for American ears to grasp; the play drifts from its engaging love story halfway through. Irish Rep has helped with the first and second of these by providing copious program notes about the play's historical background as well as definitions of culturally specific words.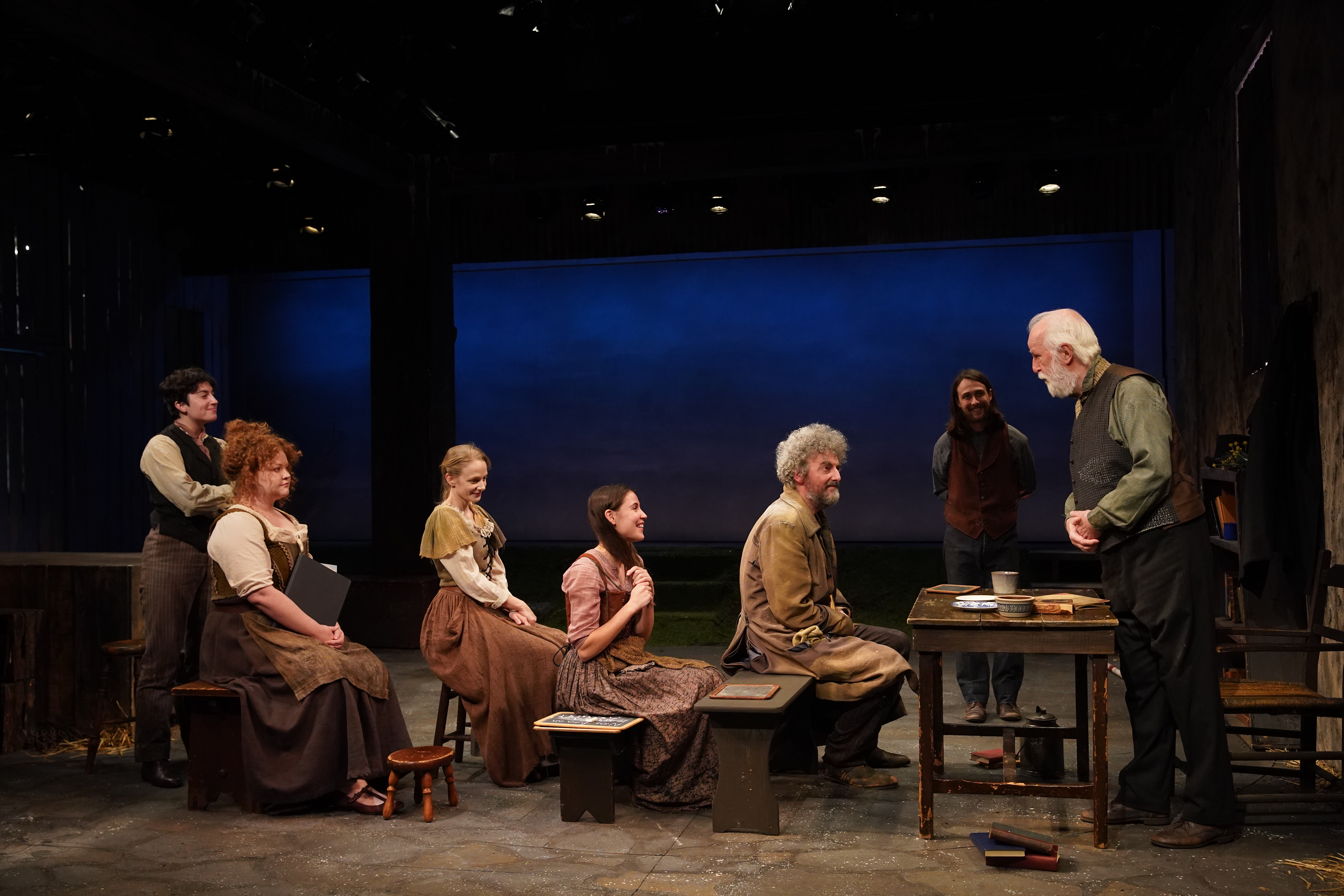 The bigger obstacle is that the play takes a while to get its fire lit and then sputters after it does, despite the fine efforts of director Doug Hughes and his terrific cast (I had relatively few problems with the accents). As we meet Friel's eccentric Ballybegans in the rustic schoolroom (Charlie Corcoran's detailed set and Alejo Vietti's earthy, old-world-style costumes effectively transport us to 1830s Ireland), we're inundated with passages of Greek and Latin quoted at length as part of the classroom instruction. Friel intends us to see a correlation between those dead languages and a threat of the Irish tongue also becoming extinct (it never did), but depending on your interest in the classics, those esoteric recitations of Homer and Virgil can be fidget-inducing. There are simply not enough quirky personalities in the room to dispel the ennui.
It's not until we meet Yolland well into the first act that the play comes to life. His conflict of loyalty — between his native Britain and his newfound love for Ireland — drives the action and leads to the play's most memorable scene: Yolland and Maire's awkward yet charming courtship (Ryan Rumery and M. Florian Staab's music and sound design enrich these moments). Neither Yolland nor Maire can understand the other's language, yet they have a poignant connection that makes words unnecessary. Barsoumian and Wiseman crush this scene with their exquisite chemistry and capture the confusion and passion of the two lovers with puzzled stares and smiles that delight us even while jabbing us in the heart.
But the magic gets lost in the second half, which takes a dark turn as Yolland and Maire's future becomes uncertain, and Captain Lancey threatens to evict the residents from their homes. Though Friel's townsfolk are chock-full of humor and human interest, Yolland's absence from later scenes leaves a void that takes all our attention with him. It doesn't help the play ends abruptly and leaves us with more questions than answers about the fate of Ballybeg. Instead, Hugh recites another passage from Virgil's Aeneid (at least this time it's in English). The words resonate with the play's theme — "a race was springing from Trojan blood to overthrow someday these Tyrian towers." Unfortunately, those words ultimately translate into a yawn.