Review: Ava Gardner Comes to the Stage in Elizabeth McGovern's Uneven Ava: The Secret Conversations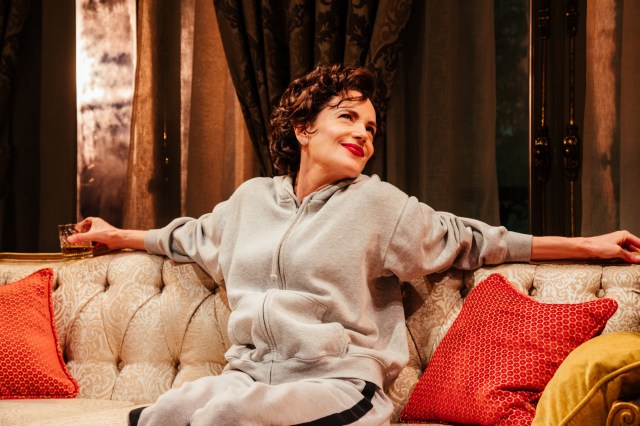 Ava: The Secret Conversations, written by and starring Elizabeth McGovern, looks at the life of golden-age movie star Ava Gardner. But oddly, it focuses more on a periphery character, a sycophantic hack writer. This might come as a disappointment to those who want to spend time with Gardner rather than this plot-stifling character. Sadly, as it stands, McGovern's play offers an awkward and unsatisfying evening of theater.
In 1988, journalist Peter Evans (Aaron Costa Ganis) interviewed the famed actor to ghostwrite her autobiography — which was released in 2013, 23 years after Gardner's death. Evans, a foreign correspondent, took the assignment reluctantly but fell under her spell. The lines between the collaborators blur as Evans upends his own life and marriage for just a moment to become the man in her life. While the play reenacts traumatic moments between Gardner and her lovers and husbands — Mickey Rooney, Artie Shaw, Howard Hughes, and Frank Sinatra among them — Evans ultimately becomes as toxic to the fragile woman as those powerful men were.
Ganis portrays Evans as tediously pompous — a "great protector" who loves Gardner for her strength and then infantilizes her with passive aggression about her past relationships. Watching the story unfold from his point of view makes sense, but ultimately falls short.
McGovern gives us an engaging Gardner, who, despite weakness from a recent stroke, remains animated. But just when she captures our attention, the imaginary camera cuts to Evans. McGovern has a great ear for dialogue, and she fleshes out the voluptuous star of Magambo and The Barefoot Contessa to make the audience yearn for her, but Gardner remains trapped behind the murky window that is Evans.
As Ganis slips out of his Evans role and into those of Gardner's suitors, the audience sees Gardner pulled in 100 directions by the men who consider her property or an accessory. But when the action suddenly returns to Evans and Gardner arguing midstream about what seem to be the conversations she had with other people, the effect is jarring, with Evans and Gardner appearing to fight about a conversation the audience never got to see.
Both the play's opening and ending are meta for meta's sake, and having Evans complain in the beginning that he's unsure how to start the story only highlights that the play itself had the same issue. Gardner's and Evan's whole world becomes a fantasy in the end — a movie set. And that, too, strips the play of impacting the audience.
McGovern majestically projects Gardner's frustrations and delivers her exhaustion after a long tumultuous life and the effects from age and illness. Director Moritz Von Stuelpnagel has McGovern represent Gardner's recent stroke with her left hand motionless below her neck. But then, on occasion, when the script requires it, he has her lift a half-full alcohol bottle, hold a script, turn pages, and hold a cigarette — these motions are not flashbacks. Even if Gardner had those abilities at this moment of her life despite the stroke, it takes the audience out of the tale.
Ganis provides Evans with a desperate energy, as if his character knows that this book and burgeoning romance provide him a lifeline to a better life. He also conveys the vocal and characteristic differences of the other men he plays: the jittery Mickey Rooney, the supercilious Artie Shaw, and the self-important Frank Sinatra. He even does an excellent impression of Sinatra's singing voice. A third actor, Ryan W. Garcia, adeptly voices phone conversations as Peter's agent with appropriate slimy self-aggrandization.
David Meyer's set is an elegant drawing room in Gardner's London flat, including her bedroom, which would make a fantastic Laura Ashley showroom. Amith Chandrashaker's ethereal lighting transports the audience between the past and the Gardner's present. It also makes McGovern sparkle like an iconic image on the silver screen. Toni-Leslie James costumes McGovern in seductive silk red dressing gowns and glittering black cocktail dresses to evoke her dreamlike status and allows them to clash with gray sweats in other scenes that bring her back to earth.
Gardner enticed the most famous men in the world with her beauty and then let them take control of her due to her insecurities. Though Ava: The Secret Conversations does reveal the woman behind the legend, it's hard to see her with the oily man standing in front of her hogging what should be her well-deserved spotlight.