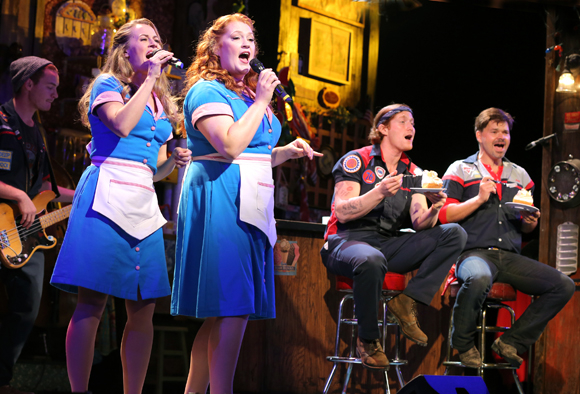 A roomful of Yankees will be whistling Dixie after taking in their hearty helping of Pump Boys and Dinettes, the latest addition to Jeanine Tesori's Off-Center series at New York City Center Encores! The musical homage to the land of catfish and farmer tans offers little in the way of profundity — or even a basic plot. Still, it's an excellent excuse for a night of good music, good humor, and enough Southern charm to fill elusive Uncle Bob's broke-down Winnebago.
The show was created by the original Pump Boys and Dinettes — a performance group consisting of John Foley, Mark Hardwick, Tony winner Debra Monk, Cass Morgan (of Broadway's late musical The Bridges of Madison County), John Schimmel, and Jim Wann. The ensemble first performed the honky-tonk musical in 1981 off-Broadway at the Chelsea West Side Arts Theatre, followed by a 16-month Broadway run beginning in February of 1982, where it earned a Tony nomination for Best Musical (it was beat out for the award by Maury Yeston's Nine, along with fellow illustrious nominees Dreamgirls and Joseph and the Amazing Technicolor Dreamcoat).
The unfettered portrait of life that spans the short distance from a North Carolina gas station to the nearby Double Cupp Diner along Highway 57 hardly seems to lend itself to the expansive City Center space for even its brief four-day run, let alone an extended stay on Broadway. Yet, this displaced innocence is a large part of the show's undeniable appeal.
Set designer Donyale Werle has built a redneck's paradise on the City Center stage, elaborately decorated with what seems like thousands of well-loved trinkets that you'd find in any bar or roadside store worth its salt south of the Mason-Dixon Line. This serves as the communal work space for both our "Pump Boys" — four charming gas station attendants — and our "Dinettes" — a pair of sassy sister waitresses — with lighting designer Mark Barton offering most of the dramatic shifts in scenery.
Hunter Foster shows off his chops on guitar as Jim, a narrator of sorts and the de-facto leader of the Pump Boys. Coming off his recent Broadway performances in the countrified Hands on a Hardbody and the Iowa-set Bridges of Madison County (and as a native Southerner himself), Foster has become a seasoned expert at the art of the casual-yet-commanding country persona. He emcees the production with magnetic charisma, keeping you hanging on every note he croons about early-morning fishing or childhood memories with his "Mamaw."
Director Lear deBessonet's unpretentious hand shapes a company that matches this simple charm, due in no small part to the performers' remarkable talents. Foster's fellow grease monkeys include the winsome Jordan Dean (playing long-haired pretty boy Jackson) on guitar and harmonica, the nimble-fingered Randy Redd (as the cryptically named L.M.) on piano and accordion, and Lorenzo Wolff (a mild-mannered Eddie) on the jazzy bass line, with Austin Moorhead rocking the occasional guitar solo from the back of the stage.
Serving up plates of pecan pie as they play some of the kitchen's most underappreciated instruments in their seductive apron getups (designed by Clint Ramos) are Mamie Parris and Katie Thompson, as waitressing sisters Prudie and Rhetta Cupp. While Parris, like an aspiring Southern belle, delivers her lovelorn solo "The Best Man" with an endearing sweetness, Thompson is handed the opportunity to utilize her larger-than-life stage presence and infectiously guttural singing voice in the roof-shaking "Be Good or Be Gone."
There's not much holding the long list of musical numbers together, aside from the general theme of blue-collar living, which, apparently, is predominantly occupied by drinkin', fishin', and beggin' for tips. Fortunately, the Pump Boys and Dinettes have found the perfect venue for their free-wheeling reunion concert. It may even yield a few more country converts.