Original Cast Album of Alex Timbers and Michael Friedman's Love's Labour's Lost Will Be Released Via Sh-K-Boom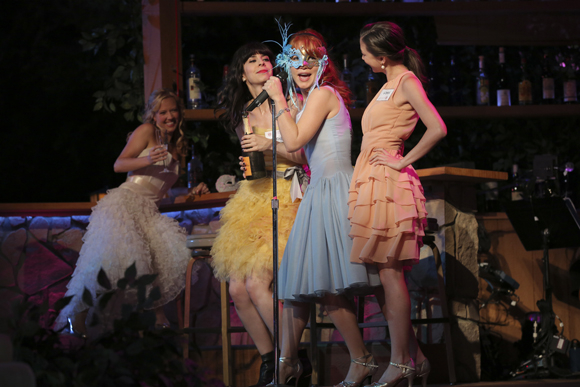 The original cast of Love's Labour's Lost, Alex Timbers and Michael Friedman's musical adaptation of William Shakespeare's comedy, is in the recording studio today, January 27, to lay down tracks for the show's soon-to-be-released album. Sh-K-Boom Records produces the release, which preserves the score of the The Public Theater's 2013 Shakespeare in the Park world premiere production.
Timbers directed the musical, with a cast led by Patti Murin, Colin Donnell (who confirmed the forthcoming cast album on Twitter), Maria Thayer, Daniel Breaker, Bryce Pinkham, Kimiko Glenn, Lucas Near-Verbrugghe, and Audrey Lynn Weston. The company also included Caesar Samayoa, Rebecca Naomi Jones, Kevin Del Aguila, Andrew Durand, Jeff Hiller, Justin Levine, Charlie Pollock, and Rachel Dratch. The Shakespeare in the Park production also featured the Middletown High School Marching Band.
Inspired by Shakespeare's text, Timbers and Friedman's Love's Labour's Lost takes place at a college reunion where the King (Breaker) and his pals (Donnell, Pinkham, and Near-Verbrugghe) decide to swear off women, only to be tempted when four women from their past (Murin, Thayer, Glenn, and Weston) suddenly appear.
No release date has yet been announced.
Click here to read TheaterMania's summer 2013 interview with director/coauthor Timbers.