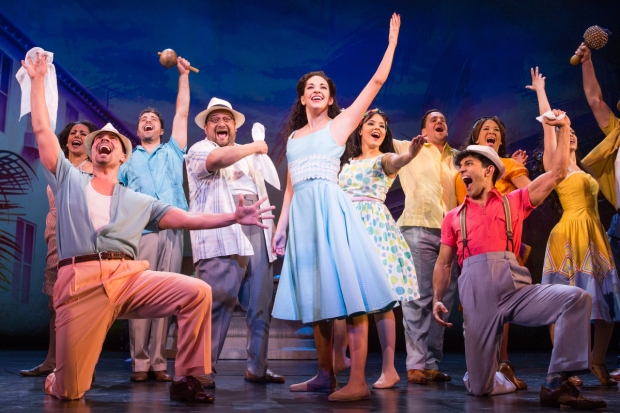 Move over, Beautiful: There's a new officially sanctioned jukebox musical in town. That would be On Your Feet!, a song-and-dance extravaganza about the groundbreaking career of Gloria Estefan, produced by Estefan Enterprises, Inc. at Broadway's Marquis Theatre. As far as these things go, On Your Feet! is better than most. It won't change the course of musical theater, but you will have a really good time seeing it.
For those who don't know, Gloria Estefan is one of the most successful Latin crossover acts in American music. While Shakira, Ricky Martin, and Jennifer Lopez have all left their marks, Estefan paved the way for their careers (as her husband and business partner, Emilio, readily informs us in his program bio). On Your Feet! tells the story of Estefan's rise to fame, from her childhood as a Cuban refugee in Miami to her chart-topping success with "Conga" (to be played at every wedding reception from here to eternity). We also learn of her remarkable comeback following a near-fatal bus accident. All the while, her husband is behind her pushing her to give "ninety-five percent more." Underscored by the energetic music of Estefan's band, the Miami Sound Machine, this two-hour-twenty-minute concert-with-plot pleasantly breezes by, held together by Alexander Dinelaris' smartly efficient book.
Dinelaris is the Academy Award-winning screenwriter of the Broadway-themed Birdman as well as the book writer for the campy 2003 off-Broadway musical Zanna, Don't! He offers a cinematic flair while also paying homage to the conventions of the book musical. The story begins during a 1990 concert. Gloria (Ana Villafañe) is backstage with husband Emilio (Josh Segarra) and son Nayib (Eduardo Hernandez). She walks onstage and the narrative immediately flashes back to a scene of Gloria's father in the Vietnam War. This leads into the song "Tradición," which introduces us to Estefan's childhood in a barrio of Miami and will have many in the audience thinking of a Cuban Fiddler on the Roof.
Director Jerry Mitchell boldly leaps across time and space during these live jump cuts, allowing projection designer Darrel Maloney to tie up any loose ends: Dates and locations regularly appear on David Rockwell's versatile set of moving screens. Lighting designer Kenneth Posner treats the show like a concert, with a scaffold of moving lights surrounding the proscenium. Similarly, ESosa's costumes are a delightful cavalcade of sequins, fringe, and spandex: They look like Estefan's music. This show is always in motion, supercharged by a super-talented group of actors.
Seriously, this cast can dance. Under Sergio Trujillo's lively choreography (liberally incorporating elements of rumba, salsa, and disco), hips swivel and feet move at lightning speed, with dance captain Carlos E. Gonzalez regularly stealing the show.
He doesn't keep it for long, however, as Villafañe (making her Broadway debut) is a certified leading lady. The ensemble tosses her through their air with nary a break in her pristine vocals. She sounds spookily like Estefan, right down to the singer's familiar purr. Villafañe also brings an emotional heft to the role that is often absent in similar radio-to-stage ventures. It helps that she has loads of chemistry with her leading man: Segarra's breathy delivery makes it seem like a fire is smoldering just beneath his otherwise placid surface. Keeping that cool is essential since this pushy older husband could easily come off as a jerk with a less sympathetic performance. Here, he embodies the archetype of the immigrant entrepreneur, making us want to root for him.
Likable and impressive performances abound: Andréa Burns is outstanding as Gloria's mother, positively sizzling during her big number, "Mi Tierra" (set in a swanky Havana nightclub at the twilight of the Batista regime). Alma Cuervo is wily and charming as Abuela Consuelo. David Baida and Doreen Montalvo devastatingly play Emilio's grandfather and mother during a scene set in the Madrid airport, in which a young Emilio (Hernandez) has to say goodbye to his family before relocating to Miami: He's received a visa and they have not. It is the musical's most heart-wrenching scene.
Despite excellent performances, On Your Feet! suffers from the same flaws inherent in any musical that attempts to employ a musician's catalogue to tell a somewhat whitewashed version of a his or her life: The songs don't always fit and they rarely move the plot with the same ease as a song written specifically for the theater (because they weren't originally designed for this). The ballads tend to stop the show in its tracks, leaving the actors to pace the stage looking wistful or in love. Also, the dramatic tension of the second act (which hinges around Gloria's bus accident) is somewhat undermined by the fact that we know how things are going to turn out in the end: Gloria survives, goes on to record more albums, amasses nearly a billion dollars in assets, and produces a bio-musical on Broadway. There can be no spoilers to this plot because the Estefans' very visible and glamorous lives are already the greatest spoilers of all.
Of course, there's something to be said for their success, especially considering the unique circumstances from which our subjects came: A scene in which a dismissive record executive asserts that Gloria will never cross over to the mainstream American market ends with Emilio getting in his face and saying, "For fifteen years I've worked my ass off and paid my taxes. So, I'm not sure where you think I live…but this is my home. And you should look very closely at my face, because whether you know it or not…this is what an American looks like." It's the biggest applause line in the show. Emilio later contends that he was born on the Fourth of July, echoing George M. Cohan, a song-and-dance impresario from Broadway's nascence now immortalized in the heart of Times Square. While neither of these men actually shares a birthday with America, their eagerness to tell that tale does represent certain continuity: One hundred years later, Broadway is still the premier venue for the celebration of the American dream, no matter what Americans may happen to look like in this century.