Old Friends of a New Merrily Give Their Reverse Timeline of Growing Up as Artists
"How did you get to be here?" Duh, duh, duh-duh, duh. "What was the moment?"
Stephen Sondheim and George Furth frame those as somewhat bleak questions for the disillusioned characters in their backward-looking musical Merrily We Roll Along, which follows three friends through their development as both people and artists from 1980-1957. But for Fiasco, an ensemble of six "old friends" who started collaborating over 15 years ago, the rearview mirror makes a strong case for youthful ideals.
Merrily, now running off-Broadway at Roundabout Theatre Company's Laura Pels Theatre, marks the company's second Sondheim show (and second Roundabout production), and another leap forward for Fiasco, which began as a post-grad-school experiment by Jessie Austrian, Ben Steinfeld, and Noah Brody (Jessie currently plays Mary, Ben plays Frank, and Noah directs). The three share the title of artistic director, and, having seen Fiasco through every triumph and…fiasco…they indulged us in some nostalgic reflection on the road that led them here.
And in the spirit of Merrily, we're telling their story in reverse.
---
"Growing Up" — Merrily We Roll Along (2015-Present)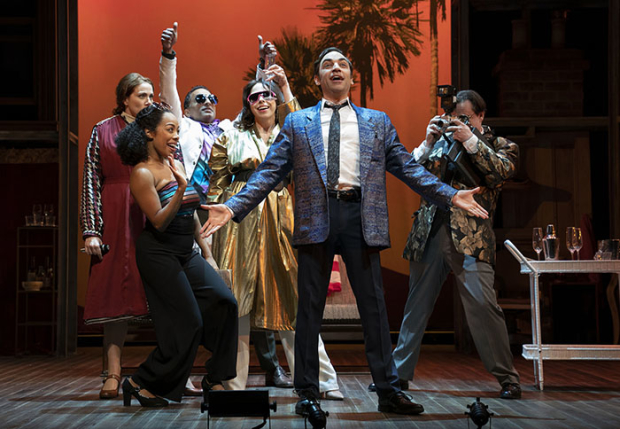 Jessie Austrian: Part of why it works for us to meet this piece right now is that we are the age of the characters at the end of their journey (the beginning of the play).
Ben Steinfeld: One of the primary goals of this process was to collaborate with Sondheim. Once we got access through Steve to the archives, it became a new process for Fiasco, which is the thing we're always looking for.
Jessie: And yet, time is this funny thing. You grow deeper roots and believe even more strongly the things that you always believed, but we've grown because we've been flexible enough to say yes to opportunity. How do you marry that flexibility with, as you enter your 40s, wanting to be in one place and have a family — the boring realities of being a human?
Noah Brody: We take Merrily as kind of a cautionary tale. In a very critical scene in the play, they're identifying, Who are we going to be? They haven't ossified as people or as artists, but their decisions are the ones that will take them on the journey of their adult lives. That's the place we are as a company. Is there a way to combine artistic creation with a sense of stability? I don't know if the answer is yes.
---
"Old Friends" — Into the Woods (2011-2015)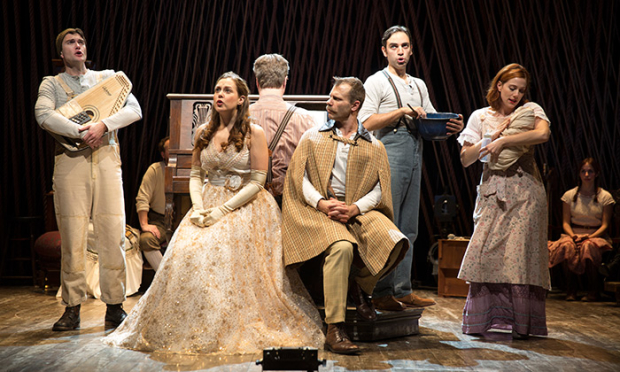 Jessie: It began with this hypothesis: Could we work on a musical the way that we rehearse a Shakespeare play, which is ensemble-driven and a much less hierarchical way of working than musicals are typically rehearsed? We were doing Cymbeline at the New Victory Theater with Theatre for a New Audience, and the artistic director of the Bay Street Theater came to see it…
Noah: He was very enthusiastic about Cymbeline and was like, "What do you guys want to do next?" And we said, "Well, we want to do this workshop of Into the Woods." And he said, "I'm going to put it in my season."
So we were working toward this production of Into the Woods, Jessie and I got married, we went away on our honeymoon, and day one of our honeymoon, we get an emergency call from Ben. It turned out the board of the theater had not approved the budget for Into the Woods. So the production didn't happen. But we said screw it, we're gonna do our workshop anyway. What ended up happening was, McCarter [Theatre Center in Princeton, New Jersey] had lost its final show of the 2012-13 season. Adam Immerwahr — our old college friend who at that time was a producer at the McCarter — having seen the workshop, went to [McCarter artistic director] Emily Mann and said, "I think these guys can do this." That put us on the path to doing the show a year later at the McCarter.
Jessie: And [Roundabout artistic director] Todd [Haimes] saw it at McCarter. There are these moments where we want to take a risk, and then we meet the right person who takes a risk with us. While we were running Into the Woods here at the Pels, we had a meeting with Todd and Jill [Rafson], and they took a huge risk on committing to developing Merrily with us.
---
"It's a Hit!" — Cymbeline (2009-2011)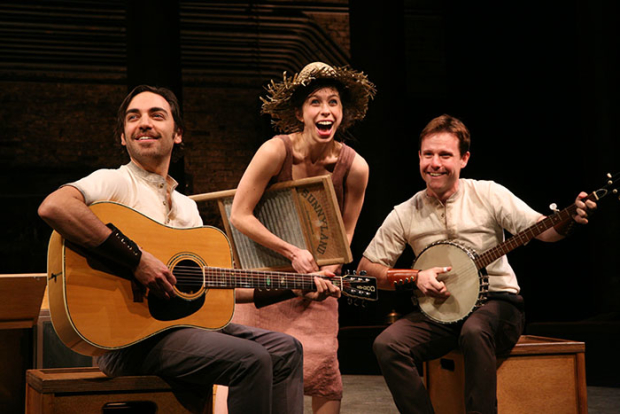 Jessie: We had named ourselves Fiasco, and did some really informal fundraisers where only our friends and family came. Over the course of those four years, we had raised enough money to produce a showcase code version of Cymbeline. $15,000 was the budget.
Noah: Ben by that point was already working at Gallatin at NYU, so we got free rehearsal space. Because other people were using that space, Jessie and I brought in a bedsheet that we just draped over this trunk and wrote: "Fiasco. Do not touch." So we had this white sheet and were like, "Well, we've got this Roman soldier. Let's give him a toga. And then maybe it becomes the sail of a ship." The way we've continued to make theater is like, let's just have a bunch of stuff in a room and see what we can do with it.
Jessie: One of my many side hustles at the time was as a personal assistant to a PR agent. We suddenly had a show and I was like, "Oh wait, I know how to send out a press release. I know how to invite people to come." And so I did. Looking back, I admire that we were doing it for love, but we also had the chutzpah to say, "I hope this is going to be good, so I'm going to invite the New York Times to come review it." And they did.
Ben: At the final performance, Jeffrey Horowitz, the artistic director of Theatre for a New Audience, came — because of the review that he had read in the Times.
Jessie: [He sent] an email that felt like a letter from Dumbledore. It was like, "I must have a meeting with you. All six must be present."
Ben: We went into Jeffrey's office. He told us he liked the show and said, "I'm gonna cut to the chase. We want to produce you here next year."
---
"Opening Doors" — The College Years (2002-2009)

Ben: We were the first class of the new Brown Trinity MFA program. But I met Noah before grad school started. Noah had been admitted into the program, and he came by with his dog, Lola. I thought he had very strong arms. I was like, "Oh sh*t, is this the kind of people they're bringing in here?"
Jessie: I remember meeting Noah and thinking he was very interesting and handsome, and then someone told me how old he was. I was 22 and he was 32, and I remember thinking, "Oh my god, he's so old!"
Ben: Noah and I graduated in 2005, and Jessie graduated in 2006. We started doing a little bit of teaching, and it was actually the teaching that led to the idea that we could articulate a way of working. We decided to put on a workshop production of a Shakespeare play to test that out. At that point, it became clear that it was time to try to make a show.
Noah: It was four years of developing a set of principles, a way of creating theater. I think it's not for nothing that we didn't do a full production for four years, because it would have been premature.
Ben: When we asked Emily [Young], Andy [Grotelueschen], and Paul [Coffey] to join us for Cymbeline, we weren't asking them to become the company of Fiasco Theater.
Jessie: It really was our "opening doors" period. The formation of Fiasco was those four years of doing workshops and reading plays in Noah's living room — but mostly long talks into the night over udon. We just talked about what we wanted, what we missed about the way we used to work, and how we could try to do that together.