Mystery Meets the Mundane in Summer Shorts B
All of the characters in Summer Shorts B stand on the threshold between pursing a relationship and walking away. This may seem remarkable since Summer Shorts B comprises three short plays by different playwrights, but it underlines how often we are all faced with such a decision. Summer Shorts B offers three distinct takes, some more enthralling than others.
While sound designer and composer Nick Moore's introductory music to the first play suggests a cross between Desperate Housewives and an Agatha Christie mystery, playwright Claire Zajdel has something far more literal in mind for The Plot: Debra Novak has reserved cemetery plots for herself and her adult children, Tyler (Jake Robinson) and Frankie (Molly Groome). A mother who understands the value of buying in bulk, she purchased three for the price of two. Of course, her children have different ideas about their ultimate resting places. Groome and Robinson exude a credible sibling vibe, he as the wisecracking slacker and she as the uptight overachiever. Like real siblings, they revert to adolescence in each other's presence. They also have a natural handle on Zajdel's quippy sitcom-style writing. Luckily, director James Rees maintains a delicate balance between levity and mortality so we never fully stray into ABC Family territory.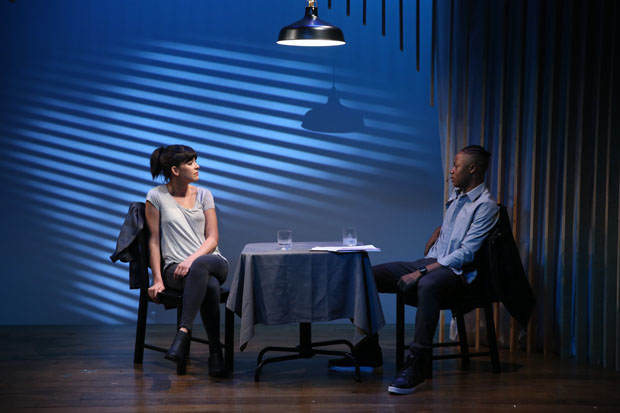 Under the shrewd direction of Terry Berliner, Eric Lane's Ibis tantalizingly takes the form of a detective story, complete with a blinding overhead light and the shadow of venetian blinds on the upstage wall (evocative lighting by Greg MacPherson). Tyrone (a sweetly sympathetic Deandre Sevon) is looking for his estranged father (Harold Surratt). Lindsey Broad gives the standout performance of the evening as the detective he hires to find him, a woman with a dark past who goes by the alias "Sam Spade." Like Lane, Sam understands the power of information, and her brevity forces us to lean in and examine her every word for evidence, leading to a very satisfying mystery that is never fully solved by the play's conclusion.
The third play, Sparring Partner, is by Neil LaBute, the most famous of the three authors and a regular at Summer Shorts (producing artistic director J.J. Kandel directs). It takes place entirely on a park bench on which a single woman (Joanna Christie) is enjoying a carton of Chinese food and a movie trivia game with her married boss (Keilyn Durrel Jones). They're having what she considers an "affair of the mind," which means it is unconsummated. "God, you suck so much," he says when she insults his intelligence, to which she saucily replies, "You wish." Luckily, Moore provides the ambient noise of birds chirping here so we can't hear the sound of 194 eyes rolling.
It's not that anything LaBute has written strains credulity. Rather, it's frustratingly common. The tropes of a castrating woman and a stupid-yet-anodyne man perform their predictable dance: They give side glances, talk over each other in third person, and deploy the word "gorgon" (in reference to the man's wife). This gavotte ends exactly on the beat, leaving us underwhelmed and unsurprised, despite genuine sexual heat between Christie and Jones. It is easy to dismiss the movie trivia as filler, but it is actually deeply relevant. LaBute suggests that this is what a lifetime of consuming Hollywood rom-coms will get you: a clichéd office affair based on a lot of false assumptions about how love and relationships work.
Sparring Partner is unquestionably the "realest" of the three plays. While The Plot and Ibis each leave us with a sense of magic and mystery, Sparring Partner mostly leaves us cold and straining to hear Jones as he vamps a one-sided phone call during a painfully delayed blackout. It's a disappointing way to be released back into the Manhattan August, but we're ready to cross that threshold all the same.