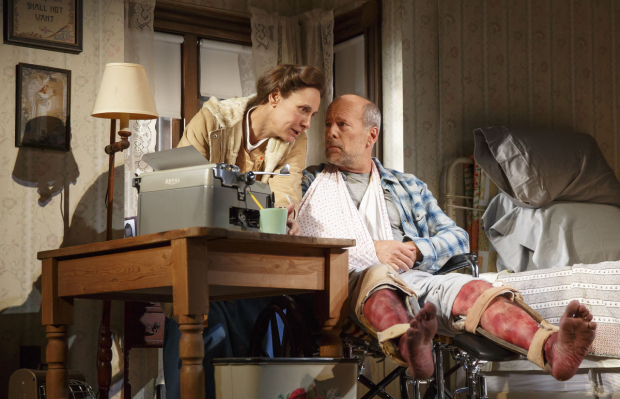 "I'm your number-one fan," Laurie Metcalf says in the earliest moments of William Goldman's Misery, prompting a chorus of giggles. Based on the 1987 novel by popular horror novelist Stephen King, Misery is most widely known through the terrifying 1990 film adaptation, which won Kathy Bates an Academy Award for her portrayal of psychotic nurse Annie Wilkes. Metcalf has huge orthopedic shoes to fill in taking on the role and she does so heartily. She also happens to be starring opposite one of Hollywood's biggest action stars, Bruce Willis, making his Broadway debut. As far as nights at the theater go, one could do a lot worse. Misery is thoroughly entertaining, though maybe not in the way the creative team intended.
The story concerns Paul Sheldon (Willis), author of a popular series of romance novels about 19th-century heroine Misery Chastain. Annie Wilkes (Metcalf) is his most enthusiastic reader. She's also the woman who rescued him after he skidded off a Colorado road during a snowstorm (she was following his car). A trained nurse, Annie tends to Paul in her spare bedroom, insisting that the roads are too snowbound to get him to a hospital. The conditions, however, aren't too dangerous for her to go into town and buy his latest Misery book. She becomes incensed when she reads about Misery's death in the final chapter, nearly killing him in retribution. "I asked God about you," she tells him once her anger abates."And God said, 'I delivered Paul Sheldon unto you so that you could shew him the way.'" Like an editor from hell, she demands he write a new novel bringing Misery back from the grave. Meanwhile, Sheriff Buster (an amiable Leon Addison Brown in a thankless role) snoops around, looking for signs of the missing author.
Clocking in at just 90 minutes, this Misery moves by more briskly than the film. Goldman (who also penned the screenplay) confines the action entirely to Annie's house. While some of his omissions are practical and efficient, others are baffling. For instance, Annie Wilkes' dark history as a serial killer is never revealed. Instead, we come to know her merely as an eccentric with a bad temper. Sure, she's certifiable, but she's a hell of a lot more interesting than the convalescing novelist sharing her spotlight.
As portrayed by Metcalf, Annie seems downright funny and intelligent. Willis' Paul talks down to her throughout, speaking with the kind of insincere kindness one would reserve for a particularly slow child. "I know I look slow and stupid to you," she seethes, "but I am not stupid, Paul. And I am not slow." And we come to believe her when she cleverly thwarts his attempt to poison her wine at dinner. "Oh God Paul, what have I done? I've ruined your beautiful toast," she says, "accidentally" spilling her wine. But from the look of it, the spill was no accident. She knows exactly what she's doing. Metcalf's performance is inscrutable, layered, and thrilling to behold.
Willis feels much less present by comparison. He delivers most of his lines with the verve of a porn actor plodding through the exposition. He tries to get in a zingy one-liner here and there, but Metcalf consistently steals his thunder. "God, I love you," she sighs after a particularly gruesome scene. The audience howls.
Something about this change of medium has transformed Misery from a thriller into a laugh-out-loud comedy. It views like an extended SNL parody, complete with an over-the top villain performing horror-inspired slapstick. Suspense and dramatic tension are virtually nonexistent. Could this be attributed to the loss of silent dread that comes with film's intimate visual storytelling? Maybe it has to do with the larger performances the actors employ to reach the back rows, which regularly veer into the realm of the ridiculous. Either way, Misery is a scream. I was never bored and didn't want it to end. A somewhat lackluster finale fight scene (choreographed by Rick Sordelet) was over far too quickly, eschewing the multiple fake-outs of the movie. Director Will Frears should have just gone for it and made this theatrical combat even longer and more overwrought. Scaring us no longer seems to be the goal.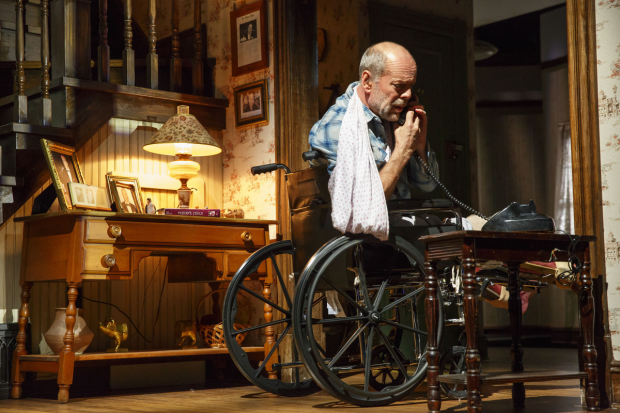 Still, the lifelike gore that Gregory Meeh crafts for the production is by far the most realistic I've ever witnessed onstage. Similarly, Michael Friedman does his best Bernard Herrmann pastiche with hair-raising original string compositions. David Weiner's creepy lighting shows the passage of time as shadows cross the twee wallpaper of David Korins' impressive rotating set. Ann Roth outfits Metcalf in an ankle-length denim skirt and embroidered cardigan, aggressively unimposing attire to mask a murderous streak. From a technical and design standpoint, the play should be bone-chilling. Instead, it keeps us in stitches.
Perhaps this is the ultimate fate of Misery, a story that always felt a bit like a hysterical manifestation of Stephen King's anxiety about his own rabidly middlebrow readership. It's the tale of the literary elite looking down their noses at the flyover rabble — even though commercial success depends on their fandom. With her outdated language, dumpy clothing, and messianic religiosity, Annie is a hyperbolized stand-in for millions of Americans. At least here, she gets the last laugh.