Mark Rylance and The Great Comet Earn Top Prizes at the Elliot Norton Awards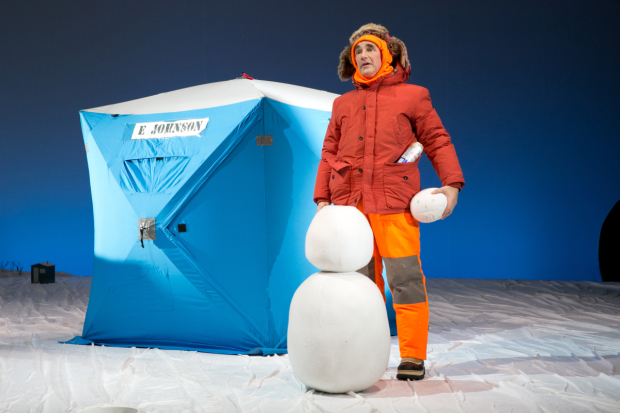 The 34th Annual Elliot Norton Award winners were announced earlier this evening at Boston's Citi Shubert Theatre. The Broadway-bound Natasha, Pierre & the Great Comet of 1812 earned three top awards for its production at the American Repertory Theater, including Outstanding Musical Production by a Large Theater, Outstanding Design, and Outstanding Director (Rachel Chavkin).
Oscar and three-time Tony winner Mark Rylance also walked away with the award for Outstanding Actor for his performance in the A.R.T.'s Nice Fish, while Tony winner Mary Louise Wilson was presented with a Lifetime Achievement Award as the evening's guest of honor.
The awards are presented annually by the Boston Theater Critics Association (Don Aucoin, Jared Bowen, Terry Byrne, Carolyn Clay, Nick Dussault, Iris Fanger, Joyce Kulhawik, Kilian Melloy, Bob Nesti, and Ed Siegel) to honor the outstanding productions, directors, designers, and performers that audiences have seen on Greater Boston area stages throughout the year.
Read below for the complete list of nominees and winners (indicated with an asterisk).
Elliot Norton Prize for Sustained Excellence: Steven Maler
Outstanding Visiting Production
Needles & Opium (Robert Lepage and Ex Machina, presented by ArtsEmerson)
*Ghost Quartet (presented by American Repertory Theater)
1984 (the Headlong, Almeida Theatre and Nottingham Playhouse production, presented by American Repertory Theater)
Outstanding Production by a Large Resident Theater
*Come Back, Little Sheba (Huntington Theatre Company)
Milk Like Sugar (Huntington Theatre Company)
Nice Fish (American Repertory Theater)
Outstanding Production by a Midsize Theater
Casa Valentina (SpeakEasy Stage Company)
*The Convert (Underground Railway Theater)
Bootycandy (SpeakEasy Stage Company)
Outstanding Production by a Small Theater
The New Electric Ballroom (Gloucester Stage Company)
Edith Can Shoot Things and Hit Them (Company One)
*The Diary of Anne Frank (Boston Children's Theatre)
Outstanding Production by a Fringe Theater
*A Beautiful Day in November on the Banks of the Greatest of the Great Lakes (Apollinaire Theatre Company)
Dying City (Happy Medium Theatre)
The Launch Prize (Bridge Repertory Theater of Boston)
Outstanding Musical Production by a Large Theater
Waitress (American Repertory Theater)
*Natasha, Pierre & the Great Comet of 1812 (American Repertory Theater)
A Little Night Music (Huntington Theatre Company)
Outstanding Musical Production by a Midsize, Small or Fringe Theater
Violet (SpeakEasy Stage Company)
Thoroughly Muslim Millie (Gold Dust Orphans)
*My Fair Lady (Lyric Stage Company)
Outstanding Design, Large Theater
*Natasha, Pierre & the Great Comet of 1812 (American Repertory Theater) Scenic design by Mimi Lien, Costumes by Paloma Young, Lighting by Bradley King, Sound by Matt Hubbs, Wigs and Makeup by Rachel Padula Shufelt
Come Back, Little Sheba (Huntington Theatre Company) Scenic design by Stephen Dobay, Costumes by Sarah Laux, Lighting by Mike Durst, Sound by Jonathan Mastro
1984 (American Repertory Theater) Design by Chloe Lamford, Lighting by Natasha Chivers, Sound by Tom Gibbons, Video by Tim Reid
Outstanding Design, Midsize, Small or Fringe Theater
Edith Can Shoot Things and Hit Them (Company One) Scenic design by Cristina M. Todesco, Lighting by Jen Rock, Costumes by Rafael Jaen, Sound by Ed Young, Properties by Molly FitzMaurice
*Mary Poppins (Wheelock Family Theatre)
Appropriate (SpeakEasy Stage Company) Scenic design by Cristina Todesco, Costumes by Tyler Kinney, Lighting by Wen-Ling Liao, Sound by Arshan Gailus
Outstanding Actor, Large Theater
Derek Hasenstab, Come Back, Little Sheba (Huntington Theatre Company)
Will Lyman, King Lear (Commonwealth Shakespeare Company)
*Mark Rylance, Nice Fish (American Repertory Theater)
Outstanding Actress, Large Theater
*Adrianne Krstansky, Come Back, Little Sheba (Huntington Theatre Company)
Anita Gillette, A Confederacy of Dunces (Huntington Theatre Company)
Ramona Lisa Alexander, Milk Like Sugar (Huntington Theatre Company)
Outstanding Actor, Midsize Theater
Greg Maraio, Casa Valentina (SpeakEasy Stage Company)
Maurice Emmanuel Parent, The Convert (Underground Railway Theater)
*Johnnie McQuarley, Othello (Actors' Shakespeare Project)
Outstanding Actress, Midsize Theater
Adrianne Krstansky, Blackberry Winter (New Repertory Theatre)
Cloteal Horne, Saturday Night, Sunday Morning (Lyric Stage Company of Boston)
*Jennifer Coolidge, Saving Kitty (Nora Theatre Company)
Outstanding Actor, Small or Fringe Theater
Mikey DiLoreto, The Boys in the Band (Zeitgeist Stage Company)
*Brandon Green, An Octoroon (Company One)
Robert Walsh, Gloucester Blue (Gloucester Stage Company)
Outstanding Actress, Small or Fringe Theater
Stephanie Recio, Dry Land (Company One)
Debra Wise, Mistero Buffo (Poets' Theatre) and Matchless & The Happy Prince (Underground Railway Theater)
*Zehava Younger, The Diary of Anne Frank (Boston Children's Theatre)
Outstanding New Script
Baltimore, by Kirsten Greenidge (New Repertory Theatre and Boston Center for American Performance)
Blackberry Winter, by Steve Yockey (New Repertory Theatre)
*The Launch Prize, by MJ Halberstadt (Bridge Repertory Theater of Boston)
Outstanding Solo Performance
*Phil Tayler, Buyer & Cellar (Lyric Stage Company of Boston)
Tangela Large, Mr. Joy (ArtsEmerson)
Eugene Lee, August Wilson's How I Learned What I Learned (Huntington Theatre Company)
Outstanding Director, Large Theater
David Cromer, Come Back, Little Sheba (Huntington Theatre Company)
*Rachel Chavkin, Natasha, Pierre & the Great Comet of 1812 (American Repertory Theater)
Robert Icke and Duncan MacMillan, 1984 (the Headlong, Almeida Theatre and Nottingham Playhouse production, presented by American Repertory Theater)
Outstanding Director, Midsize Theater
*Scott Edmiston, Casa Valentina (SpeakEasy Stage Company) and My Fair Lady (Lyric Stage Company of Boston)
Summer L. Williams, Bootycandy (SpeakEasy Stage Company)
Paul Daigneault, Violet (SpeakEasy Stage Company)
Outstanding Director, Small or Fringe Theater
Robert Walsh, The New Electric Ballroom (Gloucester Stage Company)
*Summer L. Williams, Colossal and An Octoroon (Company One)
Shawn LaCount, Edith Can Shoot Things and Hit Them (Company One)
Outstanding Musical Performance by an Actor, Large Theater
Scott Stangland, Natasha, Pierre & the Great Comet of 1812 (American Repertory Theater)
Lucas Steele, Natasha, Pierre & the Great Comet of 1812 (American Repertory Theater)
*Wade McCollum, Ernest Shackleton Loves Me (ArtsEmerson)
Outstanding Musical Performance by an Actor, Midsize, Small or Fringe Theater
Dan Belnavis, Violet (SpeakEasy Stage Company)
John Devereaux, Rent (Fiddlehead Theatre Company)
*Tim Lawton, Thoroughly Muslim Millie (Gold Dust Orphans)
Outstanding Musical Performance by an Actress, Large Theater
Jessie Mueller, Waitress (American Repertory Theater)
*McCaela Donovan, A Little Night Music (Huntington Theatre Company)
Denée Benton, Natasha, Pierre & the Great Comet of 1812 (American Repertory Theater)
Outstanding Musical Performance by an Actress, Midsize, Small or Fringe Theater
*Jennifer Ellis, My Fair Lady (Lyric Stage Company of Boston) and Wonderful Town (Reagle Music Theatre)
Alison McCartan, Violet (SpeakEasy Stage Company)
Kathy St. George, Violet (SpeakEasy Stage Company)
Outstanding Ensemble, Large Theater
*Come Back, Little Sheba (Huntington Theatre Company)
Natasha, Pierre & the Great Comet of 1812 (American Repertory Theater)
A Little Night Music (Huntington Theatre Company)
Outstanding Ensemble, Midsize, Small or Fringe Theater
*The New Electric Ballroom (Gloucester Stage Company)
Casa Valentina (SpeakEasy Stage Company)
Saturday Night, Sunday Morning (Lyric Stage Company of Boston)