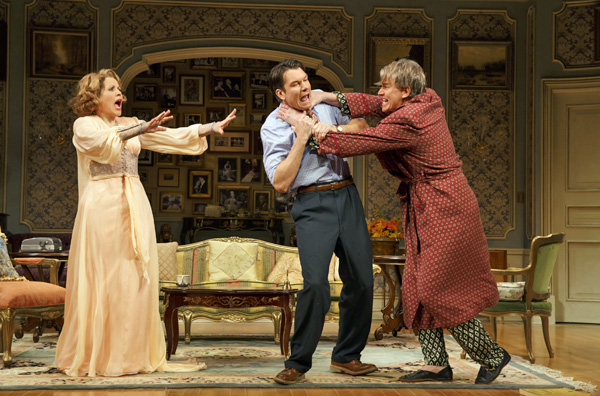 Opera lovers will undoubtedly want to see Renée Fleming in Joe DiPietro's Living on Love, now playing at the Longacre Theatre. Fleming is the Meryl Streep of the opera world, the undisputed brightest American star working today. Naturally, she's chosen to make her Broadway debut in a play about a prima donna. Fans should be pleased to know that Fleming proves herself to be a gifted comedian, despite less-than-sparkling material. At first whiff, Living on Love smells like Ken Ludwig's Lend Me a Tenor (a farce about an irascible Italian tenor) with a hint of Terrence McNally's opera obsession. As we breathe deeper, it becomes clear that this show is unlike the stage work of either of those two authors. In fact, it often doesn't feel like it belongs on the stage at all.
The story takes place in a Manhattan penthouse circa 1957, which set designer Derek McLane has created with stunning detail. A Steinway grand piano occupies one corner of the room. An upstage wall is completely covered in framed photos of curtain calls. Glass shelves proudly display row upon row of snow globes collected by the apartment's owners during their frequent travels abroad.
Vito De Angelis (Douglas Sills) is a world-renowned Italian conductor. His wife, Raquel De Angelis (Fleming), is a famous soprano. They refer to themselves affectionately as "Maestro" and "Diva." Maestro is working on his memoir with ghostwriter Robert Samson (Jerry O'Connell). They've blasted past their deadline and the publisher is getting anxious. After Maestro fires Robert, assistant junior editor Iris Peabody (Anna Chlumsky) arrives to demand the $50,000 advance back. Upon seeing the beautiful and feisty young Iris, Maestro has a better idea: She should write the book in between his persistent sexual advances. The Diva becomes jealous and hires Robert to write her own memoir, although one suspects this is just to get a rise out of her excitable Mediterranean husband. It's also an opportunity for her to revise her own history as she sees her career waning. Rather than the grand houses of Europe, she tells Robert with a shudder, soon she'll be performing in Fort Lauderdale.
Fort Lauderdale was actually the location of the 1985 premiere of Peccadillo, the Garson Kanin comedy on which Living in Love is based. Somewhat obscure (even though Christopher Plummer originated the Maestro role), that play nevertheless contains comic charm and several brilliant one-liners. DiPietro (the Tony Award-winning book writer of Memphis) has borrowed Kanin's characters and basic plot, retooling them for Broadway. What he improved is anyone's guess.
Rather than a madcap farce (like Lend Me a Tenor) or a heartfelt tribute to opera (as in McNally's opera trilogy), Living on Love comes off more like a mildly funny sitcom pilot: The premise is solid, but the writing hasn't hit its stride, nor have the performers entirely taken ownership of their roles. From its inoffensive humor to its somewhat stereotypical characters, everything about this show feels tailor-made for TV Land. Even the program cover (Fleming dramatically vocalizing and spilling her champagne as the rest of the cast makes goofy faces) wouldn't look out of place framed above a subway map (catch Living on Love Tuesdays after Frasier).
But any basic cable producer worth his salt could see the potential: a big-name headliner with a larger-than-life costar in Sills. Like Lucy and Ricky for the Lincoln Center set, they're ready to dive into any harebrained scheme in order to win the other's attention. Their love is true and enduring, not in spite of its eccentricity, but because of it. With remarkable chemistry and excellent comic timing, Fleming and Sills are more than game to sell that.
They're joined by a talented supporting cast. Blake Hammond and Scott Robertson make the most of Bruce and Eric, the matching menservants of the De Angelis home, but the roles are not much more than a stale Tweedledee-Tweedledum routine. Chlumsky brings a manic energy to Iris while O'Connell is the model of a grown-up dweeb. Both lean into awkward, which works for this pair of celebrity memoir ghostwriters. Still, they all seem underutilized by the ho-hum script.
That fact is somewhat mitigated by Kathleen Marshall's capable direction, which always seems to be looking for a way into hilarity. Prepared to re-create her performance in La Bohème, Raquel enters wearing a peasant dress that glitters with her slightest move (costumes by Michael Krass). It's not exactly an ideal outfit in which to die of tuberculosis, but it does perfectly capture the fantastical excess of opera. Maestro slicks his hair back with maple syrup before entertaining Iris, a ridiculous moment made plausible by Sills' committed portrayal of an over-the-hill man attempting to maintain the illusion of youth. These are glimmers of the ludicrous heights Living on Love could reach, but doesn't.
In the second act dueling candlelight suppers between author and subject are readied as Maestro and Diva try to send each other into a fit of jealous passion. Finally, we brace for a farce of epic proportions, teeming with operatic tantrums and hot-blooded Italian meltdowns. It never comes. Instead, the story fizzles like a flat bottle of champagne. You'll laugh, but not nearly as much as you were expecting.
Perhaps an entire season of episodes would help us warm up this show's conservative zaniness. Unfortunately, the theater is a one-shot kind of enterprise and Living on Love misses the mark.