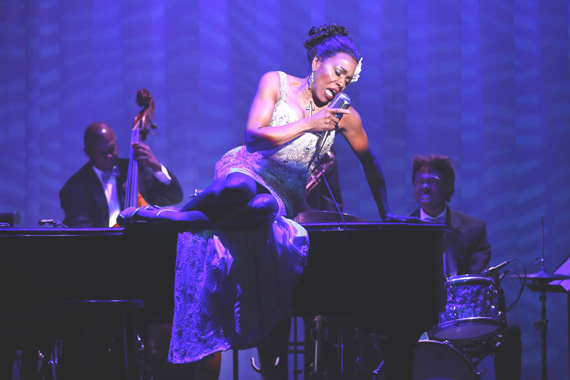 Lady sings the blues and it sounds so good in this musical-play about legendary and troubled jazz singer Billie Holiday. Considering that its star, Tony winner Dee Dee Bridgewater, won a Grammy for her Holiday tribute album
, it ought to. Part of the ever-expanding dead-folks-in-concert genre, Lady Day makes its New York premiere at the Little Shubert Theatre, decades after Bridgewater premiered the title role in Europe. As far as concerts go, this show is top notch. It's the "bio" part of this bio-musical where the show becomes muddled.
The first act takes place during a final rehearsal before Holiday's big opening on London's West End. She's touring Europe because her cabaret card has been revoked following a drug conviction, preventing her from playing any New York City establishments that serve alcohol. Much to the chagrin of her manager, Robert (David Ayers), Holiday is a no-show, leaving her band to rehearse on their own. When she finally arrives several hours late, she's in no mood to rehearse, opting instead to sexually harass stagehand Rafael (Rafael Poueriet in a thankless role; seriously, it seems like he was just hired to stand around and look pretty…which he does very well). When she finally does get down to work, she's great: Clearly the rehearsal is more for the band's benefit than hers. She knows these songs like the back of her hand. Just be forewarned: Some of them will send her and the audience spiraling into a projection-laden, nightmarish flashback.
Bridgewater assumes the role of Eleanora Fagan, that is, Billie Holiday as a young child in the streets of Baltimore. "No Miss Alice I don't want no money, just let me listen to that beautiful, sweet, whorehouse music PLEASE," she pleads in a little-girl voice to an invisible Madame. This is shortly before her first of many arrests. These flashback segment features a lot of dramatic screaming at imaginary antagonists and conversations with God in an overhead spotlight, all clichéd hallmarks of self-indulgent solo performance. With six other actors onstage (especially poor, underutilized Rafael), one wonders why author and director Stephen Stahl didn't opt to have Bridgewater perform these scenes with them.
Admittedly, the four men in the band (Bill Jolly, James Cammack, Jerome Jennings, and Neil Johnson) are not the greatest actors, but they are all competent. They more than compensate for their nascent thespianism with sharp and intuitive musicianship, accompanying Bridgewater's spookily accurate imitation of Holiday's jazz riffs with ease.
Bridgewater is phenomenal. With a voice that is at once brassy and yet completely controlled, she lives Billie Holiday onstage. A compelling actress to boot, there is likely no one more qualified to play this role.
The second act is the more polished of the two. It takes place in the same London theater, but during the opening-night performance. Billie is decked out in a white mink stole and is drunk as a skunk. She makes off-color remarks to the audience, prompting Robert to nearly cancel the show. Yet somehow, she makes a remarkable recovery. What starts as Amy Winehouse in Belgrade turns into the concert event of the century, presided over by a witty and charming Billie Holiday in excellent voice.
Sprawled across the piano, she sings a hot medley of "T'ain't Nobody's Bizness" and "Billie's Blues" that prove to be highlights of the show. "I just love talking to these folks," she tells the audience. We love listening. Her hilarious account of her arrest in Philadelphia is full of warmth and personality: It is infinitely more watchable than the schizophrenic monologues of the first act. This is the Billie Holiday we've been waiting to see.
Of course, it would be inauthentic to whitewash the troubling aspects of Holiday's life: her childhood rape, her work as a prostitute, her lifelong addiction to heroin. Stahl rightfully intersperses these ugly truths between Holiday's beautiful and soulful songs. The first and second acts offer a lesson in contrasts, however: There is an effective way to do that and a less-effective way. This stellar ensemble, as led by a genuine star, deserves the former.