Kiss Me, Kate Ingenue Stephanie Styles Is Way More of a Broadway Nerd Than You Are
After two near misses — one in
a revival of A Funny Thing… that never came to fruition
and the other in
a musicalized version of Roman Holiday that failed to transfer
— Stephanie Styles can finally call herself a Broadway performer, having made her debut in March as Lois Lane in the Roundabout Theatre Company revival of
Kiss Me, Kate
. And yet, she'll always be a Broadway fangirl first, proudly carrying that card right alongside her very real charter membership in the official Disney Fan Club, D23 (her first job out of the University of Michigan was, coincidentally, as Katherine in the national tour of Disney's
Newsies
).
Though she performs alongside the great Kelli O'Hara every night, she is even more in awe of ensemble members Christine Cornish Smith and Haley Fish: "To me," she says, "they are Bombalurina and Rumpelteazer from Cats. I love Cats." She still reminisces about the time she was "trophy girl" at the 2014 Drama Desk Awards and was given the job of walking Barbara Cook onstage.
"I think it's so important to not hide those feelings of celebrating the people who are the reason you're doing this," says Styles." Her own path to Broadway is peppered with stories of admiration, adulation, and a healthy obsession with Andrew Lloyd Webber. So in honor of the fangirl in all of us, here is her journey told in anecdotes of unadulterated Broadway fanaticism.
The following has been condensed and edited for clarity.
When I was four years old, my parents took me to Phantom.
I asked to go again the next night and they were like, "That's not normally how this works, but we'll see what we can do." So I went two nights in a row, and the second day, I brought the Phantom a Beanie Baby — a ghost — because he's the opera ghost. My mom was like, "I don't know how we get the Phantom this Beanie Baby." [But after the show], this man — his name was Brad Little — after playing the Phantom, took me and my parents backstage for an hour. He took me in the boat, showed me the prosthetics, all the mirror work, all the costumes. That night, my mom was like, "Hey, you know how you take, like, swim lessons? We can take, like,
this
lessons."
My top four favorite musicals are Cabaret, Sweeney, Phantom, and Bat Boy
— I just love a deformed protagonist in need of revenge. I wrote a lot of
Phantom
fan fiction, and a lot of other Andrew Lloyd Webber, so
Cats
and
Starlight Express
(I own the
Starlight Express
cast album in several different languages). I also wrote a sequel to
We Will Rock You
called
We Will Rock You 2: The Show Must Go On
.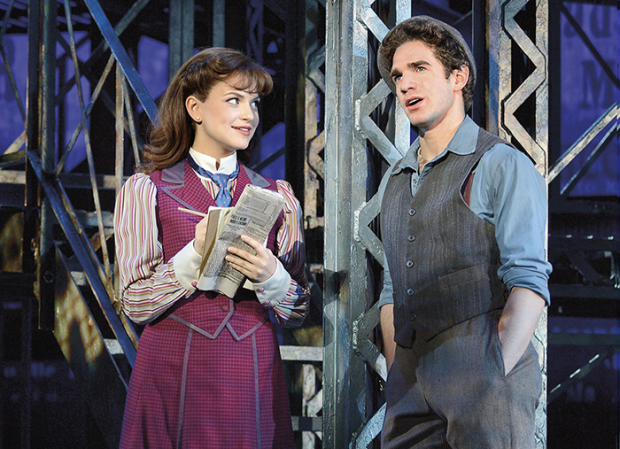 I moved to New York City for a few months before starting the Newsies tour, and I went in to audition for a revival of A Funny Thing Happened on the Way to the Forum that was supposed to be starring James Corden. I got to the final callback, sang for Stephen Sondheim, and got it. I was going to be Philia. And then within the same breath, it was like, "But, James Corden got The Late Show." So I went on tour with Newsies, came back, and ended up getting Roman Holiday. And again, that was something that was supposed to transfer that didn't. So I thought, "OK, maybe this is the moment when I go to LA and see what that's about."
I got cast in a pilot that had nothing to do with singing or musicals, but my older sister was played by Annaleigh Ashford, and Annaleigh's always been one of my heroes. I'm a small blond girl who likes to be funny and looks up to the Kristin Chenoweths, Annaleigh Ashfords, Kerry Butlers, Jane Krakowskis, Katie Finnerans — these women who are so feminine sexy but lead with their funny bone first. So in between takes, I would dream-cast Annaleigh to her face and be like, "So Annaleigh, what revival do you want to do?" So I stayed in LA, and then got the call saying, "Hey, do you want to fly into town and audition for Kiss Me, Kate?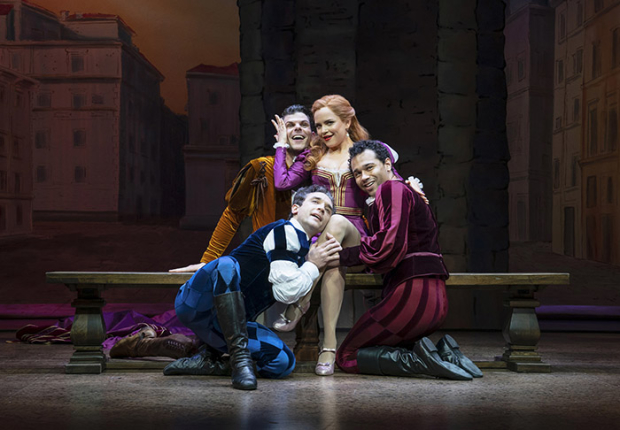 I auditioned for Kiss Me, Kate on a Monday and went back Wednesday for a private 20-minute dance call with Warren Carlyle. I danced "Too Darn Hot" — by myself — which is not even a number I do in the show. I was wearing a suction bra underneath my dress and in the middle of it I was sweating so much that it started to fall off of me. So randomly in the middle of the thing, I just said, "I'm sorry, I gotta stop." And I pulled it out and threw it across the room and was like, "Let's try that again."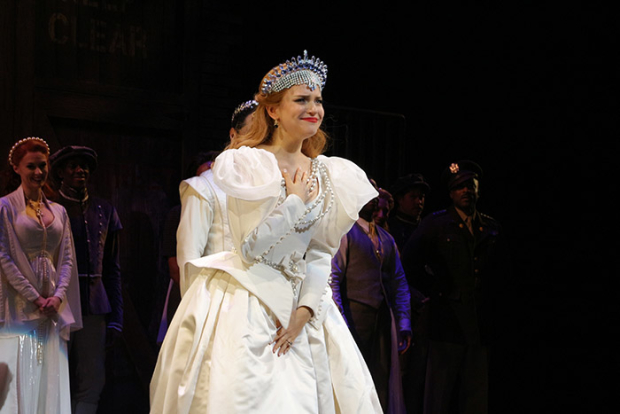 I got the call that I got Lois Lane and I couldn't believe it. Third time's a charm! People would ask, "What's the first thing you're going to do if you ever get a Broadway show?" The thing that I had always said is I was gonna listen to Jerry Orbach sing "Lullaby of Broadway." So I got off the phone, clicked over, turned on the song, and heard him say, "Allentown? I offer you the greatest musical Broadway's ever seen and you say Allentown?"

It was World Theater Day, and I was doing Kiss Me, Kate, and we sing a reprise of "Another Op'nin' Another Show" at the end of the show. I bow, I look up into the audience, and I make eye contact with Sir Andrew Lloyd Webber. I go, "Oh my god." And Will Chase goes, "Yep." That night, I went home and danced to Phantom of the Opera and Starlight Express in German.