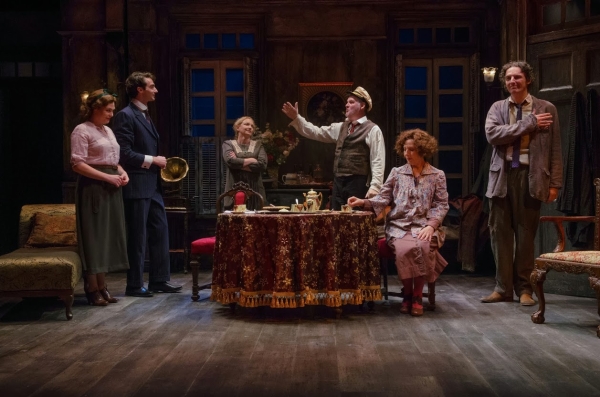 Sean O'Casey's Juno and the Paycock is one of trio of plays about working class Irish families in the 1910s and 20s. Juno deals with the effects of the Irish Civil War on Dublin's poor, a subject rife with drama but not known to century American audiences. In a professionally executedand illuminating theatergoing experience, this lack of familiarity can create an emotional distance between the audience and the otherwise poignant play.
Irish Repertory Theatre's currently running production of Juno and the Paycock, directed by Charlotte Moore, is expansive and, at over two hours, you start to feel the weight of its expanse. The story follows the Boyle family, headed by Juno (J. Smith-Cameron) and "Captain" Jack Boyle (Ciarán Byrne) as they deal with the aftermath of the war — from missing arms to alcoholism to PTSD. Juno is constantly struggling to make ends meet with a son who is too mentally and emotionally unstable to work, and a husband too interested in drinking and carousing to hold down a job. So it's an all-too-welcome relief when Charlie (James Russell), the arbiter of Jack's cousin's will and new suitor of Jack's daughter Mary (Mary Mallen), announces that the family will be coming into a huge inheritance.
Before Charlie announces this serious news, Juno and the Paycock comes off as merely a humorous take on the antics of a constantly drunk husband and his long-suffering wife. After the news of the windfall, however, the play takes on a much more sobering tone. It becomes evident for the first time that the Boyles are still very much in the midst of a terrible social upheaval, with friends and neighbor's falling on two opposing sides. Unfortunately, for the uninitiated into the social and political structure of 1920s Dublin, it's difficult to tell who's on side or even the basis of the conflict itself, making many of the play's dramatic moments confusing and emotionally limiting.
But it's Moore's straightforward direction (aligning with O'Casey's frank writing style) and her sure hand that deftly drives both the play's humorous early scenes and the tragic, weighty ones leading up to the resolution. In fact, her presence is nearly seamless throughout (apart from some odd choices near the beginning involving putting actors behind a curtain onstage rather than in another room), a feat made all the more impressive because the audience is seated on not one but two sides of the stage.
The large cast give consistently strong performances and do an admirable job of creating believable characters transition well from the play's comedic beginning to its gloomy end. Due to the sizable company (with 12 actors playing 14 characters), many of the players in integral roles have only a minimal amount of time onstage to make their mark, but John Keating (as Jack's drunken buddy Joxer Daly) and David O'Hara (as Mary's discarded boyfriend Jerry Devine) are standouts, able to convey fascinating, deep characters who feel like real people you might run into a your local pub.
Irish Repertory Theatre's mission is to stage the works of Irish and Irish-American playwrights, thereby providing a context for understanding the contemporary Irish-American experience. Juno and the Paycock, while impressive from a technical standpoint, steers slightly away from this mission, given the lack of background history and context O'Casey fails to provide in the story itself. That said, Irish Rep can probably (and rightly) assume that many of their ticket-holders do, in fact, come in with the necessary background knowledge, but with just a little hand-holding, could make this particular Irish experience accessible to a much wider audience.