Interview: John Rubinstein on What It's Like to Play "Forgotten President" Dwight Eisenhower
Had John Rubinstein stayed home after playing Grandpa Joe in Charlie and the Chocolate Factory on Broadway in 2018, he still would have left behind a remarkable legacy, including originating the title role of Pippin in 1972 (and then playing Pippin's father, King Charlemagne in the Tony-winning revival), and winning a Best Actor Tony for his performance in the groundbreaking Children of a Lesser God.
Fortunately, he's come back to the stage as President Dwight D. "Ike" Eisenhower in the off-Broadway hit Eisenhower: This Piece of Ground, which has just started a four-week encore engagement at the Theatre at St. Clements.
TheaterMania recently chatted with Rubinstein on why he wanted to do this play, his own personal memories of Eisenhower, and why – and where – he wants to continue performing the show.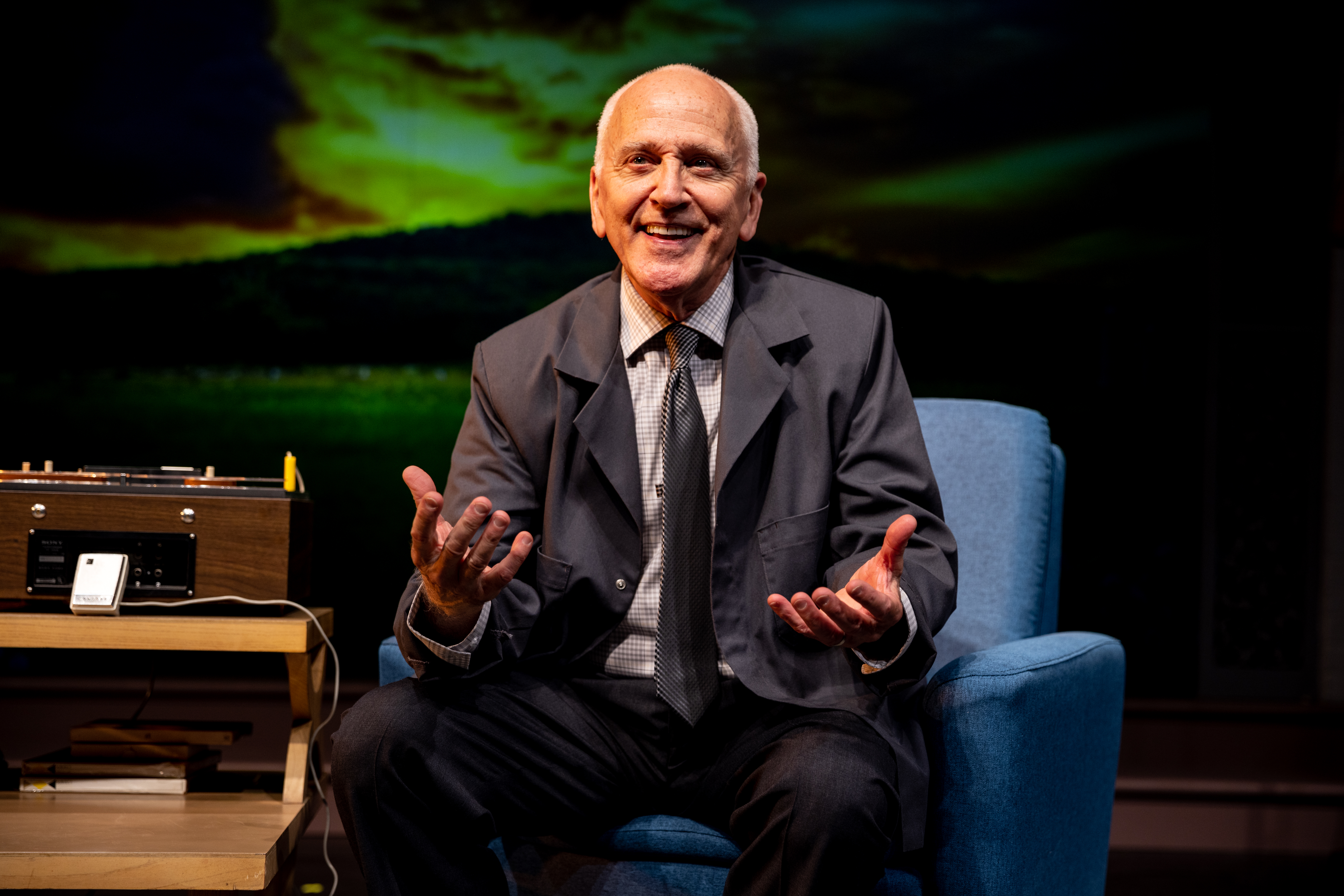 This interview has been condensed and edited for clarity.
Congratulations on a "second term"! Is it hard to go to back to the play after not doing it for a few weeks?
I've done that before. In fact, after about a year of doing Children of a Lesser God on Broadway, I left for a while and did the play Fools, and then I came back and did Children for another year. But here, there has not been a lot of re-preparation. Mostly while I am doing my chores, I recite the script out loud to see if I remember it. That's been about it.
This is your first one-person play. Was that always on the bucket list?
I've had a long-standing interest in a one-person play, mostly out of practical concerns. I think it's a wonderful way to make a living, since I don't have to worry about auditioning. I always say auditioning is what I get paid for. I always thought maybe I would do something where I could play the piano and sing. At one point, I thought I could do a show about Jerome Kern, but then I realized there are people more talented than me to do a show like that. Then I thought because I come from a classical music background [Rubinstein's father is the legendary pianist Arthur Rubinstein], I could do something about Gustav Mahler — because I find him fascinating. But that never came together. I even thought about a play where Herman Melville would talk about Moby Dick. And then I got offered this play, and my first thought was, "Who would want to see a play about Dwight Eisenhower?"
What changed your mind?
Honestly, when I first read this play, I just couldn't glean just from the page if it was something that would work in theater or if it would feel like a lecture. So, [director] Peter Ellenstein and [playwright] Richard Hellesen asked if I would read it out loud for them. I admit I am not a good mimic, so I was not – and am not — pretending to be Ike. Still, by the time I finished, we all agreed it had to be done and I've been 150 percent committed to it ever since.
What are your own memories of Eisenhower?
I actually met him once through my dad. He brought me and my sister to the White House and one moment, the door just opened and Ike came over and said, "Nice to meet you, young man." Otherwise, I lived through both his terms. I was 15 at the end of presidency, so I had some awareness of what was going on and how he did some amazing things. When you saw him on TV, he seemed like an avuncular person. But then came JFK, who was my generation's hero, and everything changed!
So, did you grow up in a pro-Eisenhower household?
My parents were both Polish and they had a different view of politics. People may not realize my father was Jewish, and they were living in Paris in 1939 just as the Nazis came to power. Luckily, they were able to come to America. Because they watched the Russians take over Poland, they were virulently anti-Communist. That's what mattered to them — although they were appalled by what Joe McCarthy did with the blacklist and the HUAC. Ultimately, however, they didn't vote in America or belong to any particular political party.
So, after this run, are you done with being Eisenhower?
I hope not. I would love to be able to do this play more. I would love to do it in DC and see all the politicians being dragged to it by their wives. And I would love to have some Republicans come and learn something about uplifting. More than that, though, I would love to do this play for university students, because they want to learn — and he too often gets passed over in teaching. Eisenhower is among our forgotten presidents, and I want to change that!