Lauren Gunderson's I and You at 59E59 Theaters begins with a quote from Walt Whitman: "I and this mystery, here we stand." The figures in that statement — "I" and "this mystery" — could easily describe both of Gunderson's compelling characters: Caroline, a high school senior who has turned off the world, and Anthony, a classmate who requires her help on an English project. But who are they? And what is he doing in her bedroom? Over time, it becomes as clear to us as Whitman does to them.
Presented by the Massachusetts-based Merrimack Repertory Theatre, I and You arrives in New York with an impressive pedigree. Not only is it a recipient of the 2014 Harold and Mimi Steinberg/ATCA New Play Award and a finalist for that year's Susan Smith Blackburn Prize, but this 100-minute comedy-drama has already been given more than 20 productions across the country. The imprimatur is well-earned; Gunderson has written an extraordinarily compassionate work with a shock most won't see coming.
As the lights rise, Anthony (Reggie D. White) has come barging in on Caroline (Kayla Ferguson) in her bedroom. He's been paired with her on a project dissecting the Song of Myself section of Leaves of Grass, and, if his sorry excuse for poster board is any indication, he can really use some help. Anthony is clearly the popular kid: He's tall and handsome, a player on the basketball team, and he can quote Whitman at the drop of a hat. Caroline is the complete opposite, suffering from a medical condition that has forced her to build up a thick skin and complete her coursework from home.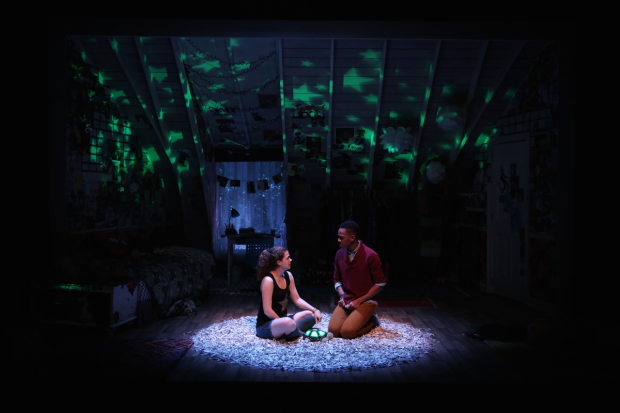 They've never met before, and she's rightfully frightened by his sudden intrusion on her personal space. However, he bears no ill will: He's there to be her friend. The fractiousness of this arrangement starts to temper down as they warm to each other through the beauty of Whitman's words.
What's most impressive about I and You is how un-soapy it is for a story that could come off as excessively twee. Gunderson has a keen ear for the sharply sarcastic voices of teenagers who deep down have a burning desire to simply be liked. And even when sentimentality sets in alongside a game-changing twist ending (that's better off not spoken about), the text remains moving without being tear-jerky.
Director Sean Daniels creates an enormously sensitive production that is befitting of the script, with two vivid, believable performances at the center. As Anthony, White is compellingly watchable, loaded with charisma that just makes us want to be his friend. As Caroline, Ferguson is appropriately spunky and thoroughly devastating, though a bit too spry for someone whose life is in jeopardy. Together, they're an expertly matched pair.
Daniels' design team helps heighten the believability of the piece. Michael Carnahan's ornately designed set looks exactly like the bedroom of a teenager, with photo collages covering the walls from floor to ceiling. Jennifer Caprio's costumes are unobtrusively contemporary, while Brian J. Lilienthal's lighting subtly suggests the shift from afternoon to evening.
Admittedly, there are a few heavy-handed elements in the play, most notably how Caroline becomes a Whitman expert by the end though she's barely even cracked a book. But those qualms can mostly be overlooked. Big-hearted and simple, I and You is one of the most life-affirming plays you'll currently see onstage.