Hershey Felder Conjures Magic as Irving Berlin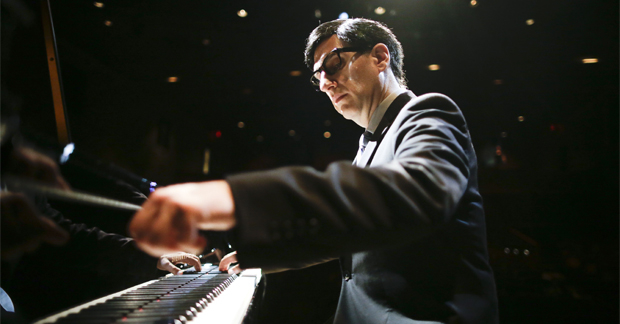 To describe Irving Berlin as merely "legendary" is an insult. But how can one begin to describe a person whose collection of songs – 1,500 over the course his lifetime – makes up more or less the entirety of the Great American Songbook? The answer to that question can be found in Hershey Felder as Irving Berlin, an occasionally hokey but ultimately loving biographical tribute to the man who wrote enduring tunes like "God Bless America" and "Easter Parade."
Part lecture, part solo show, part interactive concert, Irving Berlin is the latest in Felder's collection of theatrical works about beloved composers to hit New York City, running at 59E59 after a 2016 performance at Town Hall. In it, Felder portrays the 100-year-old Berlin as he examines his past and discusses his life's work with a group of Christmas carolers who annually gather outside his window to sing — you guessed it — "White Christmas."
Structurally, it's a by-the-book biomusical about how young Israel Beilin, an immigrant from Belarus who hocked newspapers on the Lower East Side, became a world-famous songwriter despite having no formal musical education (or any education, for that matter). While the show has about as much depth as a Wikipedia entry, Felder takes great care in his presentation, his affection for his subject shining in every single moment. You leave feeling like you learned a lot about what made Irving Berlin tick, which is more than you can say for shows like Summer: The Donna Summer Musical and Beautiful: The Carole King Musical.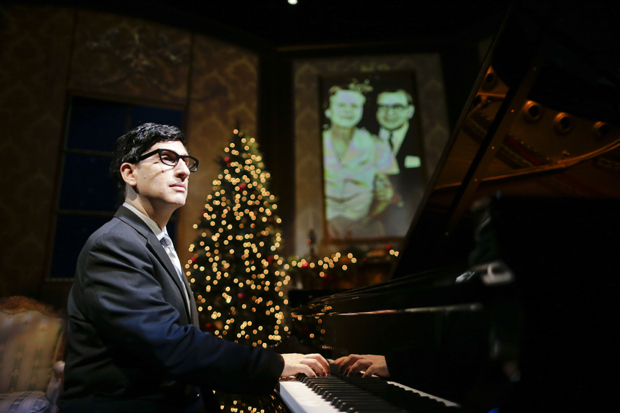 Felder is a chameleon. With a small shift in body language and a slight modification in Richard Norwood's highly theatrical lighting, he becomes Berlin's disillusioned older self, his determined younger persona, his heiress spouse Ellin, his frequent leading lady Ethel Merman, and a host of other colorful characters. There's a lot of life to get through in under two hours (Berlin lived to be 101), and, amazingly, Trevor Hay's production never drags, even as the conceit wears thin. When it becomes a literal "and then I wrote this song" at the end, the audience is so invested, no one seems to care about how suddenly hokey it's gotten. Felder knows the audience just wants to hear as much of Berlin's unparalleled catalogue as possible, and he delivers on that. The show has no right to work this well, but because of Felder's warm and sensitive portrayal, it does.
If there are any quibbles, it's that perhaps Felder is almost too good. Berlin wasn't a concert pianist. He could barely write music, dictating his work to musical secretaries who knew how to notate, and had specially designed transposing pianos built because he only knew how to play on the black keys. Felder, on the other hand, is a virtuosic pianist. His fingers don't merely strike the instrument; they glide over it as if they're dancing on air. It's absolutely mesmerizing to watch him play. Berlin would probably be flattered.
Conversely, there are a few points when Felder is a little too much of a showman. He's too strident on certain melodies; his voice pushes a little too hard to hit notes that just aren't there. But when he invites the audience to sing along with some of the more beloved classics, every single person does so, and in harmony, too. That's magic: the magic of theater, the magic of music, the magic of Irving Berlin. Felder proves Berlin is more than just a legend. Thanks to his music, he's immortal.