Hayley Mills and Amanda Bearse Show That Even a Party Face Has Two Sides
In Party Face, playwright Isobel Mahon puts five Irish women in a newly refurbished home and lets their secrets slowly tumble out over an evening of flowing wine and leaking pipes. It takes a strong matriarch to manage the unruly proceedings, and Amanda Bearse — making her off-Broadway directorial debut — filled the part with the star of her childhood dreams.
"I'm a super fangirl of Hayley Mills," she said, sitting next to Mills on the immaculate charcoal couch that sits at the center of the Party Face set at New York City Center's Stage II. "I grew up watching her in the '60s and '70s and the characters that she played were such powerful images for me. Outspoken, self-aware young girls in an era when that wasn't always welcome. When the script got to Hayley we had our fingers crossed."
Mills, best known for childhood career at Walt Disney Studios starring in films like The Parent Trap, Pollyanna, and Summer Magic, accepted the role, returning to New York theater for the first time since 2000 when she starred off-Broadway in Noël Coward's A Suite in Two Keys. She plays Carmel, mother to Mollie Mae and Maeve, who covers the wreckage of her daughters' lives with a porcelain smile and sophisticated appetizers . Bearse and Mills come from different corners of Hollywood (Bearse is best known for her TV role on Married…With Children), but Mills speaks for both of them when she says, "Working in this wonderful little theater on this wonderful play — it's such a gift."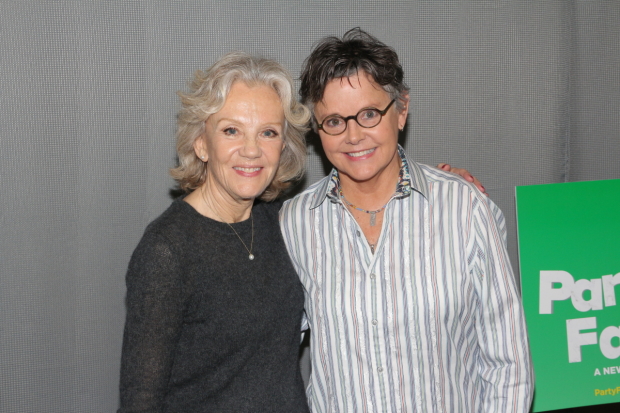 The following interview has been condensed and edited for clarity.
What was it about Party Face that made it catch your attention?
Amanda Bearse: First of all, I love that these are women of an age, and that's a different set of stories and experiences. This is a play by a female playwright, who has written five fully dimensional characters. And then the fact that they hired a female director, a female lighting designer, female stage manager, assistant stage manager, costumer, and on and on — it's huge . To have the opportunity to have all of these voices in the same room to be shared, I don't think we see that that much. And to go to work every day to make people laugh — come on.
Hayley Mills: And to really understand things about these characters. They all have their stories. There's lots of difficult and quite tragic things going on in their lives, and I think that's one of the things that I love and admire so much about the writing — the balance. We're roaring one minute and then suddenly something absolutely heartbreaking happens.
As two people who come from film and television, why do a small off-Broadway play?
Amanda: I grew up doing theater. I came to New York and studied at the Neighborhood Playhouse with Sanford Meisner. I was this serious young actress. Then I deliberately chose a route to be on camera, and then went behind the camera. I had a much shorter acting career than my directing career because I've always loved the crew. I've always loved everyone involved with the process, and I think that came from the theater. It just feels very respectful and collaborative. Hollywood is so fast and so intense that you lose a lot of that. In the theater you can take your time and allow for people's artistry to surface.
Hayley: I had a different experience at the beginning because I worked for a comparatively small studio, Walt Disney studio, and it was very family oriented. But I have to admit, ultimately theater is much more fulfilling. It's more satisfying, it's more challenging, it's more frightening.
What were the first stage roles you took on after your Disney career?
Hayley: The first stage work I ever did was Three Sisters in a lovely little theater in Leicester in England. I played Irina. And then I played Peter Pan.
Did it feel like a big decision for you to make that transition?
Hayley: Huge. I turned to the theater because I had never been to drama school, and I wanted to learn and understand what it is I'd been doing for years. I got to a point where I felt I was repeating myself. I was floundering. Adolescence and the theater was my school. I was very lucky to work with some fantastic actors when I was a child in movies, my father not the least of them. But movie work, a lot of it goes on in private at home. In theater, there's a process of discovery about your character and everybody else. There's nothing like it.
What have you both learned about Hayley's character, Carmel? She's the matriarch of the family and seems to be the most committed to keeping up appearances with her "party face." Do you think that's in any way a symptom of her generation?
Amanda: I think you called it. My mother was like Carmel in many ways. She was the Southern woman full of grace, and when all hell was breaking loose she tried to keep it together. She was the glue of our family, and I think in many ways strong women in matriarchal families are that glue. A generation down from that is more "keeping it real." But then you come to understand why she has that program. It's survival .
Hayley: It's survival. I think it's a very human reaction, whatever generation you are. When things are really ghastly and painful you say, "I'll think about that tomorrow." Like Scarlett O'Hara, "Tomorrow is another day." You have to find a way of dealing with the slings and arrows of outrageous fortune and the only way she thought she could survive was saying, "Everything's fine!" But in the end I think life catches up with most of us.
Amanda: And it does with each of these characters. When you walk through this world, things happen. Even if you have a blessed life, there's always a little brokenness within each of us. It's about sharing those stories and in the sharing that they become real.
Hayley: And you can handle them. You realize you're not alone. As a group we trust each other. And when women do trust each other— if they can open up to each other — then life is beautiful.