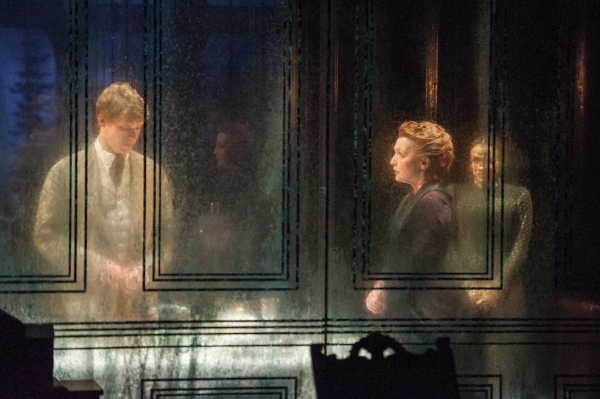 Norwegian playwright Henrik Ibsen never shied away from shocking his audiences when he thought the world needed a good jolt. Ghosts, his dark, trenchant examination of familial lies and their consequences, appalled theatergoers in 1882 with its frank discussions of, among other things, incest, venereal disease, and antireligious sentiments. But it's the play's story of a woman's toxic marriage, her cowardly conformity, and their effects on her son that still resonate profoundly today. The Almeida Theatre production, now running at BAM's Harvey Theater after transferring from London's West End, makes obvious why Ghosts must be considered, along with A Doll's House and Hedda Gabler, one of Ibsen's masterpieces.
Freethinker Helene Alving (Lesley Manville) has spent her life assiduously hiding the secrets of her miserable marriage to a philandering alcoholic, the deceased Captain Alving. She has lied to everyone, including naive, moralizing Pastor Manders (Will Keen), for whom Helene once carried a torch. Helene decides to build an orphanage in her husband's name to perpetuate the lies, and Pastor Manders convinces her not to insure it to avoid the impression that she does not believe in God's power to protect it.
Meanwhile, Helene finds the ghosts of the past returning to haunt her when her artist son, Oswald (Billy Howle), comes home from Paris with complaints of an illness that he contracted, he thinks, from a dissolute lifestyle. Helene, however, suspects that Captain Alving has bestowed his legacy of lechery upon his son. After devastating secrets are finally revealed to Oswald about Helene's young house servant, Regina (Charlene McKenna), and her conniving father, Jacob (Brian McCardie), Helene must make an excruciating decision about what to do with her gravely ill son.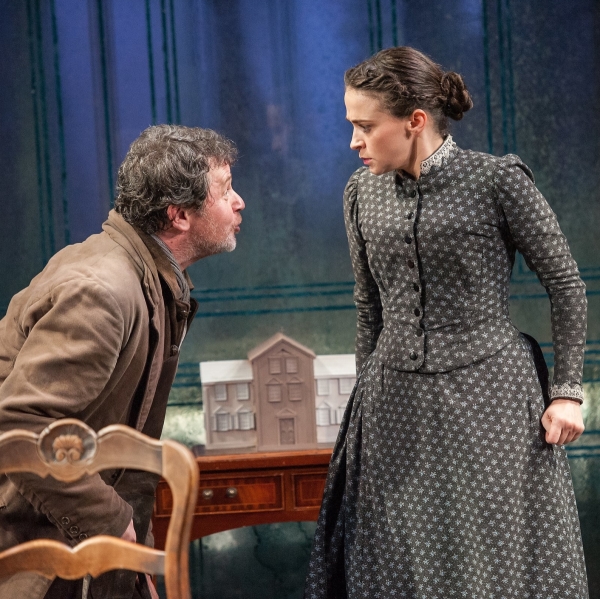 Director Richard Eyre adapted a new version of Ghosts for this production using everyday yet elegant language (Helene describes her home as a "university of suffering") that shortens the original three-act play to a compact 90 minutes, without detriment to the plot. His direction is equally graceful and haunting, thanks in large part to Tim Hatley's set, itself an inspired masterpiece. The transparent walls of the Alving home, standing like begrimed windows looking into the past, allow us to see a spectral Oswald (played by Howle with galvanizing energy) accosting Regina, a chilling reenactment of Captain Alving's advances on the Alvings' former maid many years before. The phantasmagoric effect of the scene powerfully depicts Ibsen's theme of the past repeating itself in the present, and the sins of fathers being visited upon their children.
Manville, clad in a gloomy yet beautiful dark dress (costumes by Rachel Woodhouse), exquisitely captures the lifelong lament of Helene Alving's marriage, portraying an outwardly strong, independent-thinking woman who gradually loses her grip on her life because of a persistent failure to live according to her own principles. Manville enters buoyantly, showing us how Helene disguises the many lies she has told the world about her marriage, as well as the sham that the orphanage represents. She masterfully shows Helene crumbling under the horror that Oswald is following in his father's footsteps as she gasps, "Ghosts. They don't die. They don't vanish. They walk the world again." The scene might have slipped into melodrama if Manville did not make Helene's horror so vividly present.
Keen brilliantly plays Helene's antagonist, Pastor Manders, who is ever-willing to overlook the follies of men, but is ready to hammer home the wifely duties of women. We see Keen's Manders wither under pressure when misfortune strikes the orphanage (Peter Mumford's superb lighting dramatically bathes the stage in red), and allows himself to be sweet-talked by sincere-sounding manipulator Jacob Engstrand, viciously portrayed by McCardie. Seeing the pastor in dire straits, he dupes Manders into helping him build a refuge for seamen (in reality, a whorehouse where he would like Regina to work). McCardie volleys these two sides of Engstrand with apt delicacy and ferocity, one moment making nice with the pastor with dulcet aphorisms, the next seizing Regina roughly by the face and shoving her away for interfering in his affairs. Though the role is small, McCardie's performance is memorable.
"Ghosts had to be written," Ibsen said. "I could not let A Doll's House be my last word. After Nora, Mrs. Alving had to come." This production proves why Helene, along with Nora and Hedda, ranks among the great female roles of the stage.