George Takei's Allegiance to Return to Cinemas for Encore Screening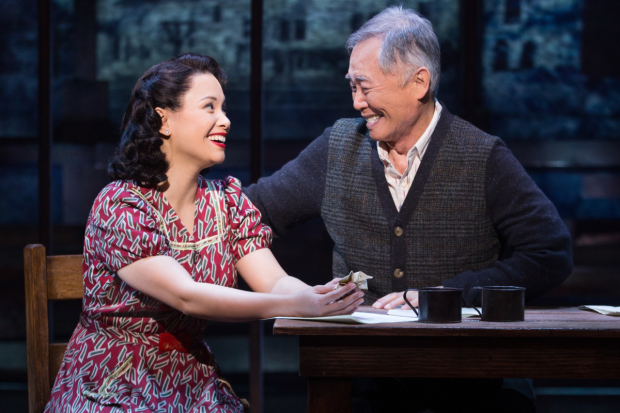 On the heels of a highly successful cinematic premiere on December 13, 2016, the Broadway musical Allegiance will return to cinemas nationwide on February 19. The original one-night-only screening resulted in the highest-grossing one-night Broadway musical event to date for Fathom Events.
The next screening date, February 19, is the 75th anniversary of Executive Order 9066, known as the Day of Remembrance, which marked the beginning of the forced relocation and internment of 120,000 Japanese Americans during WWII. Allegiance, with a book by Marc Acito and music and lyrics by Jay Kuo, is inspired by George Takei's childhood experiences in a Japanese internment camp in World War II.
Takei, Lea Salonga, and Telly Leung head the cast of the show, which ran at Broadway's Longacre Theatre from October 6, 2015-February 14, 2016. The company also includes Katie Rose Clarke, Michael K. Lee, Christopheren Nomura, Greg Watanabe, Aaron J. Albano, Belinda Allyn, Marcus Choi, Janelle Dote, Dan Horn, Owen Johnston, Darren Lee, Kevin Munhall, Manna Nichols, Autumn Ogawa, Rumi Oyama, Momoko Sugai, Sam Tanabe, Elena Wang, Scott Watanabe, and Scott Wise. Olivier Award nominee Stafford Arima directs.
George Takei's Allegiance: the Broadway Musical on the Big Screen will begin with an exclusive introduction from Takei immediately followed by the musical's presentation. After the feature, audiences will be treated to behind-the-scenes footage and interviews with the cast and creators.