Garret Dillahunt, Sarah Paulson, and More in Rehearsal for the World Premiere of Conviction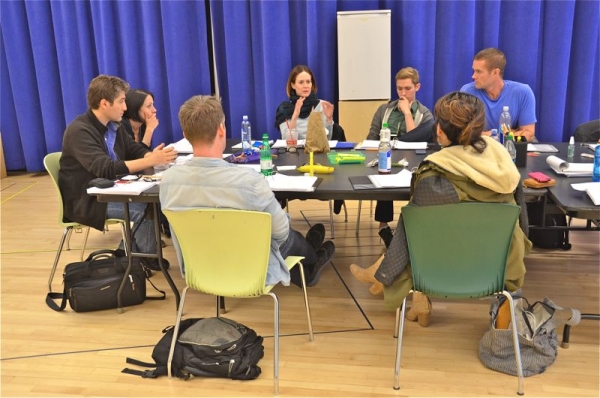 The world premiere cast of Carey Crim's Conviction is now in rehearsal at Sag Harbor's Bay Street Theatre. Helmed by Artistic Director Scott Schwartz, the drama tells the story of Tom Hodges, a charismatic, confident, and caring teacher whom parents and children admire but who is accused of crossing a line with a student.
Garret Dillahunt of Fox's Raising Hope stars as Tom opposite Sarah Paulson (American Horror Story) as his wife, Leigh. The cast also includes Elizabeth Reaser (Second Stage's How I Learned to Drive, the Twilight films) as their friend Jayne; Brian Hutchison (Man and Boy) as Jayne's husband, Bruce; and Daniel Burns (Twelfth Night) as Tom and Leigh's son, Nicholas. Take a look at the cast and creative team as they prepare to debut the new work, running from May 27-June 15.