From Engineering Student to "The Engineer": Jon Jon Briones' Journey With Miss Saigon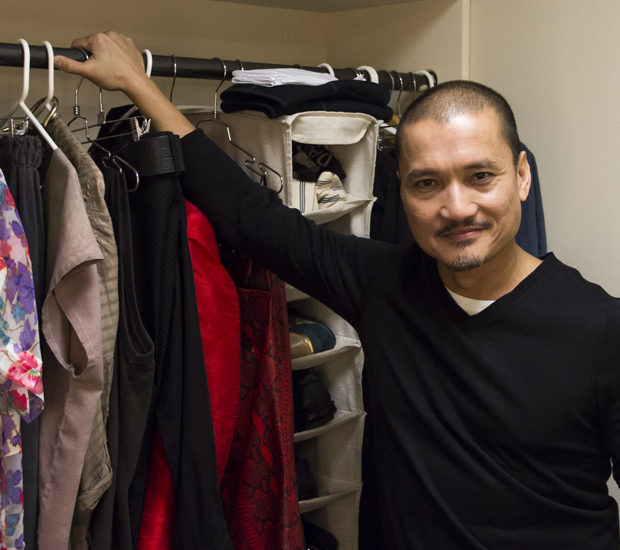 "Understatement."
That's the word Jon Jon Briones chooses when asked if Miss Saigon has changed his life. At 51, he is making his Broadway debut as the Engineer in the Boublil and Schönberg musical's first-ever New York revival. But Briones was a different kind of engineer once, or an engineer in training, at least, when a chance offer from a friend to help facilitate auditions for some big-shot theater producers effectively put an end to all that.
"My being an actor happened by accident," Briones says in his dressing room at the Broadway Theatre, Miss Saigon's only New York home to date. "I grew up singing, and I came from a poor family." To better his education, he was sent for schooling at the Santo Domingo Church in Quezon City, where, from age 9-14, he sang in their famed Tiples de Santo Domingo boys' choir in exchange for free tuition. "When I graduated, I left the convent, and I was introduced to people who happened to be in the industry and I started making money." He had theater in his blood. "I just loved doing it. I just wanted to be there. If they needed a wardrobe person, I'd do that."
At the time, Briones was also an engineering student — but not for long. "My friend who's a producer in the Philippines said to me, 'Do you want to earn an extra buck? We're gonna facilitate an audition. These people are coming over here to cast a new musical,' " Briones recalls. "I said, 'Sure, who?' " The answer was Cameron Mackintosh, producer of Cats, Les Miserables, and Phantom of the Opera; the show was Miss Saigon, a reworking of Puccini's Madame Butterfly set during the Vietnam War. Briones hadn't heard of him.
"We organized everything for them," he says. "We invited all the stars and unknowns in the Philippines so they would have an array of actors. They found Lea Salonga [the original Tony-winning leading lady] and a bunch of others. And then they came back to cast the rest of the male ensemble." That was when Briones decided to throw his hat into the ring. "I was the one handing them the headshot and résumés, so when I handed Cameron mine, he looked at me and I think he thought I was kidding." The rest, as they say, is history.
First thing's first: After he was cast, Briones had to tell his father that he was choosing show business over a more practical career. "That was a disappointment," he says with a laugh. But the experience was certainly life altering. "They flew us to London. It was my first time outside the country, the first time I met a bunch of Westerners in a single room. It was intimidating, but at the same time, they were welcoming. Once you start rehearsing with them, you go 'Oh, I can do that.' Until you see Jonathan Pryce. Jesus, Mary and Joseph, that was like watching a master class."
Pryce, the legendary British actor, originated the role of the smarmy Engineer in London and on Broadway, and Briones would watch him create numbers like "If You Want to Die in Bed" and "The American Dream" in the rehearsal room. "The Asian in me, growing up in a third-world country, would say, 'I would do it like this, but never did I dream I could play this role." Similarly, the controversy that surrounded the production in its early stages, regarding a white actor taking on the role of a Eurasian character, also went, as Briones says, "Pfft" over his head.
"As Filipinos from Asia, it was the norm for us," he says. "We've been watching Hollywood movies and we've seen yellow face forever and no one complained about it. You see Mickey Rooney in prosthetics, and you're like, 'Where are the Asians'? But we did shows that are Western and we played it. So we didn't even think twice about it. In London, I guess it was the norm as well, until the announcement of him coming to Broadway. Then, the more I began to think about it, I saw the point. An Asian role needs to be played by an Asian person." (Ironically, Briones understudied the leading role in the Los Angeles production of David Henry Hwang's Yellow Face, one of Hwang's plays directly inspired by the controversy.)
Still, he credits Pryce and the controversy with shifting the paradigm for Asian performers. "I truly believe that because of Miss Saigon, Asian actors are looked upon differently now. As soon as Lea and actors who looked like me were onstage, it became, 'All right, we can cast these people,' and not just onstage, on screen and television, too. This show started a lot of things, and that uproar was part of it. But credit to Jonathan Pryce – he basically showed everybody how to play that role."
And then it was Briones' turn.
Starting in 1989, "I did the London production for three years and then I left and went back home. I went to do it in Germany, in German, in 1994. I was a swing and covered the roles of Thuy and the club owner." His performance got noticed – and the director later auditioned and cast him as the Engineer. That production was notable in his life for another reason, too. "That's where I met my wife. She was playing Ellen."
Saigon begat more Saigon. "It saved me and my family so many times." When his wife, Megan, was pregnant with their first child, Briones was jobless. "I got a phone call from London saying, 'Do you want to do it in London?' Yes, please. We moved there in '98, and my wife gave birth there." The next several years would be sprinkled with more Miss Saigon. In 2000, he did it in his native Philippines. In 2001, he led the cast of the Asian tour. In 2002, he was called upon to do an American tour, followed by a U.K. tour in 2004, during which time his son was born, in Oxford. All as the Engineer.
Despite having played the role so many times he doesn't even bother to count anymore, Briones still had to audition for the show's 25th anniversary revival at the Prince Edward Theatre in London. "Fortunately, Cameron still liked what I did," he says with some modesty. That production, which garnered Briones an Olivier Award nomination in 2015, led to Broadway. It's a singular achievement for him, the be-all, end-all of his acting dreams, and a place he never thought he'd get.
How has he kept his performance fresh over more than two decades? Simple: "I focus on the wants of this man. I play an acting class in my head: Where am I going, where did I come from, what am I doing here? There are so many scenes where I go, 'What does he want in this scene? What's stopping him?' If I do that and I play that, it becomes new. The outcome is always unexpected."
Briones, his wife, and their children (12 and 18 years old) are based in Los Angeles now. A regular in the California theater scene, he appeared with original Saigon leading lady Lea Salonga in the 2012 pre-Broadway Old Globe Theatre engagement of the musical Allegiance. After the recent London revival of Saigon closed last February, he took on the role of Georges in the East West Players' all-Asian production of La Cage aux Folles and received an Ovation Award nomination.
But now it's all about Broadway. And even though this show has been in his bones since 1989, he still can't wait. "The first preview was great, but opening night, that's official. This is like the World Series." But at this point, given his history, it's more like a victory lap.