Freestyle Love Supreme Offers a New Musical Every Night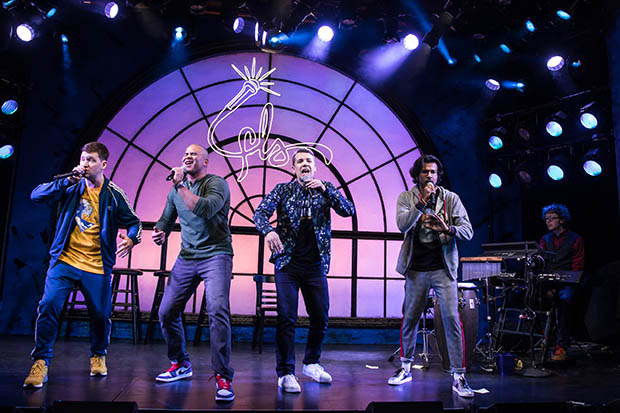 There's something beautiful about the militant impermanence of Freestyle Love Supreme, the improvisational hip-hop show now playing a sold-out run at Greenwich House Theater. Each night, six performers create an entirely new show that will never be repeated and will absolutely not be recorded (audience members must sequester their smartphones in sealed pouches before entering the theater). This is creativity completely unburdened by the expectation of longevity, like a Buddhist sand mandala — but a lot funnier.
The group Freestyle Love Supreme (for which this new show takes its name) has been performing this way since 2004, serving up rhymes on the fly in a joyful demonstration of freestyle rap. Not only do you need to have great flow to do a show like this, but you have to have a quick wit and firm grasp of the expressive powers of the English language. It should come as no surprise that the group's most famous alum, Lin-Manuel Miranda, pushed the limits of both hip-hop and Broadway in his megahit musical, Hamilton. For this show, Miranda is among a rotating roster of guest performers that includes Daveed Diggs (Hamilton) and James Monroe Iglehart (Aladdin). The night's special guest is never announced in advance, adding to the spontaneity.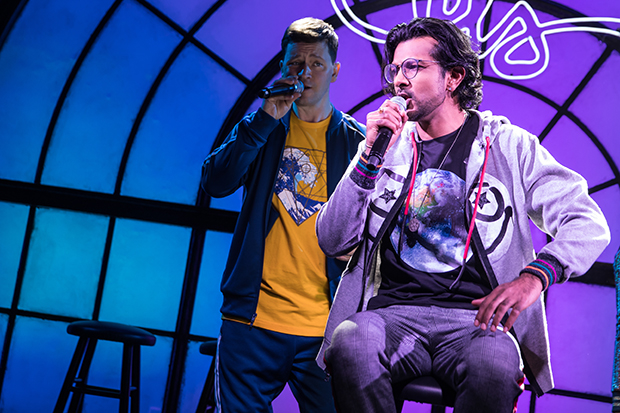 At the performance I attended, Hamilton star Christopher Jackson (or "C-Jack") filled the guest spot, joining regular cast members Utkarsh Ambudkar ("UTK the INC."), human beatbox Chris Sullivan ("Shockwave"), and Anthony Veneziale ("Two Touch"). The latter created the show with Miranda and director Thomas Kail, and he serves as the evening's master of ceremonies. The foursome is backed up by keyboardists Arthur ("the Geniuses") Lewis and Ian Weinberger (who, as of his second-ever performance with the group, seemed to be still working out his nickname). But there's plenty of potential between "burgers," "icebergs," and "burghers."
Such are the instincts of these human rhyming dictionaries that the audience-suggested verb "shake" was initially misheard as "shave" and then "shame," all three of which could combine for a compelling lyric. Veneziale requests these audience suggestions with the aggressively nurturing demeanor of a camp counselor, thrilled to share with us the wonders of freestyle. When he asked the audience for the name of a person, a man shouted out "my wife," spawning a whole verse about "that dude's wife." A later request for something you can't live without returned the answer, "my mom," leading to an unexpectedly emotional performance from Lewis, whose mother recently passed. Jackson lightened the mood with a series of rhymes about what a bad kid he was, and how awestruck he is by his mother now that he has kids of his own. "Your mum," Lewis riffed in his soaring tenor following Jackson's verse, "must have thought you were so dumb." It was simultaneously touching and hilarious.
Kail has smartly directed Freestyle Love Supreme by providing space for the show to evolve each night and staying out of the way. The biggest element of Beowulf Boritt's open set is a giant "fls" logo hanging on the upstage wall, while Lisa Zinni's costumes suggest that the performers just walked in off Barrow Street. Jeff Croiter delivers concert lighting with moving LEDs, while Nevin Steinberg's well-engineered sound design offers an ideal balance between the keys and vocals so you can hear each and every word.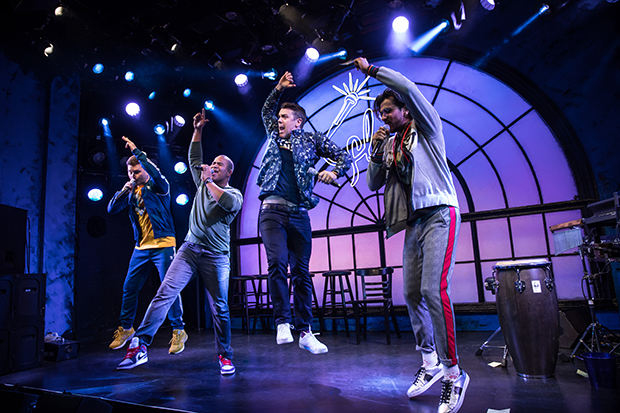 It's easy to dismiss all of this as dorky boys performing party tricks, but the fact that each show is devised on the spot makes Freestyle Love Supreme the only rapid-response musical theater off-Broadway, with the content literally coming from the things the viewers and performers are thinking about. Jeff Bezos was a recurring topic at the performance I attended, while Alexandria Ocasio-Cortez and her takedown of political corruption also made an appearance (it sounds even better when it rhymes). When new musicals often take a decade or more to reach the stage, it's exhilarating to encounter lyrics that are as fresh as this morning's bread, and even more delicious.